What to Wear to a Standard Office Interview

According to an article in the Financial Post, the job market is changing, and those changes include "a rash of terminations of mid- and upper-level employees who are being replaced by younger, less expensive ones." Wherever you fit in this picture, it's important to dress to impress, whether you're chasing your dreams or just looking to pay the bills! But sometimes, that's easier said than done…
Fortunately, LittlePinkTop will give you the pointers you need to assemble your standard office interview outfit.
Do you still need to dress up for a job interview?
Sometimes, an impressive résumé with relevant experience still doesn't guarantee you'll get the job. Believe it or not, the right outfit might make you the more compelling choice, especially if it's a close call. Reportedly, 65% of hiring managers admit that clothes can be a deciding factor between two similar candidates.
The working world is definitely less formal than it used to be, but a senior HR Manager told Forbes that most employers still expect men and women to wear a suit to the job interview. Lizzie Rahm explained, "Recruiters and HR managers do notice how polished the applicant is. We think, 'Are they in a nice suit that fits them well?' Would they be a good representative of our company?"
That Forbes article was published in 2019. Has the advice changed during the pandemic? Not really. Sara Skirboll, VP of Communications at CareerBuilder, confirmed to LittlePinkTop in a 2022 interview that overdressing is still better than underdressing for an interview.
LittlePinkTop recommends that you research the particular company really well because their culture will also help to determine what you should wear. Check their social media presence to get a better sense of the office environment.
What are some easy, go-to choices for an office job interview?
You could go for a button-up shirt or a bow blouse paired with a professional skirt or pair of dress pants. If you have a skirt or pantsuit, even better.
A sheath dress is another excellent choice. This type of dress always looks very well put together and will signal that you are a mature professional.
Do you have just a vague idea of what a sheath dress is? It's a form-fitting dress with a streamlined silhouette hitting at or above the knee. If you watched the HBO show "Veep," you'll know exactly how it looks. Selina Catherine Meyer, a fictional Vice President played by Julia Louis-Dreyfus, is the wardrobe role model for this type of dress!
Eleanor Lecocq, a corporate attorney and fashion/jewelry entrepreneur, told LittlePinkTop that you should also pay attention to the quality of fabrics and fit. "If budget is a concern, consider having a less expensive but well-made suit tailored," she suggested.
"Your resulting confidence and ease from a well-curated outfit will shine through," Eleanor reminded, while also pointing out that employers can form their impressions rather quickly and that "good quality clothes do pay off."
"There is no universal 'safe' option but an outfit that is classic, comfortable, and streamlined is good to have on hand for when an opportunity arises," she concluded.
What are the best colors to wear to an office job interview, and why?
Several color combinations could be considered a safe pick for an interview. If you want to create an impression of an organized, trustworthy, and hardworking professional, stick to black, navy, or dark gray colors for your pants/skirt or suit. Pair darker colors with a white, creamy, yellow, or blush blouse.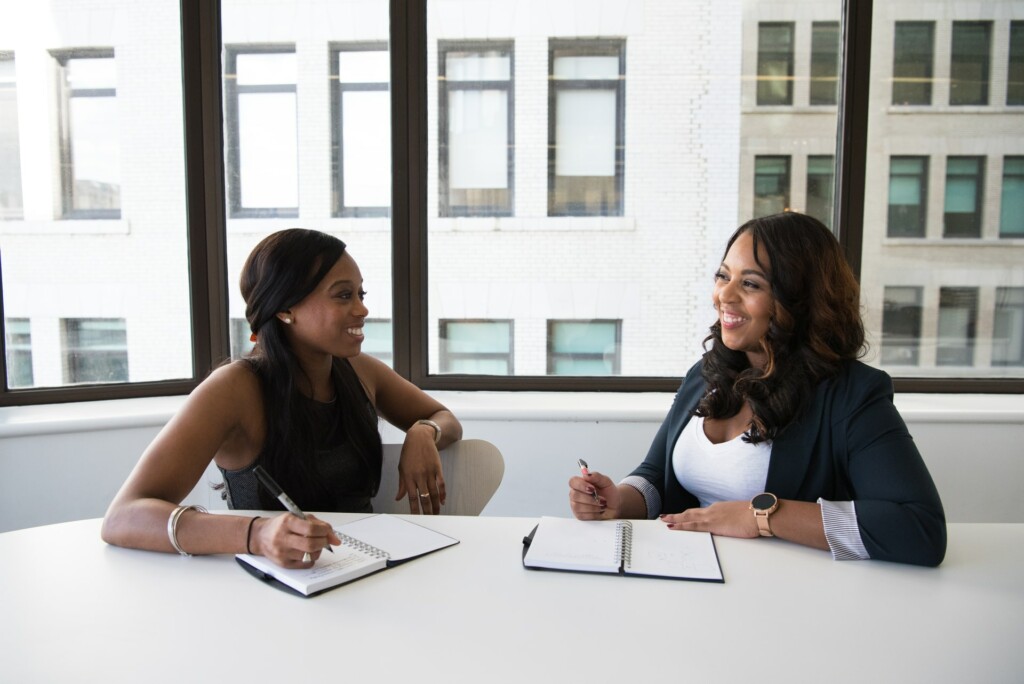 CareerBuilder's surveying validated the idea that different colors have different associations. Black might suggest that you are a leader; blue shows that you are a team player; gray is best-suited for those who are logical and analytical; white might mean you're organized (unless there are stains on it, that's not a good sign). Meanwhile, green, yellow, orange, and purple colors could signal creativity but orange can be particularly problematic, according to the employers surveyed. Check out the LittlePinkTop article "How To Dress Like an Eccentric but Fashionable Genius" to see what that might look like!
Sara Skirboll's advice is to avoid elaborate patterns and designs, and when in doubt, stick to solid colors and simple patterns.
Again, research can pay off! For example, figuring out the company's corporate colors and incorporating them into your look is a way to show that you've done your homework and are serious about the job. "A slightly different shade of the same color as their brand is ideal," suggested corporate attorney Eleanor Lecocq.
What are some specific looks that LittlePinkTop curated for an office job interview?
If you're ready to see some of this advice as actual clothing, read on! (These items were selected from LittlePinkTop's affiliate partners, which means we may earn a commission if you buy something.)
This black tailored dress would be a fantastic choice for an interview:
It's calf-length, meaning it comes halfway between your knees and ankles, keeping it super professional. But you don't want to go unnoticed, so those short balloon sleeves will definitely draw some attention. The belt on the waist will accentuate your figure and prevent you from looking bland.
If you'd prefer not to buy something at that price before your first paycheck, check out this affordable dress from Calvin Klein:
This classy dress has a round neck and a straight fit that makes it a good contender for an office job interview. I love the detailing at the waist: the gathered fabric makes the design interesting and adds creativity to a formal silhouette.
The dress above is sleeveless, so you might also want to put a blazer on, maybe one like this:
This double-breasted blazer has a sleek cut and rich texture.
What should you avoid wearing to an office job interview?
LittlePinkTop will let Eleanor Lecocq chime in here again with some helpful tips, since her career was built around diverse experiences as a securities regulator, contract law professor, and business owner! Eleanor suggests avoiding anything fussy or complicated. It might distract you, as well as the interviewer, from your qualifications and message. Eleanor said, "For example, if you know you have a tendency to play with particular jewelry when you feel nervous, don't wear it."
Over-the-top accessories are a no-go.
What else should you avoid? Well, some of this may seem obvious, but LittlePinkTop will point it out, anyway…
Stains! If you catch yourself thinking "no one cares that I had some fries at McDonald's before the interview, that ketchup stain is not even noticeable!" or "so what if I have an old coffee stain on my white shirt, it just shows I'm high-functioning and caffeinated"… then seriously, girl, you may need a reality check:
Avoid carrying messy handbags. Instead, opt for a practical yet stylish business tote (like this one from Luis Steven), briefcase, or laptop bag.
Don't wear strong perfume or any at all. Some companies even have corporate fragrance policies that encourage employees not to use perfume at work.
There is a good reason for that. Employees, unfortunately, sometimes get exposed to chemicals and other irritants in the workplace that can cause health issues connected to indoor environmental air quality. It can lead to lost productivity, decreased performance, and absences from illness. The damage across the economy could fall into the range of $20-$70 billion annually.
Wow, and you weren't sure whether to go for that elegant, $400 dress, huh? Also, don't forget that people may have allergies or simply different tastes than you. What you consider to be a "heavenly" scent might fall into the category of "repulsive and nauseating" for a coworker.
And no messy hair! Your hair should be neatly styled or tied back. Messy hair doesn't signal that you're "an organized, precise, and orderly worker!"
LittlePinkTop hopes that helps and that you get the job! Check back next week for more styling ideas.