Tie-Dye Is a Way to Keep Your Spirits Bright

https://www.instagram.com/p/B0B-CSBBJT5/
https://www.instagram.com/p/B0BtvcXh9th/
https://www.instagram.com/p/B4h8yLBhTRq/
Russian supermodel Irina Shayk reportedly broke up with Hollywood actor Bradley Cooper in June. The news is everywhere. Both Irina and Bradley are probably trying to heal their hearts right now. An unexpected split-up can be very dark and depressing. But Irina is managing to stay bright and she is even adding more colors to her outfits.
Irina was spotted in the West Village spending some quality time with her daughter. She was wearing a tie-dye crop top, white denim shorts, and a pair of neon Nike sneakers.

The saturated primary colors and random swirls of tie-dye have always made a statement. Tie-dye is happy and care-free, with a touch of the psychedelic.
Irina's electric green Nikes nicely mirrored her top. Vogue referred to the look as "peak cool mom." Irina has long been a trendsetter, so her eye-catching style here is no surprise. She is taking back control. Irina is the talk of the town not due to her relationship status, but her willingness to work hard and grab a piece of stylistic inspiration from the past. No wonder she has been a muse for so many designers.
Tie-dye is an option for everyone. It's a way to keep your spirits bright! So, shake off the dark gloom. Make a statement, not only to the world but to yourself. The world is random and colorful. Do your very best to love that and live it.
See Also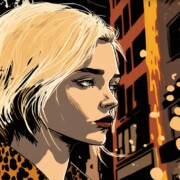 Zara, Free People, Asos, and many other retailers have a wide variety of affordable tie-dye choices, including tights, hoodies, shorts, skirts, and bodysuits. It's also possible to get tops and bottoms with beautiful tie-dye color combinations. For example, Zara is currently selling a flowy blouse with a relaxing greenish tie-dye color and a perfectly matching tie-dye skirt is available as an add-on.
If you are going through a breakup or if you just feel like life isn't going your way, be more like Irina. Through self-empowering fashion, you can brighten things up and stay flaming hot! Just like an American model and actress Emily Ratajkowski does!