Introducing the Shirt Dress

Have you ever found yourself in the mood to wear something elegant and elevated yet casual at the same time? It's possible. Little life goals, ladies; they add up to big transformations! Consider trying a one-piece garment: the shirt dress!
This type of dress looks delicate, bohemian, and chic.
Around the turn of the twentieth century, this piece of attire started off as a practical nurse's uniform, normally made of cotton. The reasoning behind the garment style was very practical and functional. Those dresses were easy to wash.
That's probably why it was a crucial female outfit during World War I. It became the uniform for the Red Cross and other organizations.
Nowadays, bombshells like Australian actress Margot Robbie are embracing the look, strictly for stylistic reasons.
Margot was seen in New York City wearing an almond-colored, Jasmine dress from MILLE, an increasingly popular designer based in Minneapolis. (MILLE describes itself as serving "a community of like-minded women who speak the same secret language of style.")
See Also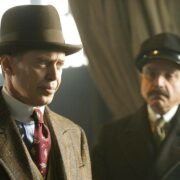 Margot paired their almond, linen shirt dress ith cognac-colored leather boots, creating a uniform look of neutral colors. She finished off the look with a tan, leather shopping bag, tortoise-print sunglasses, and some gold jewelry. Margot looked like she was feeling elegant but also light and cozy, which is the advantage that a shirt dress provides.
This type of dress will make you feel like you're always at home, even when you're out and getting stuff done.
If you can't afford the $236 USD for Margot's chosen MILLE dress, there are many other, more affordable and stylish choices from Zara, H&M, and Topshop: