Deal or Disaster: A Look at Stylish Blazers and Questionable Choices

Hey fashionistas, here's another "Deal or Disaster" post where I search through the most stylish and best priced stuff so that you don't have to! Last time, we found great deals on boots, and now it's time to layer up. Winter is coming… (I miss GOT)… and we need coats, trench coats, blazers, basically anything to keep us warm and cozy. Well… I may have a problem differentiating need from want. So, I'm appealing primarily to myself here. Again, it's up to you whether to shop or not, but Littlepinktop found you some great outerwear deals!
If you are dreaming of a badass designer blazer for fall but you also don't want to pay an arm and a leg for it, go vintage.
Many of us have experienced the childhood shame associated with hand-me-down clothing from older siblings. But as I mentioned here before, there is nothing wrong with secondhand or thrifted clothes. Even better, fashion is moving towards more sustainable ways of doing business with the secondhand and vintage markets becoming so popularized.
As reported by Forbes, sixty-four percent of women are down to buy secondhand clothes these days, as opposed to forty-five percent in 2016. "Millennials and Gen Z are driving that growth, however, with the 18-37 age group choosing used goods over new 2.5 times more than other generations," reports business writer Marcia Layton Turner. Furthermore, Gen Z is leading the charge!
Farfetch offers some amazing items that will make you feel warm while also lookingfab. I give kudos to their marketing department for putting a positive spin on the concept of secondhand/vintage: "Please be mindful that this piece has led a previous life, and may tell its story through minor imperfection. Purchasing this item continues its narrative, so you can be confident that you're making a POSITIVELY CONSCIOUS choice for the planet."
The first item on my vintage list is this Gianfranco Ferré double-breasted beige coat from the 90s.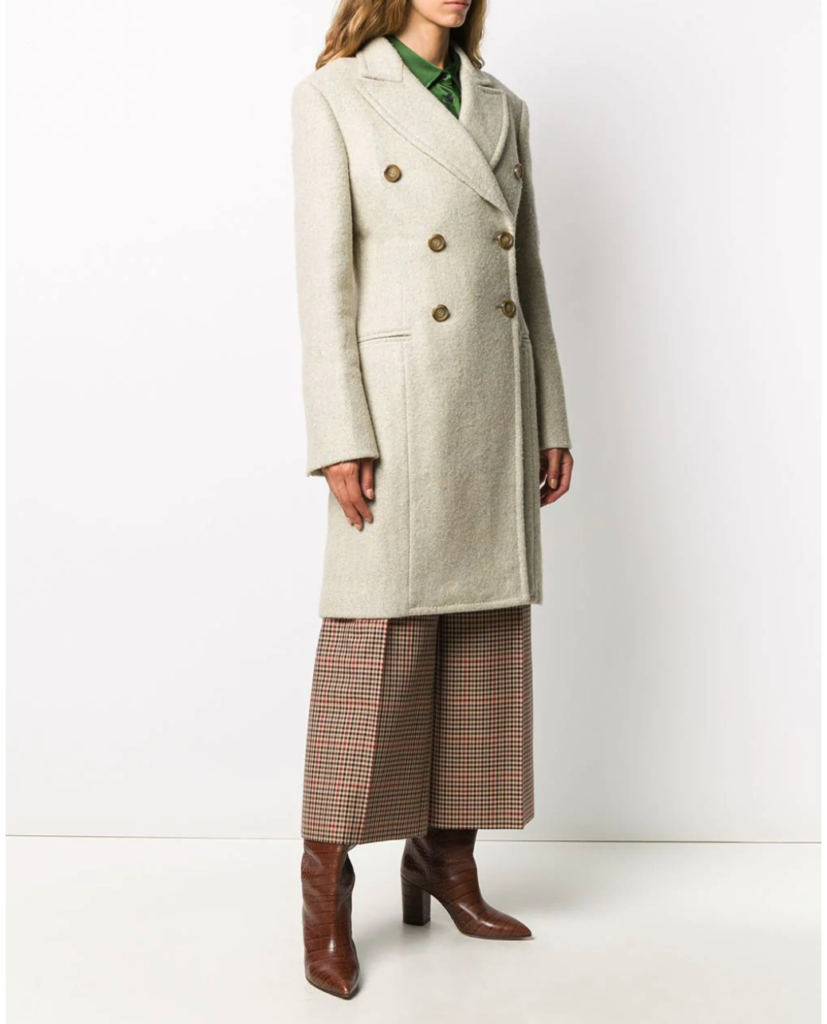 This 100% wool, knee-length coat will surely keep you warm and snuggly in cold weather. It's also a very versatile piece that can be styled with almost anything: from formal white, black or beige office attire to blue jeans and white sneakers. It also has a timeless feel, so you don't need to worry about buying something "trendy" next year. I approve it to be a deal.
If you want to be a biker chick with an air of bohemian chic, I've got just the item for you! Check out this beautiful A.N.G.E.L.O. vintage cropped jacket from the 80s.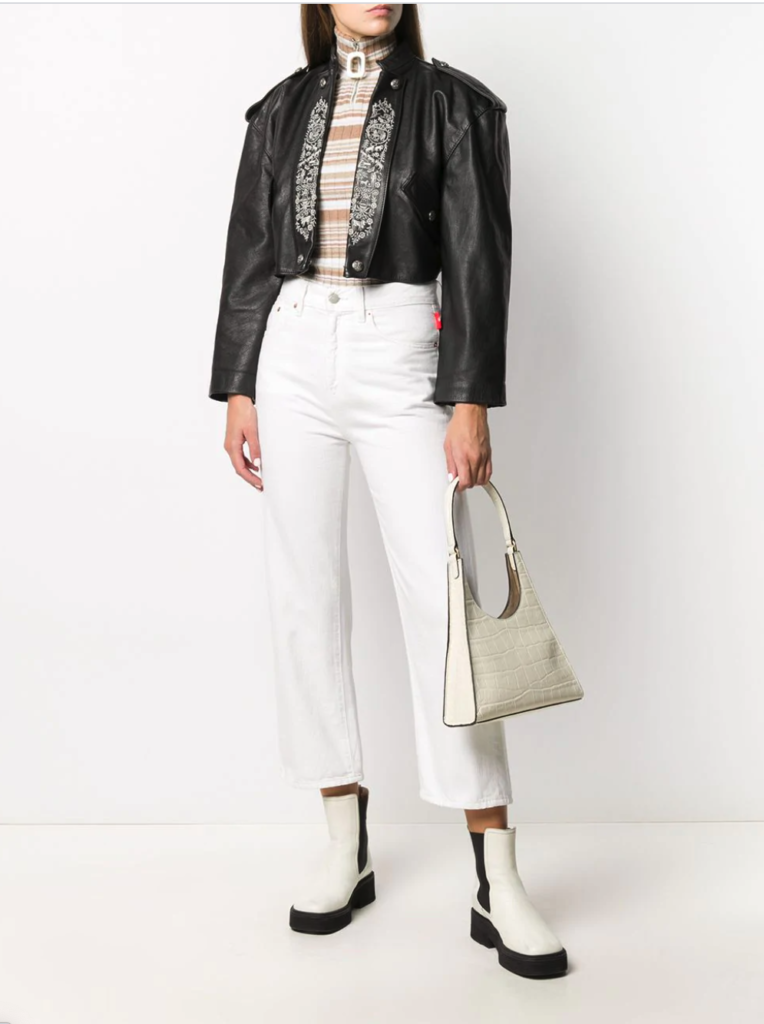 This black leather jacket is decorated with epaulettes that will give you that "don't mess with me" look, while the embroidered lapels create that cute touch that won't go unnoticed.
If you want to stand out by wearing a posh piece of attire, you may want to get this Yves Saint Laurent floral jacquard jacket. It's hard for me to put my finger on its rich color. It would be probably best described as magenta, A.K.A. purplish-red. Velvet lapels, a chest patch pocket, and two front patch pockets look rich and make it pop.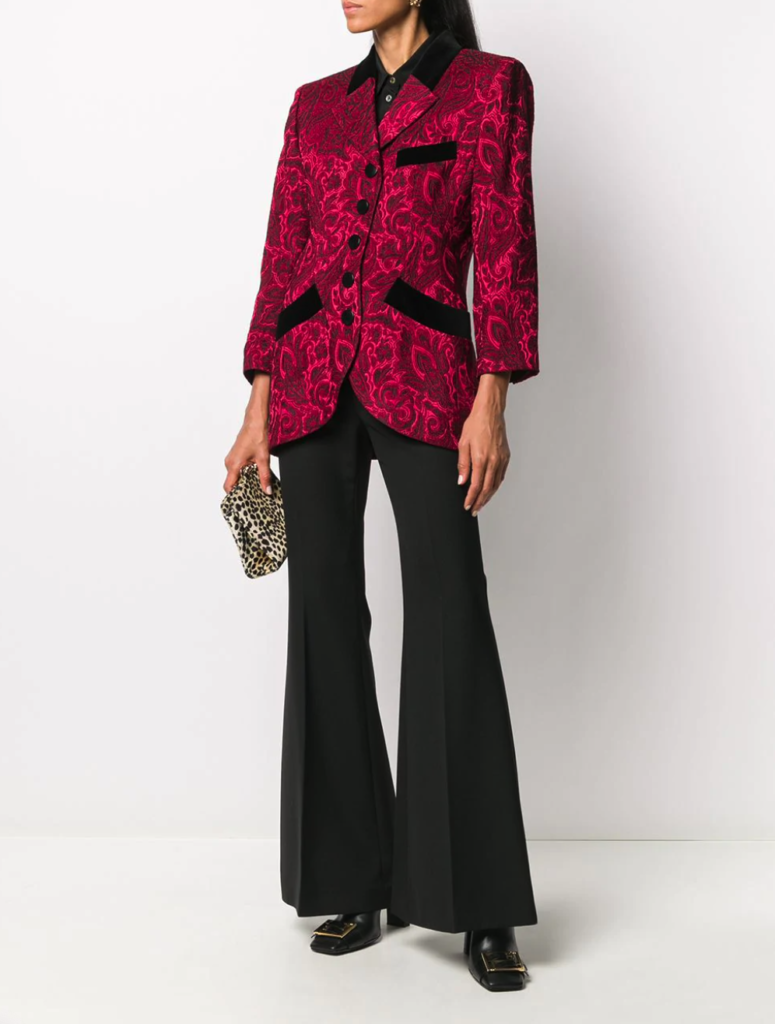 If you miss the Spice Girls or Backstreet Boys and want to create a 90s mood, try this Moschino striped slim-fit jacket. Unlike gaudy Moscino pieces, this blazer is very office-appropriate. You will have an opportunity to impress everyone on that Zoom call, too. It also has some subtle funky details: one front pocket is white with dark blue stripes and the other one is just dark blue. There is a marine air about this blazer, which makes me want to wear it somewhere in the South of France. If only we could travel!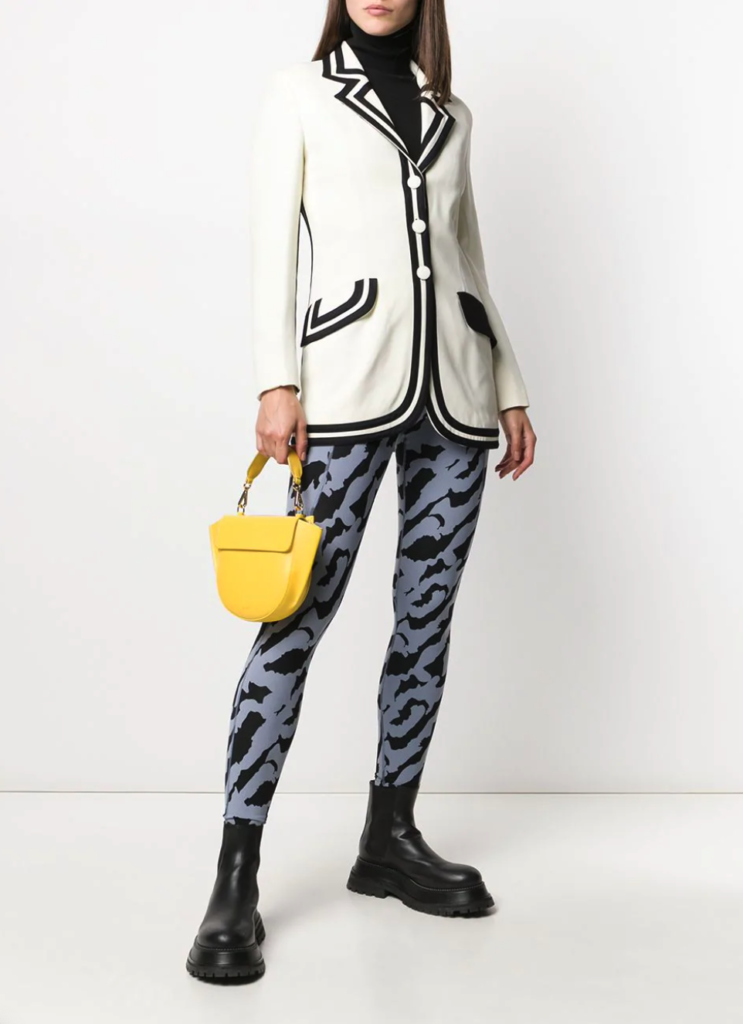 Check out Farfetch sale yourself and find some more deals and steals! Disclosure: LittlePinkTop is affiliate marketer with Farfetch.
Those were some good "pre-loved" finds that will serve you for another decade, until you decide that it's time for someone else to continue their story. And now, it's fashion disaster time!
Just a passage ago, I praised Moschino for its marine-inspired jacket, but their multicolored tweed patchwork jacket makes me want to cry. Unless you are Phoebe from "Friends" or Sybill Trelawney, a teacher of divination from "Harry Potter," it might not be the best thing to invest in.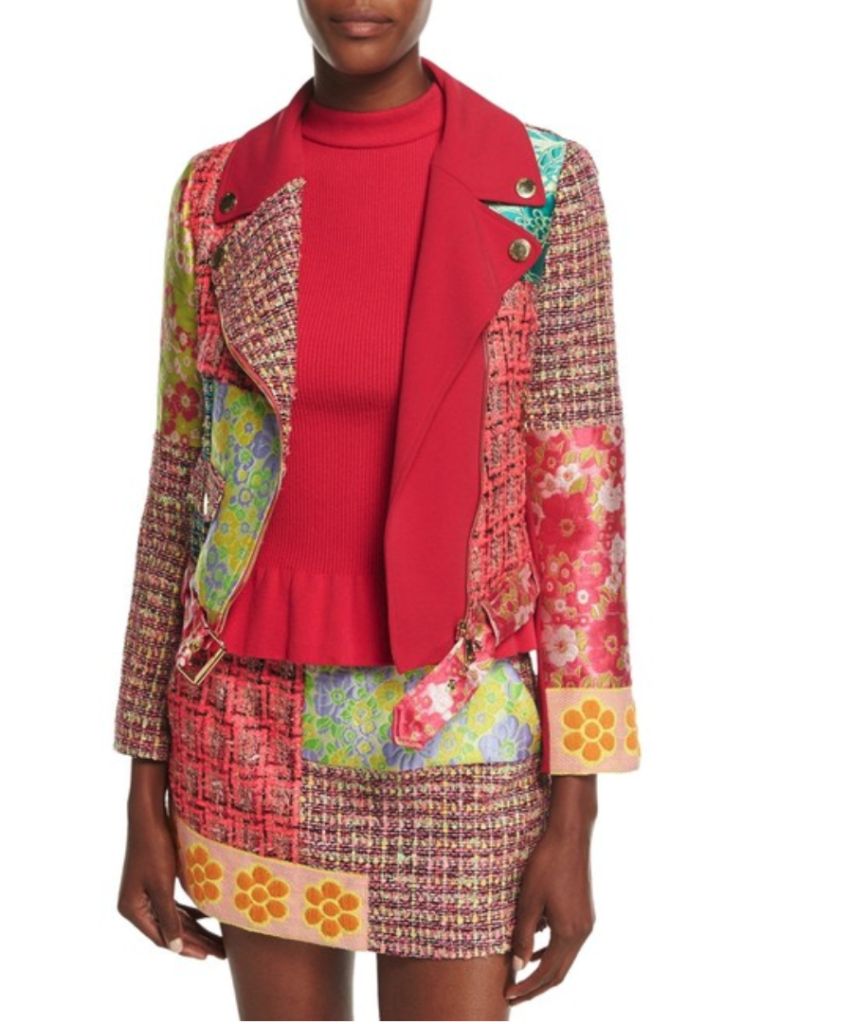 The luxury brand Hermès usually provides French sophistication but everyone makes mistakes… I find it hard to imagine where I would wear a black blazer with a bunch of random, possibly slaughtered animals, rabbits, and birds. Happy Thanksgiving, I guess!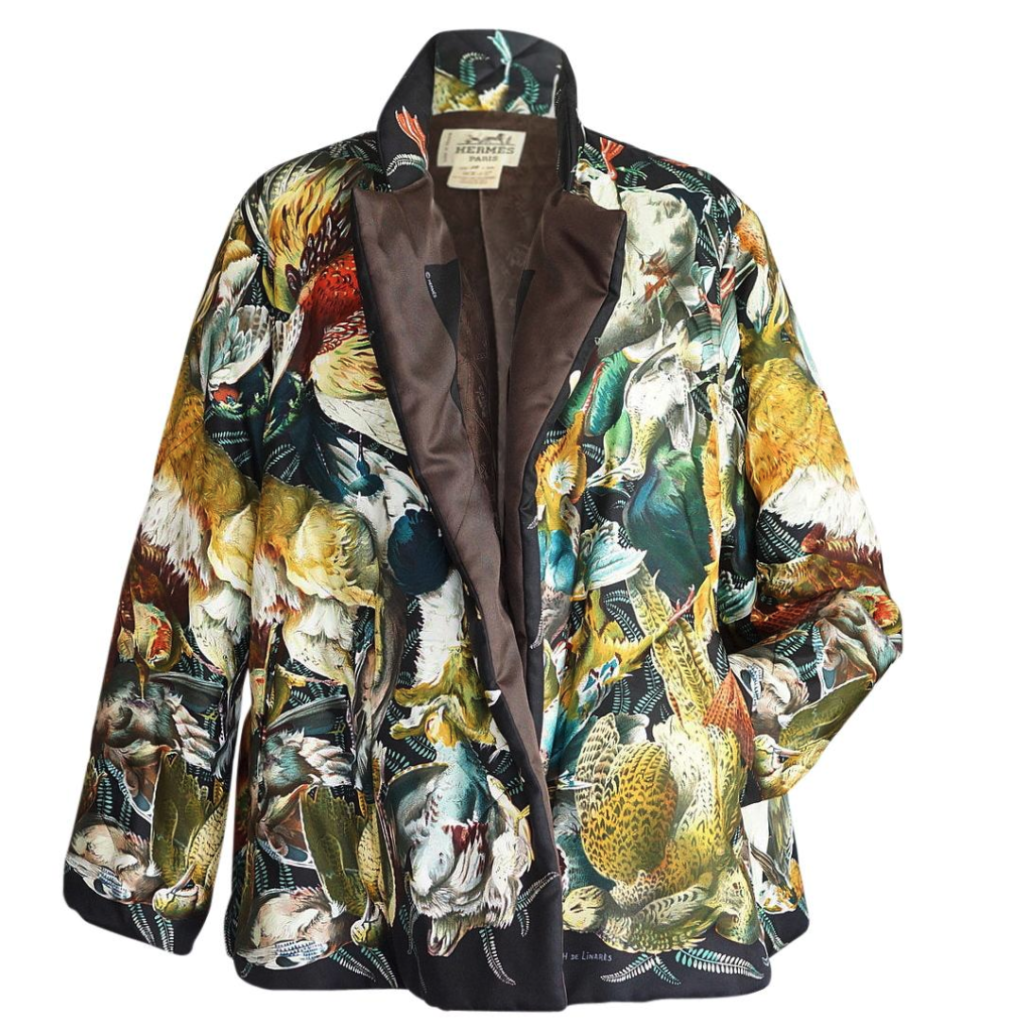 I managed to find an even weirder coat: this Missoni coat cardigan. The seller on eBay is trying to convince people that this pre-owned coat "Looks new – beautiful!" but it looks old and hideous to me. It would probably do as an ugly Christmas sweater if you really want to win that silly contest. But do you really want to pay $789.00 USD just to win that contest? If so, you've got a weird family dynamic!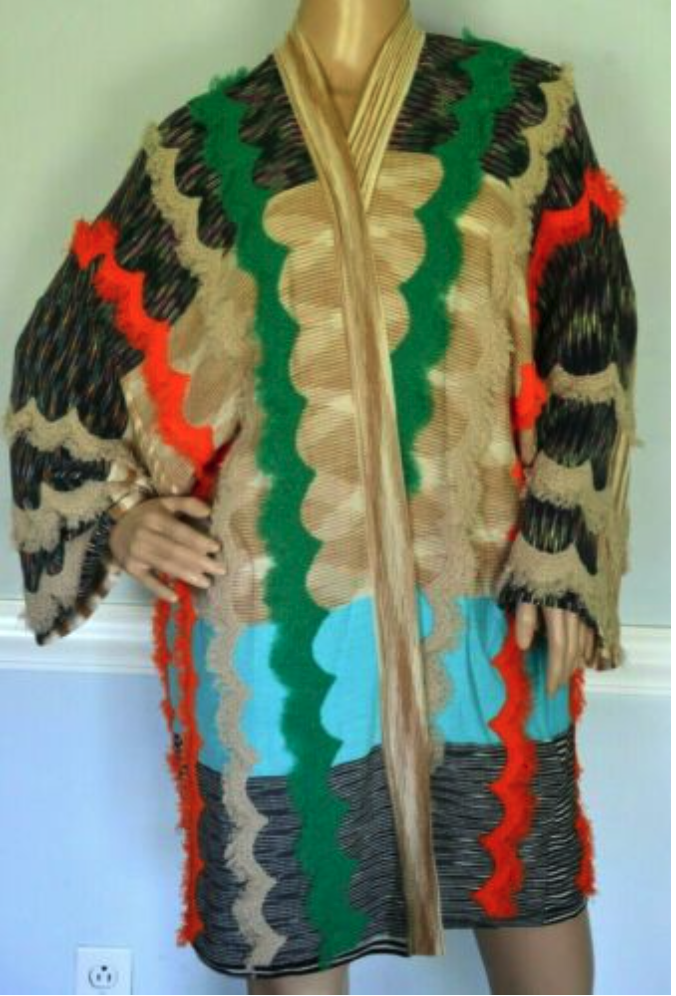 Stay tuned for more fashion deals and disasters! Stay warm! Stay safe!