Deal or Disaster: Best and Worst Winter Dresses

I prefer to be careful about my winter wardrobe choices. Otherwise, I wouldn't be a fashion blogger, I'd be an icicle. And when it comes to dresses, I go for maxis and midis, mostly made of thicker and warmer fabric like wool, fleece, cashmere, crêpe, flannel, mohair, tweed, etc. They are perfect for this season.
Today, I'll sort through the best and the worst winter dresses. So let's get this party started!
Many dresses from Michael Kors don't have much utility in winter (unless you don't mind having to put many additional layers on). But a wool-blend turtleneck dress in dark camel might be exactly what you need. First, it's 45% wool to keep you warm. Second, it's a shirt turtleneck dress, which means that it's versatile and you can wear it as a dress or as a long sweater, pairing it with leggings or pants. Third, camel is one of the trendiest colors of the season. And last but not the least, its price dropped from $225 to $135. Do I need to say anything else?
Aritzia carries a great winter dress that is available in birch and black: the Babaton "Bogart Dress." If you have a triangle or apple body type, this dress might look good on you, but hourglasses and pears should probably stay away from it. Rectangles, proceed with caution. Sorry, ladies, for comparing you to geometry and fruit! Some find that offensive. I'm just trying to give good advice, ok?!
Check out the Stephanie rib knit midi dress from Ever New for another excellent winter option. It comes in plum and chocolate, two very winter-appropriate colors. It's a close-fitting dress that snuggly hugs the body. It looks sexy but leaves room for imagination. Its slightly flared skirt and metallic buckle finish makes for a perfect silhouette. And the turtleneck will keep you safe from the cold.
If you are tired of turtlenecks and want to show off your amazing neckline, New Look has got you covered. Their black sweetheart neck knit midi dress is exactly what you've been looking for. It's a slim fit dress with a beautifully curved neckline. You will be keeping up with the Kardashians if you choose this dress. Add some golden accessories and golden buckle belt and you are ready for a catwalk or a catfight. Whichever you choose, you will look stunning.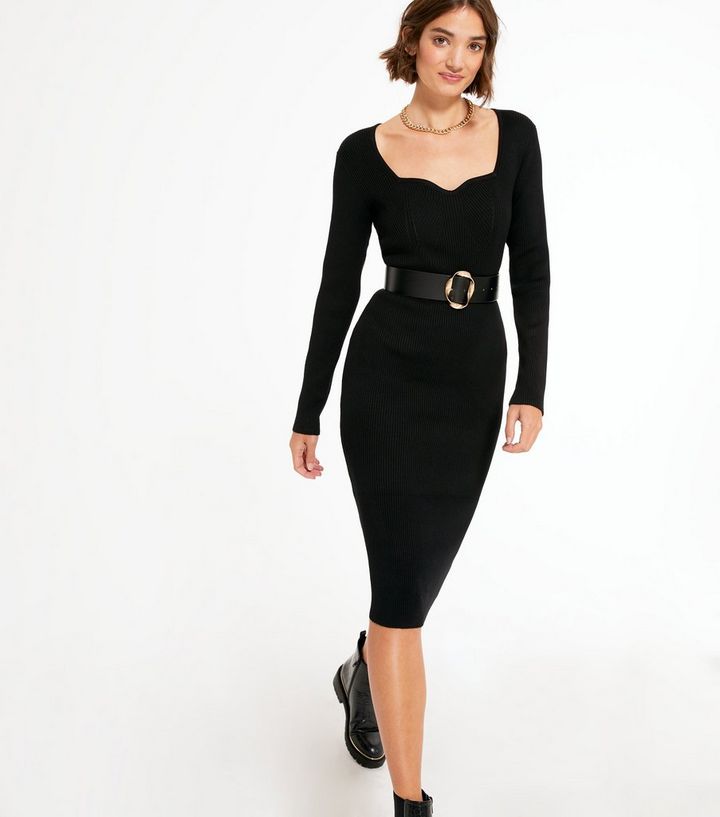 Another winter winner is this balloon sleeve knit dress from Zara. This midi A-line dress has an unconventional square neckline which makes the dress pop. It's long, it's snuggly, and it will keep you toasty.
Free People has a cute maxi dress that is 100% cotton. It comes in 6 colors, letting you find something that suits you. Many customers commented that it's oversize and you might want to size down. But as I told you, it's perfect for winter. A gal from Milwaukee mentioned: "This dress is so fun! I always get sad when winter comes and I have to put all my dresses away. This fits the ticket and keeps you warm without being hot sweater material. I usually am a small/medium in other brands and needed an extra small for this to fit properly."
Be careful how you style this dress though, because it might turn from a deal to disaster. Don't pair it with a baggy overcoat because there might be a danger of turning into a burrito.
There is no such risk associated with Aritzia's bodycon midi sweater dress. This is a long-sleeve, crew-neck sweater dress made of soft "Fuzzy-Knit yarn." It's got a bit of a sexual teddy bear thing goin' on but I'm going to overlook that because COZY! It's named "Madison Dress."
Well, don't get too comfortable, this week's fashion disasters are coming your way……As much as you want to stay warm, have mercy on others and don't turn yourself into a sleeping bag. Compare this high collar dress with long sleeves and this lovely sleeping bag and find 10 differences.
You must have noticed that I play favorites with pink. But not with this blush-colored dress that goes with a hooded cardigan. It's described as having an effortless, pull on style. You better pull it off and pull back from it because it will pull your style down, girl!
And I have evidence to prove my point. One customer described this dress as hilariously terrible: "If you love hospital gowns made out of your dad's old sweatshirts then this is the set for you. The dress is nothing short of frumptastic, and prepare to drown in the towel jacket. This is the dumbest thing I have ever purchased from FP. Couldn't stop laughing because it had to be a joke." Well, you know what NOT to add to your cart…
These last two pieces don't belong to either the deal or disaster classification. They are sort of like Greek gods: you are fascinated with them but also scared of them and afraid of the consequences they might bring.
The "Once Upon a Time sablé dress" from Miu Miu fashion house is one of them. It looks kind of cute and awfully outdated at the same time. This is what a governess from the Victorian Era might wear. The Miu Miu marketing team thinks that it's "evoking a fairytale-inspired dimension rooted in childhood memories." What I see is a ruler and my hands being slapped!
If you'd rather be in "Little Women" than on LittlePinkTop, Gucci has a "Liberty floral" dress for you.
Well, there they are, this week's deals and disasters. Stay warm, safe, and stylish!