Deal or Disaster: Best Boho Dresses

Bohemian style is mainly associated with soft, loose-fitting, flowy clothing. It mostly comes in floral and retro prints or ethnic-inspired designs. Tie-dye, paisley, Suzani patterns — you see it, you know it! 
Boho style is often about comfort, spiced up with whimsical chic.
But this is where it gets tricky. Not every maxi dress will make you look boho-chic… I won't surprise anyone by saying that there are great deals out there, but there are also some terrible design disasters. LittlePinkTop is here to help you navigate the world of boho dresses! 
Here is my tarot card reading for you. If you get yourself this Feeling Groovy maxi dress, you will instantly feel cute, charming, and at ease. It comes in five different colors, but as you could have guessed, my top favorite is summertime pink! 
People who have already got their hands on this dress have left comments like: "love this dress bought a second color!" "obsessed," or "even more beautiful in real life." I won't go over 17 pages of effusive comments here, but here's my own conclusion: it's a gorgeous dress, flowy, comfy, and versatile. You can dress it up, or down, however you want.
Personally, I can't make up my mind because there are so many similar items in marvelous patterns and color combinations. All of them happened to be named after a specific emotion. So should I pick one depending on the mood I want to create? They are all in the same price range, after all…
Check out these beauties:
Happy Feelings midi dress is absolutely stunning, too. It has interesting details, a flattering cut, and is super comfortable. The fabric is extremely lightweight — so it'll be great for hot/humid weather. "I love the fun prints," says a happy owner from Orange County. 
The Rare Feelings maxi dress is rarely delightful, too. 
If you are torn between all these beautiful choices but not willing to pay $148 to $168 for a dress, the Moroccan Roll maxi dress is now on sale for $99.95. 
Are you interested in rural 19th century America or do you want to become a queen of cottagecore, just like Taylor Swift? You might want to consider something more like a prairie dress. And the Dahlia embroidered maxi dress is here to save the day!  
If you want to spend money wisely, you need a dress that is appropriate for various occasions. Our next dress, in a bold, tropical print, is just that! 
The asymmetrical, one-shoulder ruffled neckline gives it some funk and chic at the same time. You can wear it everywhere: to a beach or a cocktail party, happy hour, or even more formal events… when it's safe to do so again… 
See Also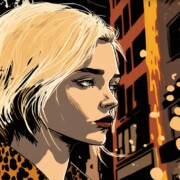 Can't decide which dress to buy now? Well, I'll tell you which ones NOT to buy.
If you need a witch costume for Halloween, or are just a really big fan of the movie "Hocus Pocus," then go for this "Sweet Darlin" dress. 
But, do you really want to spend $168 to attend a costume party (which you can't even attend because… COVID)? Here is another practical use for this dress: washing floors. Pour luke-warm water into a bucket, add all-purpose cleaner, soak the dress in it. There you go, ready to be used! (Too harsh?) 
The Raine maxi dress is just weird-looking… the color looks very washed-out, the fit looks off. And as a disappointed lady from Brooklyn mentioned, "I couldn't even figure out where my boobs were supposed to go! The outer strap also cuts really uncomfortably under the arm. I kept looking back at the photos, thinking I must have done something wrong. It may work if you're very flat-chested, but I'm not sure."
Talking about boobs… Have you just noticed that all the guys around are suddenly listening to our convo, sister? Anyway, the next dress, "Pam Dress," might provide comfort but there are just too many eccentricities, in my opinion. The pink and white ruffled layers are somewhat cute but the crochet top is completely out of place.
If you decide to go boho, there is no backing down! Accessorize lavishly and own that artistic spirit. Oh yes, one more thing! More deals and disasters are coming soon. Don't forget to check back!