Kamala Harris, Power Suits, and the Power of Purple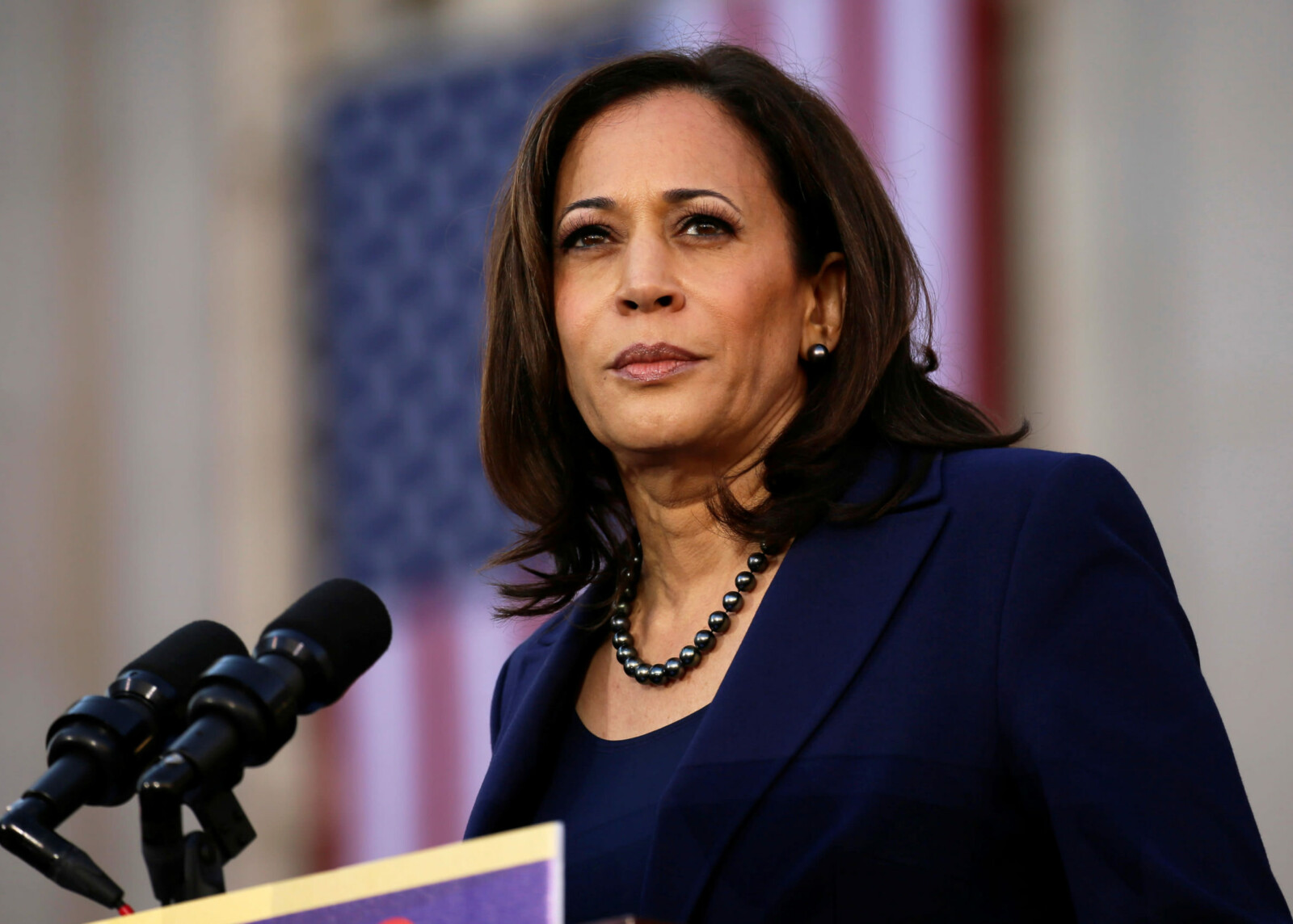 https://www.instagram.com/p/CKT91X1lc-k/
https://www.instagram.com/p/CK4F21HrUWW/
https://www.instagram.com/p/CIOjwKTBBxa/
https://www.instagram.com/p/CHYrdgkBaa7/
When Vice President Harris was sworn in as the first woman to ever hold her current position, in the history of the United States, many women felt empowered.
And Harris's signature style of pantsuits and pearls has always projected a sense of power.
Even before 1600 Pennsylvania Avenue was her office address, true fashionistas couldn't help but notice her power suits. This is not to diminish her powerful ideas and accomplishments. Fashion is simply a part of politics.
You can also read about how Michelle Obama approached the fashion challenge here on LittlePinkTop.com, and learn more about the new First Lady's style approach.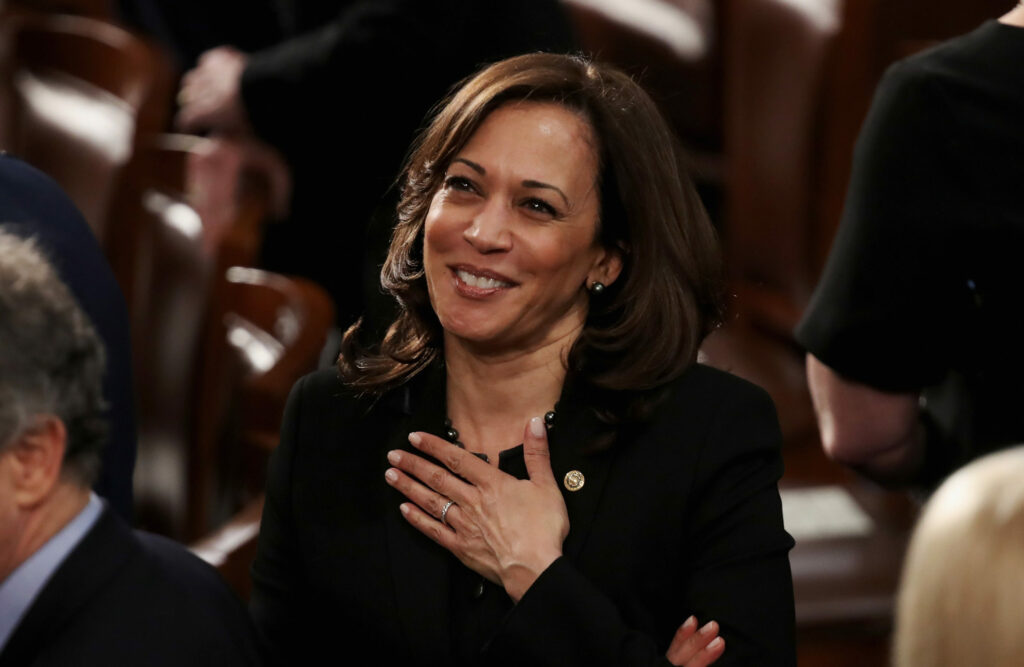 Simply put: Kamala always looks like the woman in charge, and she dresses for the job! Her power suits not only look professional and appropriate, but they also project strength and authority. Suits are comfortable and might serve as a kind of uniform that allows Kamala to focus on the day's schedule and not think about whether her shoes go well together with an overall outfit. 
Hillary Clinton supported this perspective in her 2017 memoir "What Happened." The former Secretary of State said that a pantsuit was basically her uniform because it felt professional and ready-to-go. This is the case with many other female politicians who often have a jurisprudence background. And it's a well-known fact that young lawyers are being indoctrinated to accept a strict dress code as early as law school.
Such style helps them blend in and project that they are trustworthy and credible. Some students are being taught to wear dark suits and pearls for their first court experience to feel more convincing and reliable.
Kamala's education and training have stuck with her. It shaped her fashion choices in a professional setting and beyond.  
Dr. Shelly Young Tompkins, Kamala's college friend from Howard, noted that Kamala has always been "a woman about business." Harris and her friend were often mistaken for professors because they carried briefcases and always looked very professional.
Kamala mastered the power of power suits back at school. Now when she doesn't need to prove her worth or professionalism, she also adds a feminine touch to her strict power suits — soft shirts and blouses. She can often be spotted wearing bow blouses underneath her pantsuits.
Some fashion commentators pointed out that this might have historical weight resembling "the power-dressing" of Margaret Thatcher. The UK's former prime minister wore bow blouses just like her male colleagues wore ties. It was her answer to the boys' club of 1980s British politics.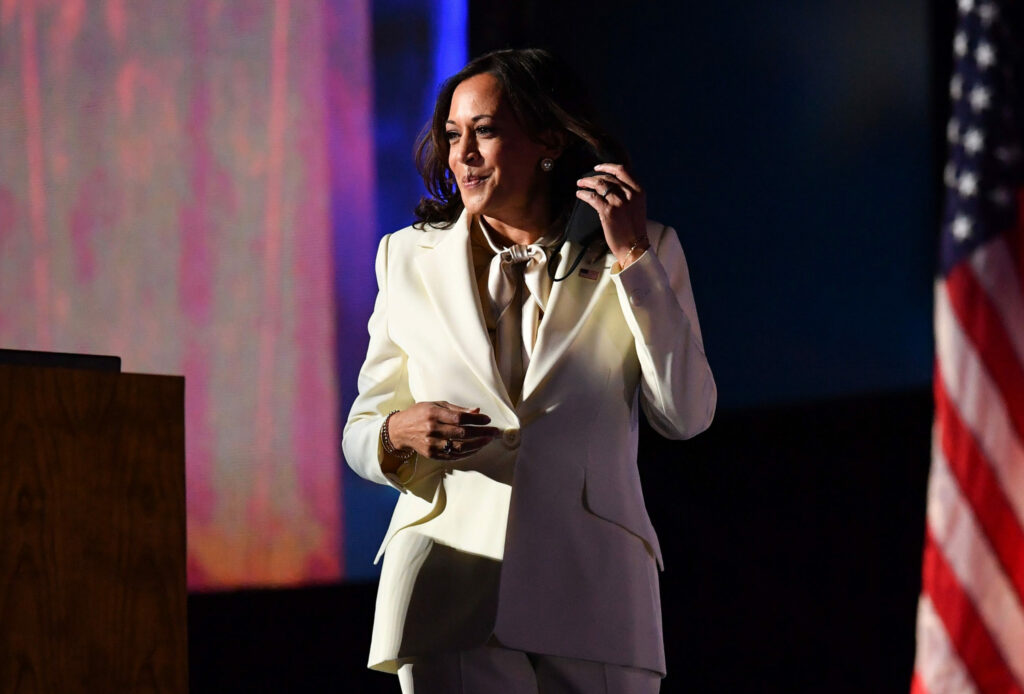 Unlike Thatcher, Harris rarely favors skirt suits or formal sheath dresses. But for the inauguration day, Kamala did pick a dress! She looked fresh and full of hope in her purple outfit.
And get this! Kamala Harris is about to receive a strange honor — she will be added to the Madame Tussauds wax museum in New York City. The same designer who created her coat and dress for the inauguration (Christopher John Rogers) will be dressing her figurine. Bizarre! But maybe, weirdly inspiring? I guess I'll have to find out when the pandemic is over.
Here are some of Vice President Harris's powerful looks:
The Inauguration Day Look and the Show of Solidarity 
Kamala Harris helped to turn a page, away from a terrible chapter in American history, when she showed up in her purple ensemble (a sheath dress and a matching coat), created by two Black designers, the aforementioned Christopher John Rogers and Sergio Hudson. Kamala is a patriot and supports American brands, just like Michelle Obama does, who on that day, appeared in a well-coordinated plum outfit (plum is a purple color with a brownish-gray tinge). 
Purple wasn't randomly chosen. As Hillary directly explained in her memoir, purple is "a nod to bipartisanship (blue plus red equals purple)."
It was also said to be a nod to Shirley Chisholm, a black woman elected to the United States Congress in the late 1960s, who also launched a precedent-setting presidential campaign in 1972. Purple was Shirley's campaign color.
The Power of Pearls 
On that historical day, Kamala Harris chose accessories well, too. An American flag pin, made by American jewelry designer David Yurman, was proudly affixed on her coat's collar. She finished the look with a pearl necklace and pearl earrings. Kamala looked like she's ready to crush it.
It's not surprising that Kamala Harris wore her favorite accessories. Pearls link back to her sorority at Howard University — Alpha Kappa Alpha or AKA. The 20 founders of AKA are known as "The 20 Pearls." As you might have guessed, its members wear pearls frequently.
AKA member Jana Taylor Jennings explained to the Wall Street Journal: "For us as AKAs, pearls are the epitome of class, so for some people — in my family and in families of color — your parents, your mothers, in particular, teach you to wear pearls starting at around 16 and on up."
Pearls are simple and classy. They never take attention away from the speaker, unlike many other flashy or clunky accessories. They just silently complimented Madam Vice President when she placed her hand on a Bible that once belonged to Thurgood Marshall, an American lawyer, civil rights activist, and the first African-American Supreme Court justice.
These smart, political women are very aware of symbolism. It seems like at this level of the political game, nothing is done accidentally.   
The Acceptance Speech Look and the Show of Unity
Kamala Harris always dresses for the occasion. In her acceptance speech in Wilmington, Delaware, she appeared in a white suit and a milky silk bow blouse. White is a symbol of purity, unity, and also emancipation. Harris directly referenced the women that blazed the trail before her. "I stand on their shoulders," she remarked.
If you are wondering what bag will go well with most of your own power outfits, get inspired by Madam Vice President.
Kamala Harris shared with Harper's Bazaar in 2011 what her favorite bag was. It wasn't a Chanel 2.55, Chanel Boy, or Chanel Grand Shopping Tote. It's the Chanel Executive bag.
"It has a compartment where I keep my files," she said in the interview.
When asked what the most important thing in the bag was, Kamala pulled out three different chargers. I think it speaks volumes about her character. She is always full of energy, and she is very organized and prepared.
Kamala also shared in the interview that she grew up with people who took their appearance very seriously because it was a sign of self-respect.
She recalled, "Ladies dressed up for church on Sunday — the hats, the colors. There was not a hair out of place."