Scarlett Johansson's Fashion Hack: Women Dressing for Other Women

https://www.instagram.com/p/COjwLJhn-Ip/
The release of "Black Widow" was affected by the pandemic but word on the streets (and by streets, I mean… comic book fan blogs) is that it will simultaneously screen in theaters and on Disney Plus this July. That will likely remind the fashion world of Scarlett Johansson's glorious style!
Scarlett is the highest paid woman in the Marvel Universe and the highest paid actress of 2018 and 2019. Despite all of her achievements, she's still constantly getting fashion and diet-related questions from reporters. It's pretty clear from her interviews that she'd rather talk about something more creative or meaningful, and this isn't being respected, which is unfortunate. At the same time, Scarlett's style is impeccable, so it's only natural that people would be drawn to it and want to learn more.
And her perspective on style is actually pretty interesting…
Whether we realize it or not, women dress for other women. Scarlett revealed this core fashion truth in an interview after the Russian premiere of "The Avengers."
A Russian female interviewer asked Ms. Johansson how it feels to be so well-liked. The journalist shared that her father liked Scarlett, her boyfriend liked Scarlett, and "all of men" seemed to like Scarlett! To which the actress half-jokingly replied that she's happy to get all generations, finally. On a more serious note, she added that she loves her male audience and loves putting out films that garner a good response from that crowd.
However, Scarlett said that she considers girls' compliments to be more flattering because, she suggested, girls strive for other girls' approval. "I think a lot of times, guys think that we dress for them, and, you know, all that stuff. But it's really not true. We actually do it for girls," she said.
Scarlett explained, "I'd way rather have my girlfriend say, 'Ooo, that's a cute dress!'" She said this feels better than having a guy nonchalantly remark, almost as a throwaway compliment, "Oh, I like your dress…"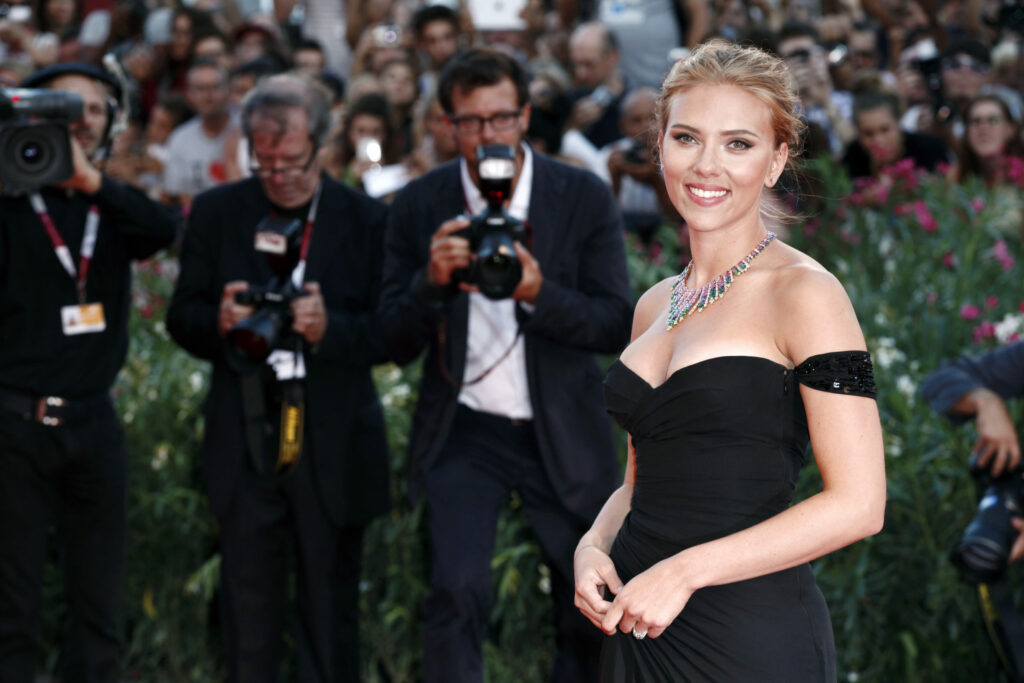 If you turn on the TV, you might be under the impression that women dress to impress men, seduce men, get men's attention, and look pretty for men. This is obviously still going on but that's not the full story of fashion!
In modern times, women also dress up to feel confident and better about themselves, to start the day strong! And, honestly, sometimes we dress for other women because we secretly crave their approval.
There is also that weird jealousy component that we are ashamed of and unwilling to admit, even to ourselves. We don't want to acknowledge that we're vying for "best dressed."
Scarlett is really onto something with those fashion revelations. Extraordinary fighting abilities and agility are not the only powers in her arsenal. Did she also crack behavioral psychology? To her credit, she is not keeping it a secret! And she is not trying to sugarcoat anything. She is bluntly saying it as it is.
It comes as no surprise that many women look up to Scarlett Johansson for fashion guidance. At many events all around the world, she has looked fabulous on the red carpet. We Google her looks to recreate them and feel like strong female leads ourselves.
If you want to look as stunning as this actress, you could try to recreate some of her best looks or put your own spin on them.
All these outfits have something in common: they are feminine but bold, and they are totally getting compliments from other women.
A hot pink jumpsuit
Zuhair Murad's hot pink jumpsuit looked extra hot during the 2015 MTV Movie Awards. It's a perfect combination of slightly casual, formal, and super sexy. Scarlett showed off her figure and her color-blocking abilities. Combining a hot pink jumpsuit with a Tiffany blue clutch and matching sandals isn't easy, but Scarlett Johansson pulled it off like a color-blocking queen.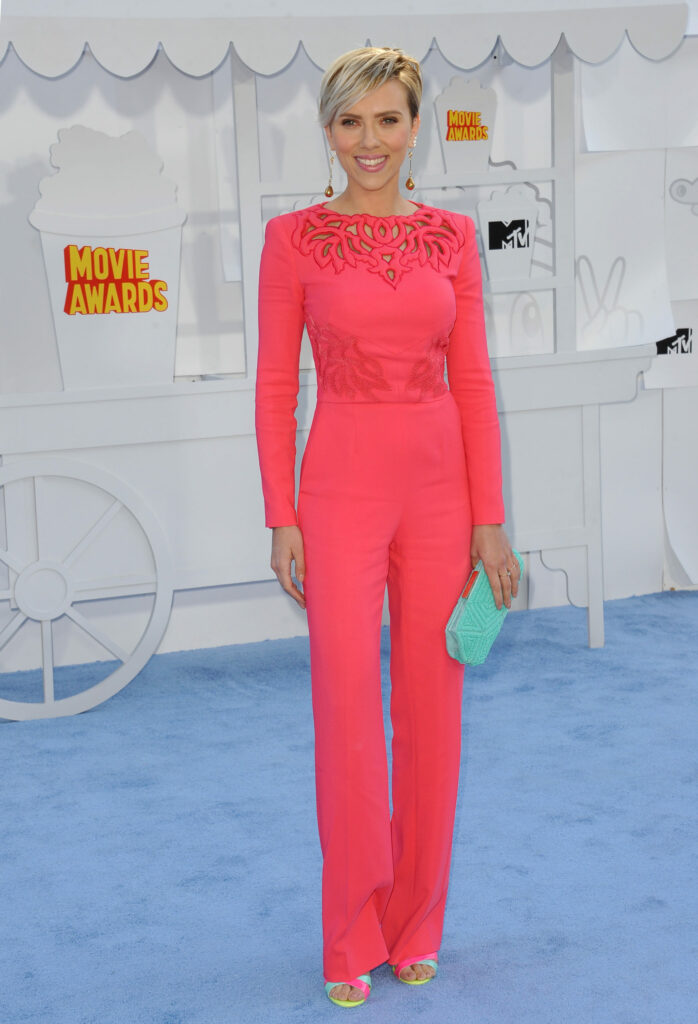 It's 2021, and pink is back en vogue. If you search, you might be able to find your own perfect pink jumpsuit. Or you could just wear pink pants you already own and a top of the same hue.
Alternatively, you could do color-blocking. Go for a pair of red pants and a pink shirt or close-fit sweater. Or consider a "pink on pink" combination by matching hot pink with a blush. If you are bold enough, you can even mix pink and green, just like Scarlett did!
A black tuxedo suit
The Atelier Versace black tuxedo suit with a silky white collar made Scarlett look like a real badass at the amfAR New York Gala in 2017.
It looked powerful and sharp and soft and sexy at the same time. This is the epitome of a strong female lead on and off-screen.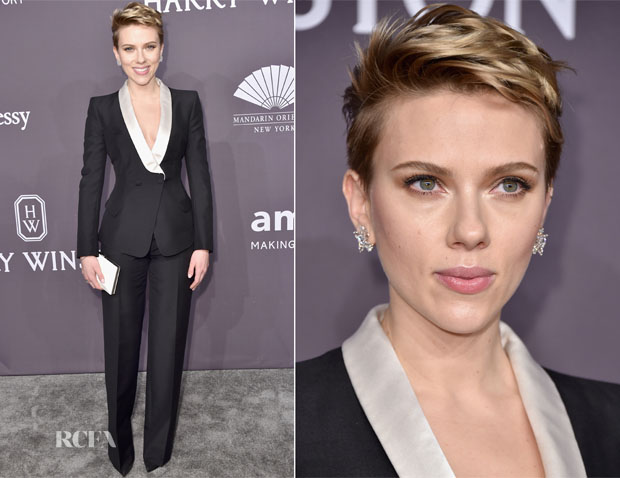 If you want to feel like a boss babe yourself, you don't necessarily need a Versace tuxedo. Any black pantsuit will save the day better than Natasha Romanoff. The key here is that it should be well-cut and fit very well.
A striped skirt suit
A striped Michael Kors skirt suit made Scarlett stand out at the Tony Awards in 2017.
It seems like Scarlett Johansson has a thing for suits that look very sharp but sexy at the same time. She is a master of combining male strength and female sex appeal. Maxi skirts can be incredibly sexy if you add that slit to show off your beautiful legs.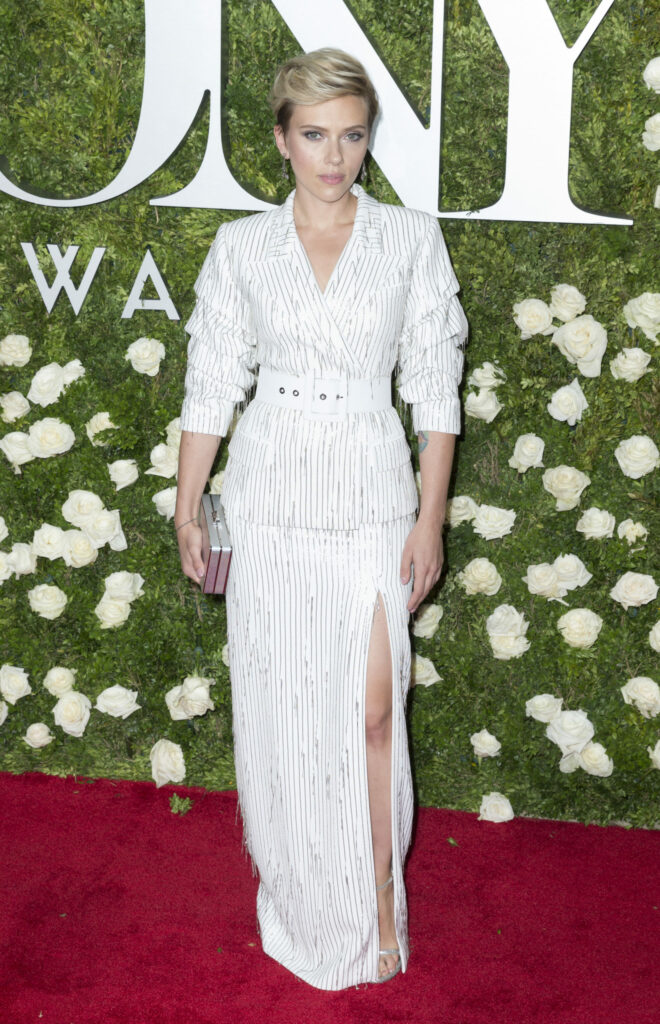 To create a similar look, you might want to wear a white or black striped suit. It doesn't matter whether it's a skirt or a pantsuit. They both look elegant, professional and boss-like. You can make the look pop with a simple accessory — a belt, which should go over a blazer. And then you'll look like a chic French woman with an American twist.
Being a Movie Star in the Real World
Those were some of her best red carpet looks, but how about Scarlett's fashion choices in day-to-day life? Even Avengers have errands to run!
Johansson told the British Vogue that she takes comfort in her clothing, especially when the weather is not ideal for a mini designer dress. Like anyone else, she likes looking glamorous but in everyday life, Scarlett chooses more androgynous and utilitarian outfits. She usually wears pants to formal parties in New York because the winters are too cold for her.
She also pointed out that tastes change with age: "Now I'm aware of everything I wear being functional, at times exceedingly feminine, and often completely androgynous. If I'm going out at night, and not to a big event where I'd wear a gown, I'm in an androgynous look."
If you are still looking for your style but haven't figured it out yet, don't worry, we've all been there, even fashion divas like Scarlett. She told the Guardian that she went through many style stages herself, "wearing anything that would help me fit in, to giant hide-your-body sweaters, and then the stage where I wore only black."
Maybe she thought she'd one day be cast in "Men in Black" instead of "The Avengers"! She would have got to stop evil extraterrestrial life either way.
Reflecting on her past habits, she explained, "In New York no one wore anything else. And being a young teenager lends itself to wearing black — you're so full of anguish and despair. Thank God I've grown out of that. If there's one thing that I never want to be, it's 14 again."
So, no "13 Going On 30" or "Freaky Friday" reboots with Scarlett. Got it.
What stayed the same over the years was her love for vintage, and the search for something special. "I love the hunt," said Scarlett. "You can really discover your own look in a vintage store. When I was a kid I'd wear only vintage. The smell of the old clothes didn't bother me. I don't think you care about what you smell like when you're 10 — that comes later." Or maybe it comes when you have to be the face of a D&G fragrance and do perfume commercials…
Scarlett clearly has something to say about style, but she also has the right to set boundaries, and some of the questions she's received over the years have been particularly insulting. Scarlett has been repeatedly asked whether she wears underwear under the Black Widow costume.
In an interview with the TV program Extra, she wondered aloud: "Since when did people start asking each other, in interviews, about their underwear?"
She addressed the mystery by stating, "I'll leave it up to your imagination, okay? Whatever you feel like I should be wearing or not wearing under that costume…"
We could go on and on about all the dazzling and elegant looks Scarlett rocked over the years but it seems like the Scarlett approach is also about being real. Women dress for other women. We like to be comfortable. We don't always want to overdo it. But when we do step out with something that's a little extra, the incentive can vary: be it a compliment, recognition, envy, making a media splash, you name it!