Miranda Kerr's Best Gucci Looks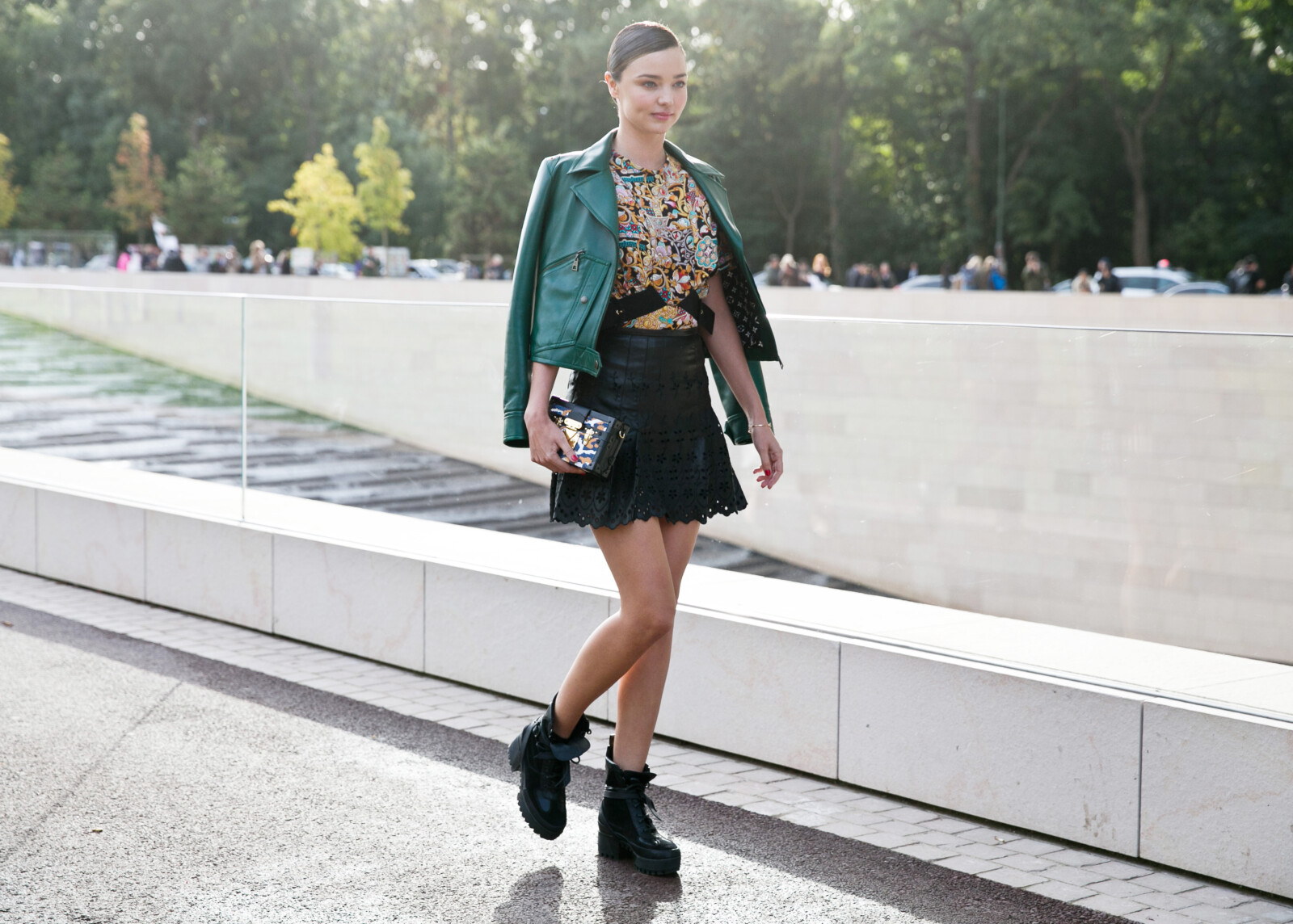 This girl boss still owns 95 percent of her company, and her beauty products are sold in 30 countries! At 38, she looks no more than 28 and has the best skincare routine that helps her stay young and fresh. Yes, you got it right; we are talking about Miranda Kerr here!
When asked in an interview which questions she is tired of answering, she noted that there are a few. "I never know how to answer the ones when people are like, 'Describe your style in three words,' like, I don't know how to answer that," she confessed. "Hopefully, I'm growing and learning and moulding and it's not always the same."
Miranda's style might not be the same as 15 years ago, but here are 10 Gucci looks she absolutely rocked!
GG belt with pearls
At the capsule launch of Miranda + Mother in West Hollywood, Miranda looked casual but sexy. Her black knit top and black tuxedo jacket looked amazing, with ankle-length mom jeans of her own design and ankle-strap block heel sandals! But the GG belt with pearls really stood out.
Gucci Marmont Belt
On another occasion, the supermodel was spotted in the airport wearing a casual yet chic outfit. Miranda paired blue mom jeans and black boots with a shimmery ruffled top, staple Gucci Marmont belt, black choker, and a pair of sunnies. It was almost incognito mode. Was it the flashy GG belt that gave her away?
Airport = Gucci Marmont Belt?
Wait, what? Are we discovering Miranda patterns here? Same airport setting, the same belt! Same jeans, too, but another shimmery blouse, this time green… The black coat and a pair of Ray-Bans made her look like she was ready to fight bad guys from The Matrix. I hope she didn't scratch those Gucci loafers while doing crazy martial arts kicks!
Tie-neck Gucci dress
Miranda Kerr looked stunning in a dainty floral dress from Gucci. Delicate blue flowers on a navy blue background were flattering to her green eyes. The tie-neck and neat ruffles looked feminine, but the overall outfit was not too girly-girly. The former Victoria's Secret Angel added an edgy feel with over-the-knee black Hermès boots.
Off-the-shoulder peasant-style dress
Even though it was technically a "peasant-style" Gucci dress, it looked romantic and graceful on Miranda. This ruffled maxi dress provided a desirable comfort while the sapphire blue silk material looked very rich. A fringed shoulder Valentino bag completed the look and added some boho feel.
Black velvet dress with beads
In 2018, the Los Angeles County Museum of Art hosted its eighth annual Art+Film Gala, where special guests showed up in their prime looks. Miranda chose a black velvet Gucci dress with embellished floral elements across the dress.
The goldwork and beads embroidery looked remarkable. Crystals on the cuffs echoed with crystal-embellished heeled sandals. A blush silk clutch was color-coordinated with some of the flowers on the dress. The overall outfit was 10 out of 10!    
Metallic floral-jacquard mini skirt
It wasn't Justin Timberlake who brought sexy back; it was Miranda Kerr with her next look! She absolutely rocked this floral mini skirt from Gucci. The skirt has really cool details: GG pearl and chain buttons and metallic touches. It has an intricately designed floral brocade on green fabric. The Knife over-the-knee boots from Balenciaga added the allure to the outfit that made it possible to outrank Timberlake. Sorry, Justin.
Gucci A-Line denim skirt
Miranda does know how to create a balanced and well-coordinated look. Check out how she styles this A-line denim skirt! The shirt matched the decoration on the front pockets (a Web trim and an interlocking GG Horsebit motif).  
Gucci pumps
Personally, I absolutely love Gucci pumps and loafers and have been eyeing a pair for quite some time. Miranda Kerr looked dashing in these blazing Gucci pumps. They look effortless but will definitely dress up any outfit you have in mind. You can wear them, just like Miranda, with a dramatic dress. But trust me, even a pair of ordinary jeans will suddenly turn extraordinary with shoes like that. Learn from the best and follow the lead of the Aussie model!    
Total Gucci look
Just when you thought it couldn't get any better, it did! Have a look at this total Gucci look! This one is my absolute favorite!
This yellow brocade suit from the Resort 2016 runway collection looked lush and fancy. Metallic beads, pearls, and crystals at the waist and the piped scalloped hem added even more extravagance in a good way. A sky blue Gucci shirt and blue Gucci pumps made the look genuinely unforgettable.
This outfit is Gucci head to toe, including rings. The cat she's holding is not Gucci, and is not for sale. Get your own cat, girl!
If you want to channel some Gucci vibe, just like Miranda Kerr did, now you have some guidance. And if you were wondering how to rock that GG bag you have, read "How to Style a Gucci Bag."