Industrial Lofts for Sale in NYC and Matching Outfits

https://www.instagram.com/p/Bty7SZxjxyD/?utm_source=ig_web_copy_link
https://www.instagram.com/p/CQRJjsljgkZ/
Industrial lofts are widely appreciated for their spaciousness, especially the high ceilings, as well as their raw qualities, like exposed pipes, beams, and brick walls.
Finally, your quadcopter drone will have indoor space to play in! Fly it up near those unreachable high ceilings, just to convince yourself that the expensive air over your head serves a purpose!
Alternatively, a spiraling staircase that connects to some kind of upper level gives you, not your drone, more room to work with, maybe a bed or extra closet space. The right type of staircase even adds to the industrial chic.
Either way, the open concept of an industrial loft provides flexibility, the large windows welcome in the light, and your imagination can run wild.
A true loft is converted from a factory or warehouse space. Many new developments deliberately mimic the look, feel, and dimensions of these conversions to meet the high demand for lofts. At least, that used to be the case…
During 2020, commercial and multifamily construction in the New York metropolitan area fell by 25%. Ouch. A year before the pandemic, construction had increased by 6%. This is according to Dodge Data and Analytics, a provider of commercial construction project data.
The firm reported that the construction sector is already showing signs of recovery… but it might take years to come back completely.
Loft loophole: Did you know that Manhattan isn't the only place where you can find a great loft? DTLA and Pennsylvania might spring to mind but the loft aesthetic is now almost everywhere.
Actress, activist, and fashion model Jane Fonda used to have one in Atlanta! It included a concrete pillar and curving staircase but Jane really made it her own.
Some old pics of her listing show a very eccentric choice in the form of a bed with bedazzled linens and an oval-shaped canopy that apparently contained a mirror. See it here.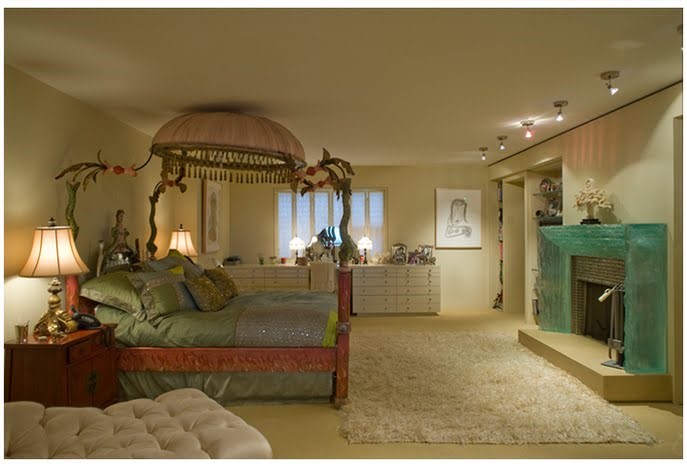 I told you, lofts are a great place to let your imagination run wild, and Jane Fonda's imagination apparently went all the way to "Where the Wild Things Are."
If NYC is an essential part of the loft equation for you, here are some great ones on the market right now. And because LittlePinkTop is your go-to place for your styling advice, I've included some examples of the right clothes to fill out all the closets.
1. The Legit Red Hook Loft
I'm not convinced by this Red Hook loft's exhibitionist bathroom.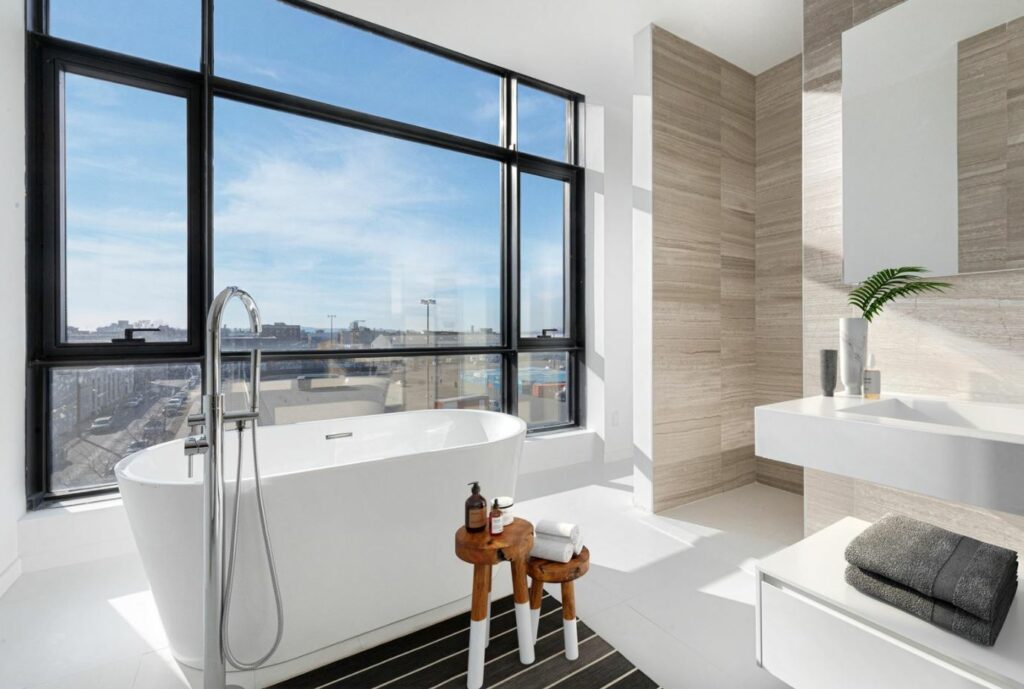 I might be bold enough to go for a tub-by-the-window soak if I were living somewhere natural and remote but alas, warehouse rooftop views and people parking their cars curbside don't usually make my clothes slip right off. Mind you, you can see the Statue of Liberty from the living room, so this unit does offer something authentically NYC.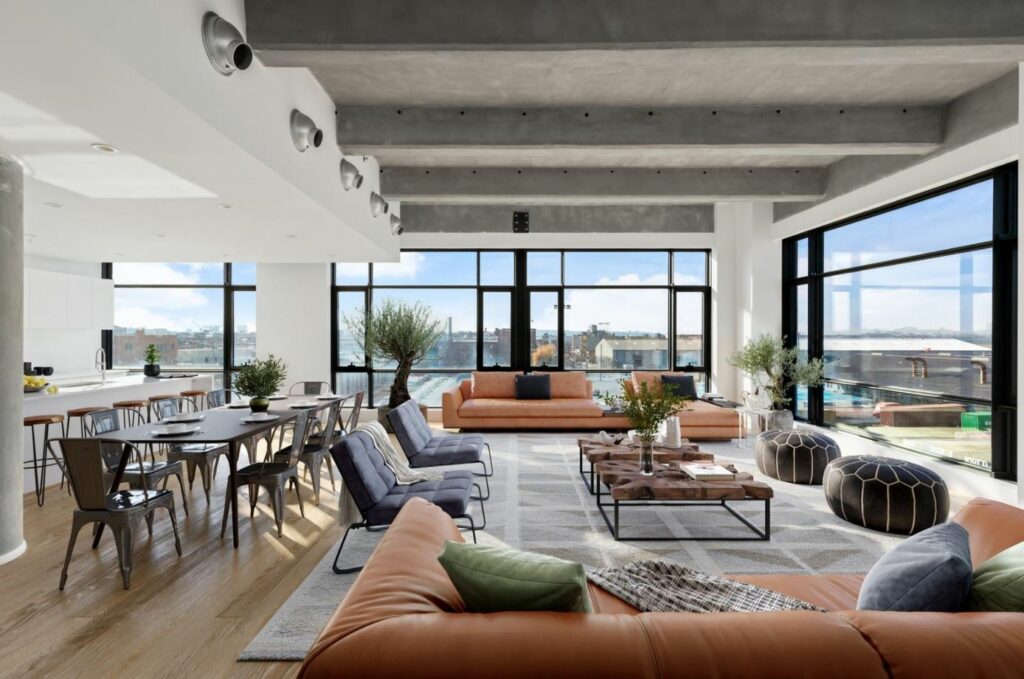 The exposed concrete ceilings make the whole place feel solid. In fact, one of the property descriptions claims that when this industrial dock building was built in 1910, it was the first reinforced steel and concrete building in the United States. Now it "combines modern design intelligence with a historic sense of place."
I'm talking about 160 Imlay Street. This listing has 3 beds, 3 baths, and the ask is $2,900,000.
This unit is near Brooklyn Ice House, which couldn't be more unpretentious, from the weather-worn sign, the tempting barbecue and greasy grub, and the outdoor area with random old furniture, enclosed by murals and brick walls that are absolutely covered in hanging vines. Pulled pork sandwich every Friday night? Yes, please!
The loft is also near Pioneer Works, a contemporary art space, and a photography studio that is still so warehouse-y that it boasts "drive-on access."
But industrial qualities remain in the neighborhood. There's currently a car racing track and a driving school nearby in Red Hook Terminal.
The official guide to NYC describes Red Hook as offering "sweeping views of New York Harbor, great seafood and an industrial aesthetic held over from a previous life."
Red Hook was home to thriving shipyards. Then a new trend emerged, as shipyard general manager Michael Sanborn described to Curbed NY: "The dry dock companies close up, and the high-rises go up."
Starting July 17th, regular weekend ferry service from Red Hook to Governors Island will return, and that could bring even more summer recreational activities to Red Hook.
If I lived in this Red Hook loft, I'd imagine that I'd be wearing an outfit like this:
You see, this loft looks very industrial, so anything cute or cottagecore would look out of place. I would go for that shipyard aesthetic in my clothing, too. And there's something really appropriate, but still feminine, about this jumpsuit cut from soft cotton blend fabric with stitch detail and a detachable waist strap.
You might find the jumpsuit above to be very simple, so you need to add some clean and uncomplicated accessories.
The chunky ring has a very unique shape; it's creative and bold, like the loft itself. If you want to make it a set, add on these huggie earrings, which neatly hug the earlobe and tend to be thicker than a standard hoop.
Though both the ring and earrings come in a variety of bright and bold colors, I personally would go for black, for each. These accessories are made of lucite, a higher-quality version of acrylic resin, which was a particularly popular material for jewelry in '50s and '60s.
I might also browse thrift stores in search for hidden gems, to throw together a completely and authentically vintage look. Going retro is what this Brooklyn loft life is all about!
Still not convinced? Brooklyn commercial real estate broker Shlomi Bagdadi shared this post of a decoration in Bushwick, and it's literally a chandelier made out of obsolete TV/VCR combos. These screens were being used to light up the space by showing black-and-white imagery.
See? If you're going for a legit loft, you need to lean into your creative scavenger side! It's WALL-E but make it fashion!
2. Legit but Lower Priced Red Hook Lofts
I'm going to follow up 160 Imlay Street with…
160 Imlay Street.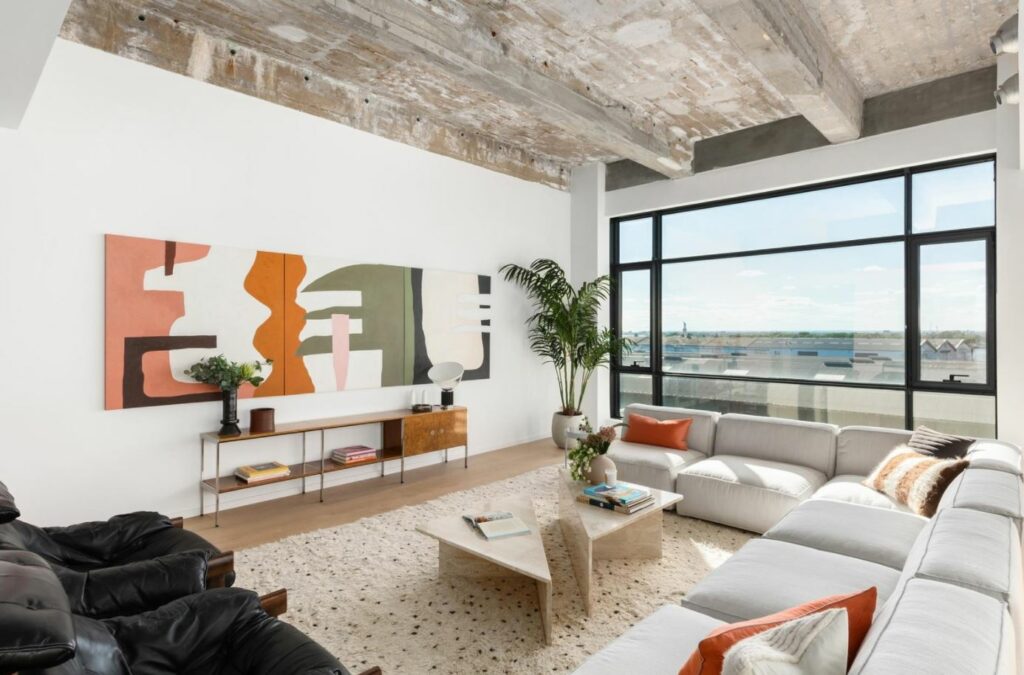 Huh? Yep, just wanted to point out that the same broker has other units in this building, including a 1 bedroom, 2 bath priced at $1,250,000 with, again, that peek of Lady Liberty, and a 973 square ft. unit at $875,000.
Same outfit applies! But, I dunno, tighter clothes since these are smaller units?
3. The Toy Factory Lofts
I wanted to show you something a little more affordable (by NYC standards) so here's a unit priced at $525,000 in the Toy Factory Lofts. The monthly maintenance fees are also low by NYC standards at $253.
This isn't just a clever name for a new development. According to StreetEasy, a banker's son, Norman Sas, created a popular, post-World War II tabletop game here called Electric Football. The gimmick was that plastic football players on bases could be placed in formation on a metal vibrating field. Apparently, the development of videogames in the 80s put an end to this silliness.
Anyway, I think this unit is staged in a colorful and fun way that honors this historic past.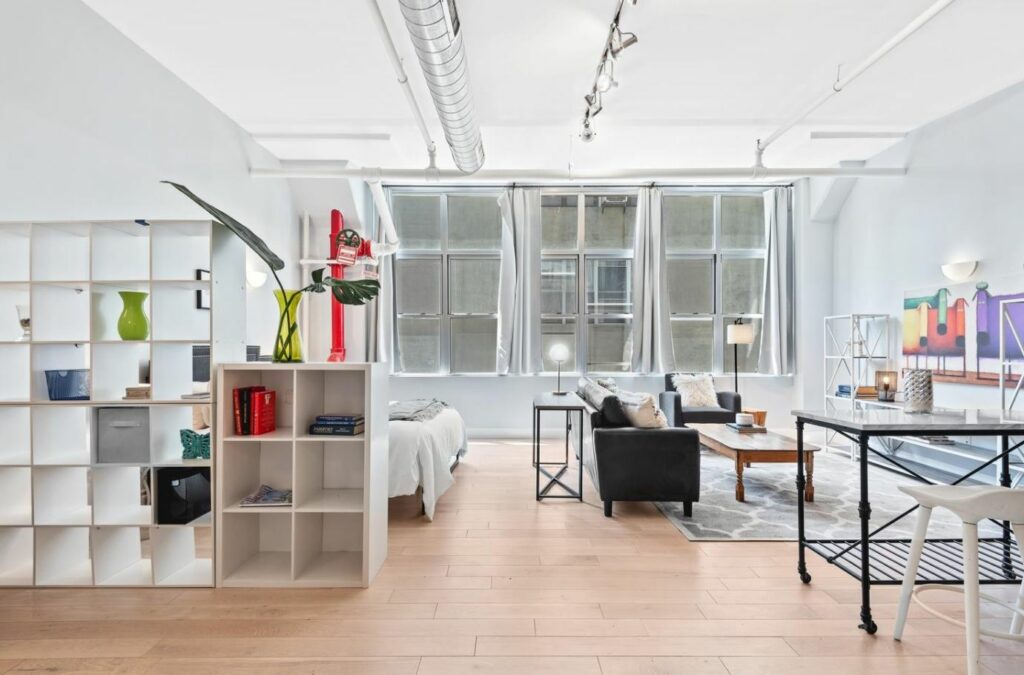 I could see myself being creative here, under those pipes and high ceilings. Couldn't you? Again, we're in Brooklyn here, so there are lots of restaurants nearby to turn your creative profits into gluttonous foodie consumption.
Here's the right creative outfit for this type of space:
This wide leg jumpsuit has a playful ruched cup, meaning that the fabric around there gathers lightly to create a rippled surface effect. This outfit seems loose and playful and seems appropriate for a former toy factory. It also has that industrial vibe about it. And the color almost matches the exterior of the building if that's important for you. 😉
4. Luxury SoHo Style
SoHo is known for its artistic history, as well as the luxury boutiques that characterize the neighborhood today.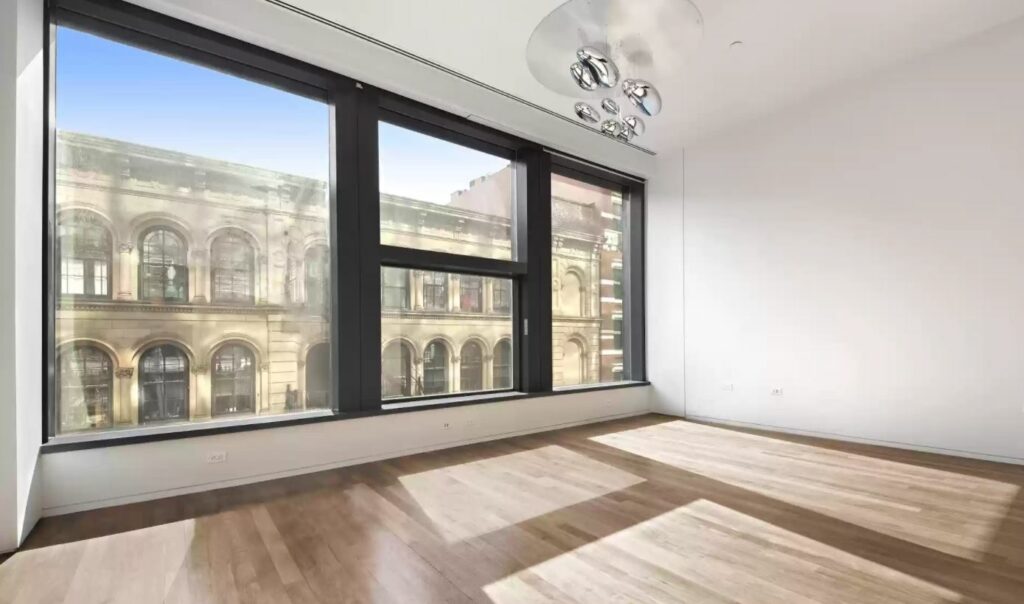 This property listed at over $7.5 million owes the distinctiveness of its design to renowned architect Jean Nouvel and hotelier extraordinaire Andre Balasz.
If I lived in this unit at 40 Mercer Street, described as "SoHo's exclusive modern masterpiece," I'd be wearing something like this:
Classy but contemporary, just like the building itself, this feminine dress would help me blend right in the trendy SoHo, known for its designer boutiques and fancy chain stores.
It has beautiful darts at the waistline, giving this modern dress a '50s vibe. A dart, by the way, is a folded wedge of fabric that is tapered and stitched down to give shape to a piece. These, in particular, are dart tucks where the points are left open to give the waist a pleated appearance.
If you like antique more than modern, wear this light beige dress and look like a Greek goddess in the heart of New York.
If SoHo is your new neck of woods, you have to look fashionable, meaning you need to add a necklace! This one of a kind locket will look great with either of those dresses!
5. The Not-Quite-a-Loft Financial District Option
What if you just want the big space of a loft, without the constant environmental cues suggesting that you should be drinking cold brew or craft beer?
The Corcoran Group recently shared a listing on Instagram that is staged in a modern way, enlivened with pops of color.
It has 12-foot ceilings, like a loft, but at 20 Pine Street, it's literally right around the corner from the New York Stock Exchange. Go make some money!
When I imagine myself living in this unit and look in the mirror, I'm wearing something like this:
… NOTHING! "Wolf of Wall Street"-style, yo!
6. Bonus: The Flee-the-Country Option
And if you're really getting over the typical hipster loft, why not go Down Under it? No, I mean move to Australia… Yes, I know that word play was a stretch.
Remember how I told you this design style is now basically everywhere? Well, there's a recent listing in a coastal Melbourne suburb that combines exposed brick and a wood-fired pizza oven with earthy wood tones and modern touches.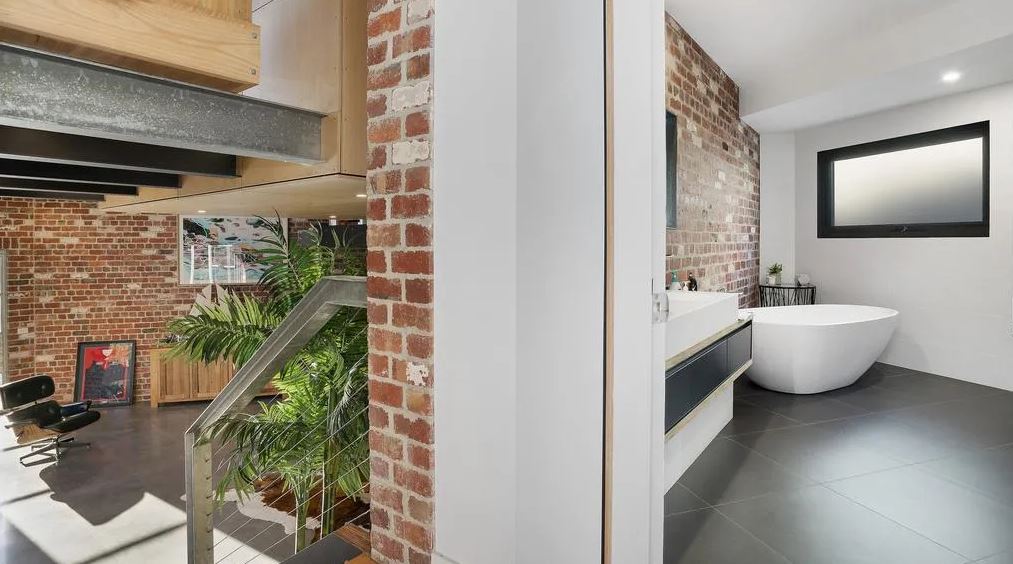 Check out the balcony hanging next to some peaceful trees, with a view stretching to the water. I need to finish this article before I accidentally start meditating in mid-sentence!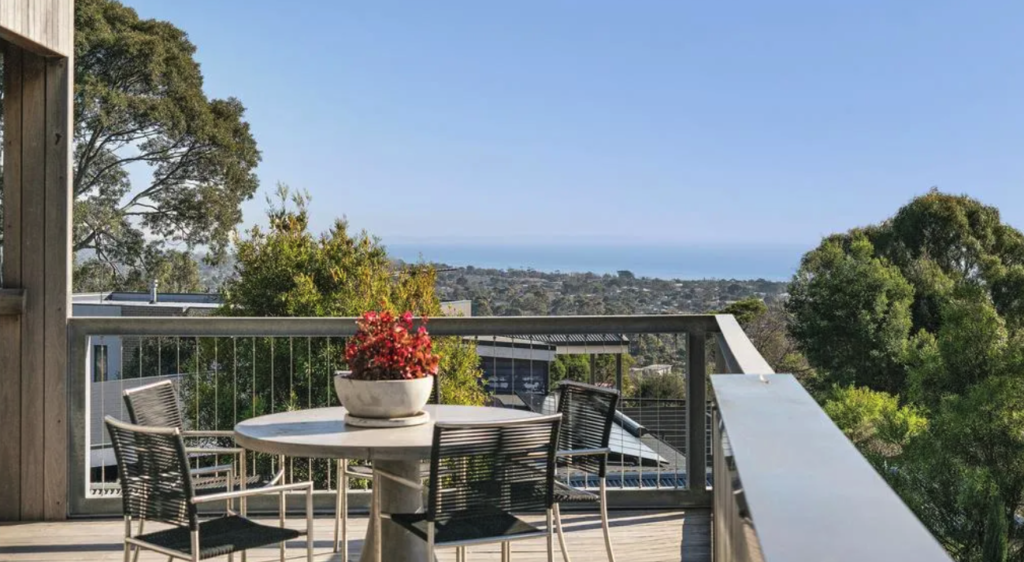 Here's your ready-to-go Aussie outfit, mate:
I would go all in on this one and wear leather! Interior designers love to complement brick with some leather, which is perceived as "sexy." And you can do the same. This vegan leather vest dress (you're welcome, cows) in mustard color looks a little rough. So you can balance it out with a white or terracotta balloon-sleeve blouse and a pair of white teddy house slippers.