Men's Style Advice for a Work-From-Home World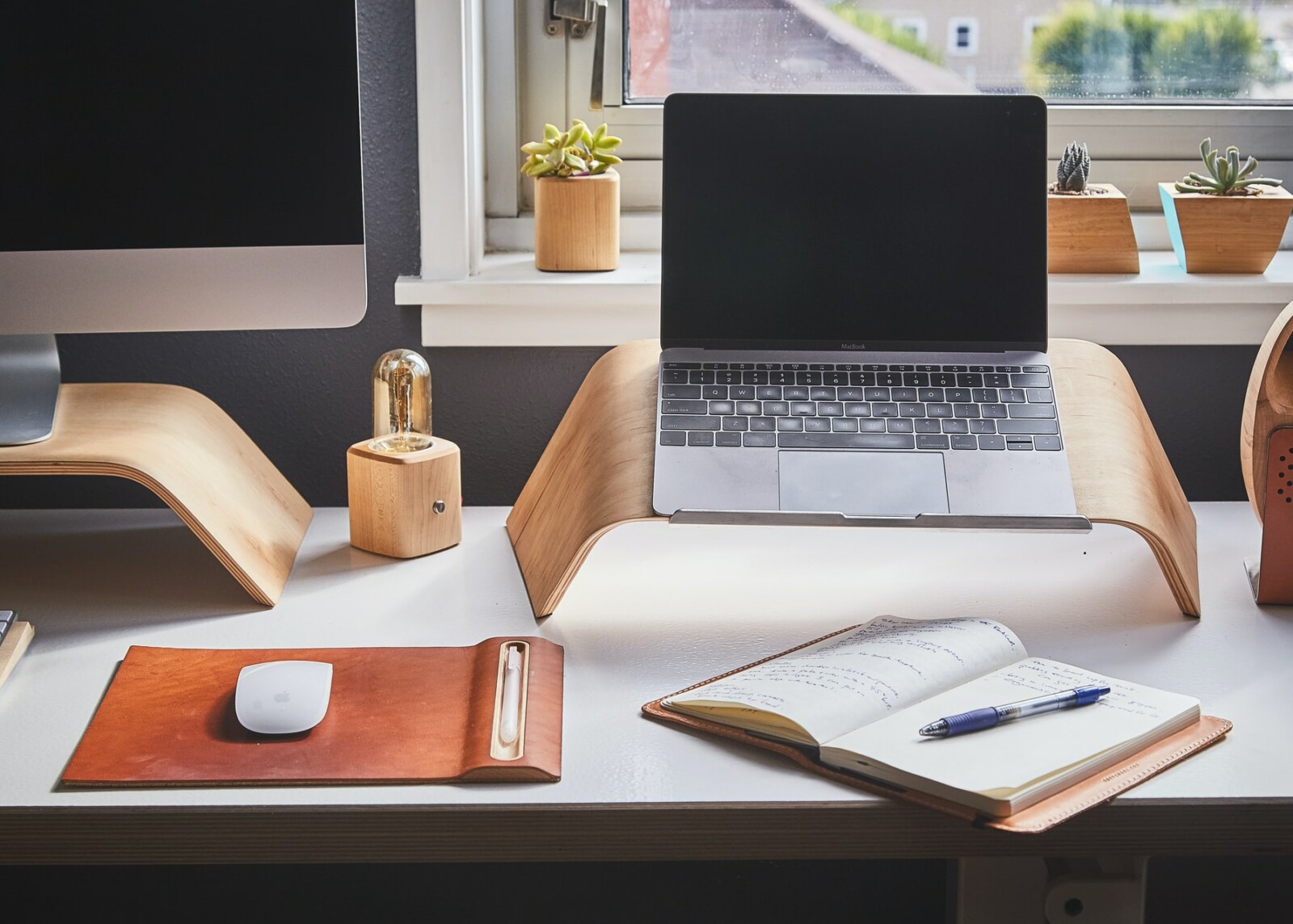 If your employer allowed you to work from home during 2020, aka the year when former President Trump suggested that maybe people could clean out their lungs with bleach (don't ever do this), you probably had to change up your habits and routines. You had to figure out how to stay focused, resist those distracting, rambling press conferences, and deliver measurable output.
After a while, your work-life boundaries probably began to resemble sheer socks. (This is a fashion publication, just go with it.)
Anyway, in the work from home (WFH) world, there was a learning curve with all those Zoom, Skype, Teams calls, GoToMeetings, Clubhouse calls, and whatnot! Many struggled to look decent on camera. There were many mishaps. Remember those who decided that pants were too… extra?
I'm not saying that you have to put on your tie or tuxedo while working from home, but looking sharp never hurt anyone. If anything, do it for yourself so that you feel confident and smart. Or just, you know, passably sane.
To match this changing world, even major fashion designers put comfort first and created collections that are snuggly but still very stylish. Now, workers can go for soft tailored suits, which could be worn with a cotton or linen shirt, even with a tee!
For all the guys who recently started checking out LittlePinkTop in incognito windows in order to find out what to wear this summer, you're in luck!
LittlePinkTop put an outfit together that can give you a good foundation in this new world.
(Disclosure: LittlePinkTop has numerous affiliate partners. When you buy something through our links, we may earn an affiliate commission.)
Shirt
This navy blue shirt from Desigual is a find! The shirt is short-sleeved with a classy cut and a cutaway type collar, made from organic fibers. Against a dark blue, it has a very subtle but interesting print in a slightly lighter blue color. The print contains sunflowers and… wait for it… lobsters around the button-up closure.
Listen, don't worry about the flowers. This shirt has nothing but cool vibes and if someone wants to ask you about the flowers and lobsters, it means you've caught their attention!
If you think that only a sports team logo can be considered "manly," you need to wash those outdated notions down the drain with the Epsom salts from your LittlePinkTop-approved bubble bath! You can be artsy, but not over-the-top, through little expressive details like this.
Shorts
With the brutal heat waves many people have been experiencing recently, everyone wants to shed off as much unnecessary fabric as they can without getting arrested! When temperatures are soaring, what's better than a good pair of shorts? Besides, of course, a proper AC unit.
These navy chino shorts will bring even more marine vibes to that lobster shirt. They have a professional and sleek look because they are well-cut. These shorts also have neat side pockets, not bulky ones that might look sort of busy and distracting.
These shorts are a solid match with the Desigual shirt I recommended. You could drop by the office in this outfit and feel very cool and deliberate.
However, if the total blue look makes you feel blue, add a different color and let some more creativity flow through your WFH style. Consider these mustard shorts!
As you can see in some of the images on the Garmentory website, they can actually be paired with a dark blue. Let's say you work in tech. Wearing these mustard-colored shorts with the Desigual lobster and flowers shirt shows that you're running a more sophisticated fashion algorithm. You didn't just go "blue + blue = good outfit." (I know that's not what code looks like.)
Again, these shorts would work in an office (depending a bit on your company/industry) because they're not too short.
These shorts also have a relaxed fit, which is good when you sit at your desk all day long. Besides, they are lightweight and 100% cotton. The verdict: these shorts from London-based menswear brand Oliver Spencer are perfect for those hot summer days!
Blazer
If you don't want your employer to think that you are too relaxed working from home, put on a blazer for your next Zoom call. This Maison Margiela blue blazer will look amazing with the items above. The neat, concealed button closure at the front is very intriguing.
I think this piece is futuristic and will get attention; it's even a little mystifying!
There's impressive originality in a choice like this. In a professional context, you might even come across as efficient, organized, and bold. This is an expensive item (even though it's 52% off right now) but if you have a high salary and are looking to redefine your reputation as people come back into the office, you could view it as an investment.
If you like bold choices such as this, and you went with the mustard shorts, you might even want to buy the oversized, mustard-colored vest dress for your girlfriend that I recommended at the end of this article.
Another option is this cotton blazer in light blue from BOSS. It's a double-breasted blazer with patch pockets at the waist. I wouldn't pair this one with the mustard shorts, though.
Shoes
Whenever it's time to leave the house, you could put on a pair of loafers to feel proper. This pair, made from genuine suede, looks very classy and is considered to be Venetian-style loafers.
What does Venetian-style mean, you ask? Well, I'm glad I made you ask that. It's a mid-heel slipper with the upper part of the shoe slightly open. These shoes tend not to have any ornamentation, unlike loafers which might have tassels, straps, or vamps.
Although Venetian loafers are simple and unadorned, they can be made exceptional through details like contrast stitching or leather with a high-gloss finish, though the latter is prone to scuffing. Light suede Venetian-style loafers are considered more casual, and black patent leather ones are more formal, even suitable for tuxedo occasions.
The particular pair that I'm recommending here is navy blue, and made by Bruno Magli, a shoe company founded in Bologna, Italy in the 1930s by three siblings: Marino, Maria, and Bruno Magli. Their grandfather taught them the art of shoemaking. That special knowledge was transformed into a family-run atelier, then a small business, and ultimately into an international luxury footwear company.
Do you instantly feel fashionable? I would!
If the pair above is too dressy for you and you'd prefer something more laid-back, you might want to consider more sporty loafers, like this pair:
They offer an excellent balance of casual and smart. These unfussy loafers are from Cole Haan, an American footwear and accessories brand founded in Chicago, Illinois in 1928.
Earlier, I suggested navy blue chino shorts or mustard-colored shorts with a drawstring for something a little more distinctive. Do you know what's really convenient about these Cole Haan shoes, for the purposes of today's styling? They would work with either of those shorts!
You see, the blue color completes the blue shorts, but these shoes also have a light brown lining and a brown leather vamp and heel pull loop, which would complement the mustard-colored shorts.
Watch
No one likes that annoying person who is late to the Zoom call and then wastes everyone's time apologizing profusely. If you also have time management problems, maybe, I dunno, wear a watch on your wrist? This blue dial watch from Hugo Boss will look very clean and sophisticated and bring this outfit together.
Glasses
If you need glasses, have a look at these ones from Tory Burch. The navy blue rectangular frames look chic with contrasting golden arms and the Tory Burch emblem printed on the sides.
Also, if you are staring at a computer screen for extended periods of time, and still avoiding outside interactions because you or someone close to you is still vulnerable right now, you might want to add blue light lenses that are supposed to protect your eyes from straining. (Eye yoga might also be an option.)
Now you are all dressed up, with nowhere to go… wait… you are not supposed to go anywhere, right? You are supposed to work. Work but make it fashion!
I'll conclude this piece with a great quote, apropos of WFH style, from Pierre Mahéo, of Parisian menswear label Officine Générale.
When asked by Vogue to explain the special nonchalance in Parisian style, he replied:
"It's when someone likes to be well put together but he's not obsédé by what he wears; he has to be absolutely natural, almost not paying attention. When I was young, I often crossed paths in the quartier with Serge Gainsbourg. He was always smoking his cigarette, très chic in his double-breasted suit rayures tennis, and the ash was obviously falling over the blazer and he absolutely didn't care, he waved it off with insouciance. If the shirt is a bit wrinkled, on s'en fout. We live our lives in the clothes we love, and they live with us, rain or shine. That's the attitude of nonchalance. We're not on parade."