Two Garden Party Looks: One Peaceful, One Bold!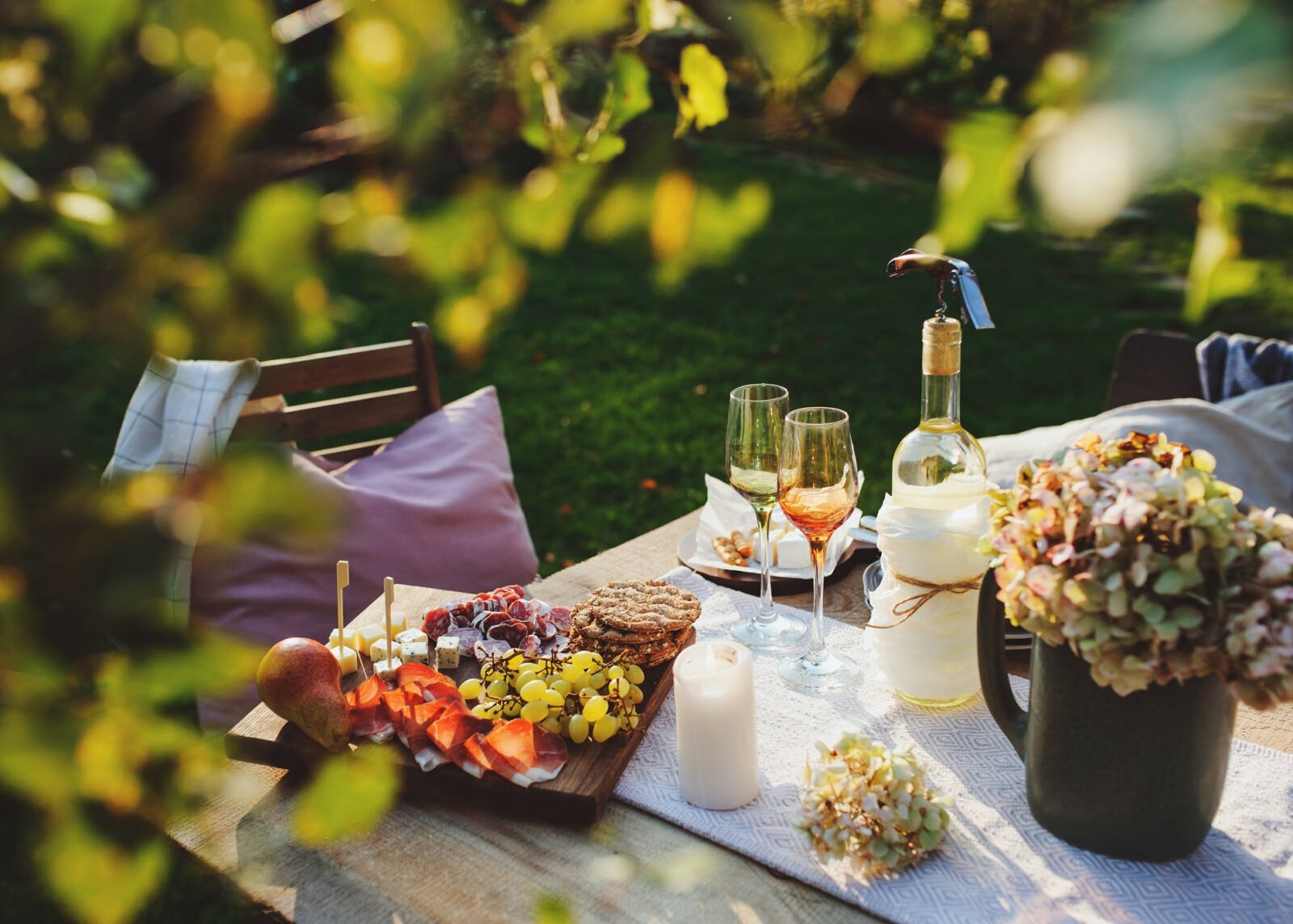 At the beginning of August, LittlePinkTop created three looks for a garden party. If you're still planning a get-together outdoors before summer is over, or if current events made you postpone your plans till next year, then guess what? LittlePinkTop can still help you plan for that party, whenever it happens, and in whatever form. And no matter what, you'll be stylish!
(Disclosure: The items below were selected from LittlePinkTop's affiliate partners, and styled specifically for this occasion. If you make a purchase using our links, we may earn a commission.)
The "At Peace with the Universe" Garden Party Look
Maxi Dress
If you value comfort the most, a roomy maxi dress might be just right! (For some basic advice on how to find the right one for your body type, and for what elements to avoid, check out the LittlePinkTop guide "How To Find the Right Maxi Dress for You.")
Anyway, for your garden party, what do you think of this? I think it would be relaxing to wear, and with the blue fabric rippling like ocean waves, it would relax those around you!
This dress has a square neck and a symmetrical square back. Visually, it creates engaging lines; it's not just flowy and amorphous. Half bell sleeves, a flared skirt, and the "tiered dress" aspect (or layers) all add to the cute style.
Shoes
A navy dress calls for a pair of navy sandals.
The platform here is not too high, which will provide maximum comfort. People who already bought these Eric Michael sandals say as much in the comments. One happy lady said that she wore them all day at work and they were very comfortable. Even though she generally has foot problems, these shoes were an exception, meaning exceptionally comfortable.
The espadrille-wrapped midsole is what really gives these sandals their summer garden party vibes.
If you want to add some more color to this outfit, consider these adorable sandals from Ted Baker.
They have a similar espadrille platform to the ones above, but slightly higher. Scalloped straps make them really cute, but not in a kawaii way, in a more sophisticated way. And do I need to point out that they're available in pink? Or majorly on sale right now?
Jewelry
Accessorize to bring a little character to the outfit. This universe pendant necklace with stars will help you do so.
With this little cosmic touch, and the tranquil blue dress, you'll be the spitting image of harmony.
The Bag
This medium bag from Kurt Geiger might be the finishing touch that makes the look complete.
It's like a metallic rainbow that would make the outfit pop. The sparkly eagle head at the closure helps you to soar to new fashion heights.
The "Bold and Innovative" Garden Party Look
Mini Dress
Not everyone is a fan of long dresses, no matter how comfortable they are. If you are on team "mini," have a look at this short sleeveless dress designed by Mr. Christian Lacroix for Desigual.
The illustrations of exotic flowers and big lips on the front against a midnight blue fabric make the design intriguing and unique. A side slit makes the dress not just cute, but sexy, and it's counterbalanced somewhat with a modest round neck.
Shoes
These burgundy leather sandals from Camper would be a perfect combo for the dress.
They look very feminine and Parisian and are said to be inspired by the sea, with a nautical air. They won't tire you out at the garden party as the mid-heeled design is perfect even for everyday wear. It's an ideal balance of style and comfort.
If you want to capture everyone's attention with this outfit, turn it into an extravaganza with sandals! Notice these red ones with a violet platform.
The platform itself has a sort of curve in it, making it almost look like a heel. I actually think it's fair to consider these sandals as "avant-garde," and the product listing even notes that this very contemporary design has drawn inspiration from both Futurism and Brutalism.
The Bag
This genuine suede crossbody bag from Free People is another excellent choice.
Here again, we see boldness in the giant chain handle and the bright red.
Now you have two options for your next garden party, in addition to the event-specific, stylistic choices LittlePinkTop unveiled previously. Whichever of these outfits you decide to go with, you'll show up with a lot of personality and style.