How To Style a Red Crossbody Bag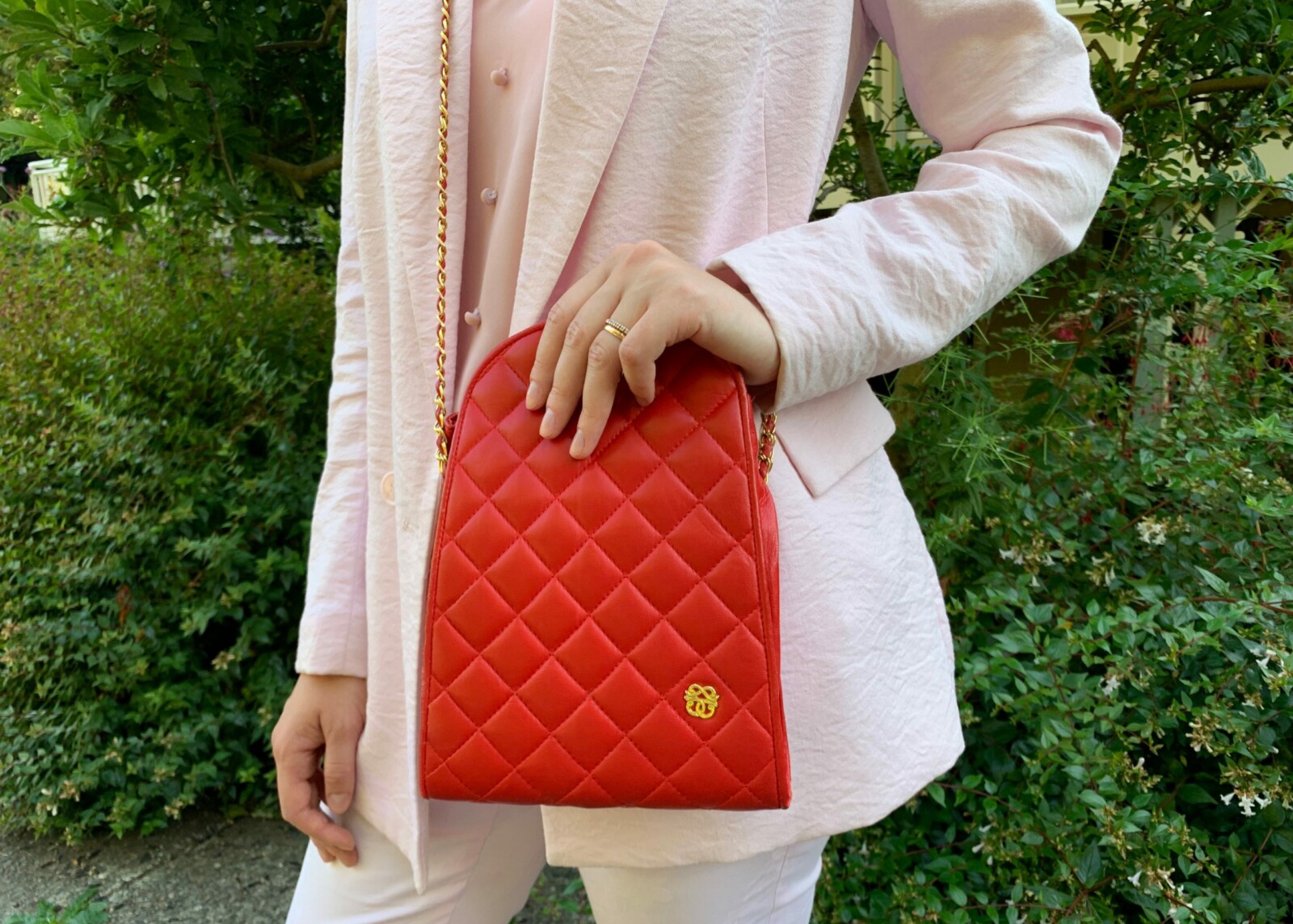 https://www.instagram.com/p/CTdXmeSJitK/
If you are like me, you might have a red crossbody bag in your possession but you barely ever take it out. Was it an impulsive purchase? Is it a red flag that you're spending too much on accessories? Should you wear that red bag simply to justify your ownership of it?
I have a theory: most people don't know how to style red bags.
Why? They might clash with the rest of your outfit, and for various reasons, entirely or mostly red outfits are kind of rare.
Due to the ongoing situation, no one's going to paint the town red… but there is a way to wear that red crossbody bag tucked away in your closet if you follow this stylistic advice.
Believe it or not, if styled right, a red crossbody bag can actually become an almost universal accessory.
Let's take a look at how Hailey Bieber handled the red bag challenge…
She was photographed walking up a hill with a red Balenciaga bag. She paired it with black banana jeans, a black top, and a badass black blazer. Simple but effective! And you can do it, too.
Just follow this step-by-step process:
Decide what you're up to
First, have a general idea of what you want to look like, and be mindful of the place.
Are you going to your office or workplace? Or are you going out with the girls for a drink or two? Is it an upscale lounge or an Irish pub? All these imaginary scenarios are probably, unfortunately, still on hold. For now, many of us just need to figure out how not to raid the kitchen in-between Zoom calls. But a girl can dream! Ca– can't she?!
In a nutshell, determine the place, the occasion, as well as what you are in the mood for, and a perfect outfit will come into place.
Pick a successful color combination
Once you've reminded yourself of your intentions, it's time to move on to colors.
Are you up for some vibrant colors like pink or would you rather stick to conventional black? (Here at LittlePinkTop, we always choose pink.)
Just like Hailey, you can create a total black look. Black and red are one of the winning color combinations. It always looks on point.
Victoria's Secret Angel Elsa Hosk wore her red Chanel bag with black velvet pants and a black off-shoulder blouse.
She added a finishing touch by wrapping a blue bandana scarf around the chain of the bag. It's all about the details, so Elsa put on Nike sneakers with a red swoosh.
Even an otherwise plain black outfit will get attention when you accessorize it with a red bag.
Put your black pants on, and have a black top ready. Depending on the weather, you can decide whether you need a black blouse, shirt, turtleneck, or sweater. You might even need to put on a black leather blazer. Finishing the look with a red bag will be like a cherry on top.
You can also wear red lipstick. But as you know, no one will actually see it behind your face mask, anyway…
If it's finally a weekend, and all you want after a loooooong working week is to relax, then get comfy and stick to your casual look. Wear black jeans and a black T-shirt. If you want to add a little fun or entertainment to the look, pick your favorite graphic tee, which will probably bring in some splashes of color. Now, add some more color with a red bag.
You've got this!
Did you know that pink and red go perfectly well together?
Here's a look I planned for a brunch date in the park with my husband: total pink + my Loewe red crossbody bag.
Make sure your bag is camera-ready
One more thing. If you want to look polished, you need to polish up your bag, especially if it's been collecting dust in the closet and/or if it's vintage.
If it's a faux leather bag, just wipe it with a wet cloth. If you own a genuine leather bag, polish it with coconut oil that you might already have in your kitchen.
Take a clean cloth, dip it in the coconut oil and rub it over your bag, removing any grime. After that, take a fresh material and remove the excess oil. There you go, your bag is now like an adorable newborn! (And that's a totally healthy way of looking at bags!)
And just remember, if you somehow mess up the bag by drenching it in coconut oil or something, LittlePinkTop does not owe you a new bag, that's on you.
Check yourself before you wreck yourself!
Before you temporarily part ways with LittlePinkTop to go off on your bag adventures, here are a couple of things you should avoid…
Red bag + red shoes?
No! Stop it! Don't try to match your red bag with your red shoes. Maybe it was trendy in the 80s or something but in most cases, it looks ridiculous.
Leopard print + red bag?
Ugh. Girl, you're better than that. I know that some "fashion experts" are teaching/preaching to wear your red bag with a leopard print. Well, take a second look and maybe second-guess their "judgment." What are you doing on those other sites, anyway? You're supposed to be HERE WITH ME. You can NEVER LEAVE LITTLEPINKTOP.
A leopard never changes its spots and neither is he carrying a red bag around town. It just looks unnatural.
If you don't own a red bag, but this article inspired you to get one, here are some options to help you stand out from LittlePinkTop's affiliate partners.
Aquatalia calls this the Catherine shoulder bag.
One of the verified buyers said that it's "excellent quality, looks vibrant, and is super attractive."
If you're into something kitsch because you have an eccentric personality and want everyone to know it, go for this red bag from Love Moschino.
Here is an excellent option from Ted Baker, with a clean and classy design, a shell made of genuine leather, and cotton lining. It's also available in black; personally, I think the red gives it character.
And finally, this red bag from Bebe offers a good balance of price, quality, and elegance.
Okay, it's time to get that red crossbody bag out of the closet, or to go buy one!
Just remember the process:
1. Decide what you're up to.
2. Pick a successful color combination.
3. Make sure your bag is camera-ready.
4. Check yourself before you wreck yourself!