Creative Menswear Designs in Subdued Colors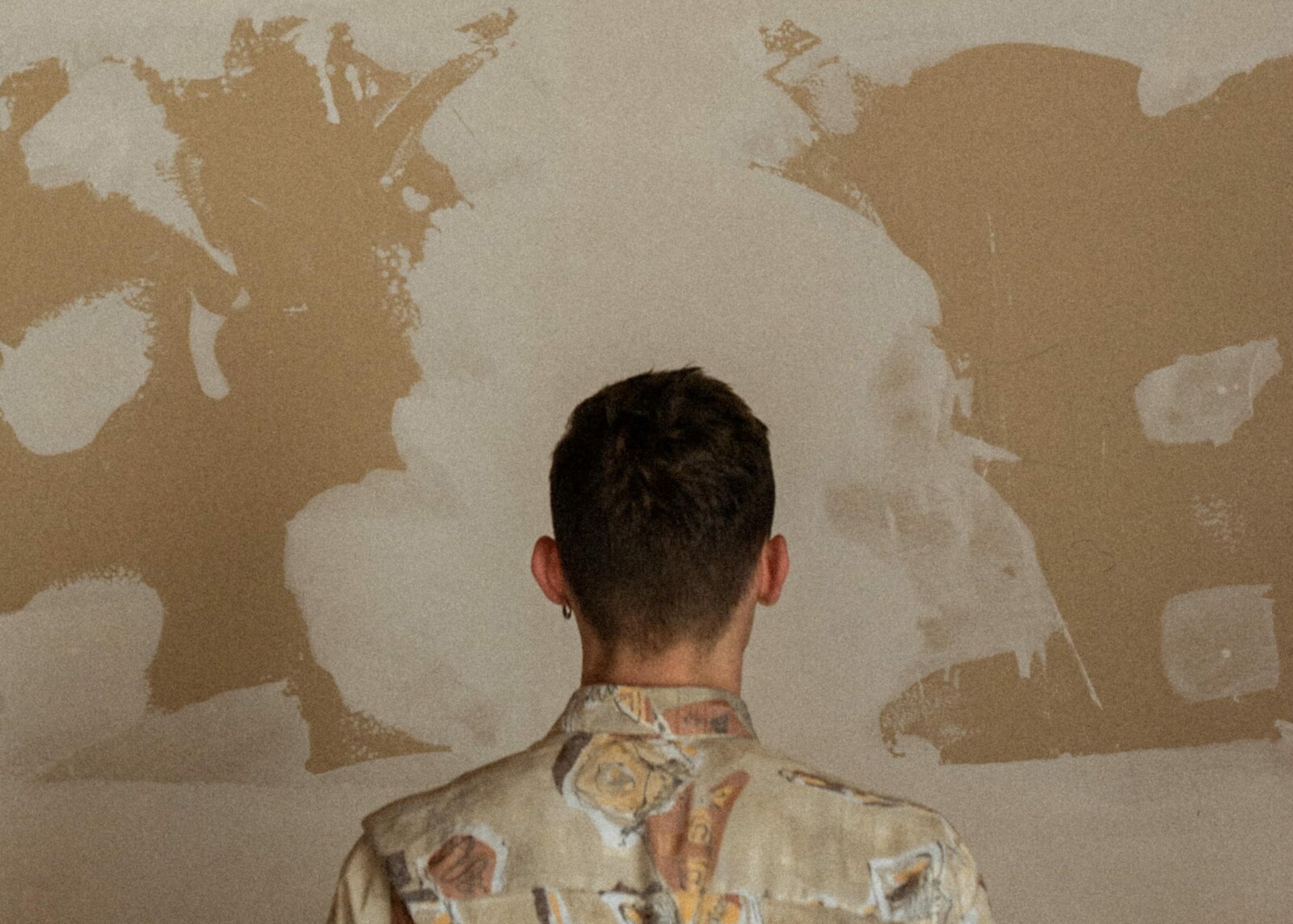 Previously, LittlePinkTop recommended a sexy but sophisticated look for a date night, but if you're a grunge-loving dude who stumbled across that article, you may have thought: I'm not able to pull off that sweetheart neckline. You were probably right. But here's a menswear look just for you! It's more about creativity than décolletage.
Not every attention-grabbing fashion statement needs to contain bright or wild colors. It's possible to go with grayish/bluish colors in which you might feel more comfortable.
This color scheme is sometimes referred to as "livid," but when you wear it, you'll feel chill and not at all angry (the other meaning of "livid"). You can still express originality through the design and cut of the clothes.
The following choices have very unique design features, but they all maintain a common subdued color scheme, one which would fit well in a place like the Pacific Northwest or even on a first date. That's right, with the following creative-yet-subdued-colors outfit idea, you could impress your date with your sense of style, while still remaining true to who you are (maybe):
A hipster version of Eeyore!
So, if you're a creative dude wanting to make an impression over a mug of craft beer, read on…
I know, you're probably a bit nervous and wondering how to convey your personality. You're probably asking yourself important questions like, does she even read LittlePinkTop.com? If not, how will I be able to trust her?
… No? Well, there are other questions bouncing around your mind, I'm sure, especially if your goal is to express originality. With these choices assembled from LittlePinkTop's affiliate partners, it's going to be okay.
(Disclosure: If you make a purchase using our links, we may earn a commission.)
Jacket
A hooded jacket is the epitome of relaxed style. You might have thought that it's impossible to make a hoody look slightly sophisticated. And yet…
This jacket incorporates trompe l'oeil, an artistic technique that plays with perspective in order to create a three-dimensional optical illusion. To put it more simply, it seems like you're wearing a zipped hoody under the jacket when it's actually just one jacket.
And this is not the only use of art here. Check out the front pocket with a portrait of a noble lady printed on it. I'd say you might already have your date in your pocket!
If that's not enough creativity, the jacket looks like it fell into the hands of a romantic street artist. It has a message printed on the sleeve that says if something goes wrong between us, let it be love. So, very date appropriate, and if your date knows Spanish, you can also test the power of suggestivity. If she thinks you're not taking it slow enough, just say that LittlePinkTop stylistically advised you! (Then tell her to follow LittlePinkTop on social media and visit the site often.)
Shirt
The items in this look will add up, of course, so I'll leave it to you to find the right shirt to wear underneath, preferably something that you love and already own, maybe something "livid" or even just a high-quality, plain white V-neck. LittlePinkTop just wants to make sure you have some money leftover for the actual date! Those pumpkin spice lattes add up, too.
Jeans
You don't want to look stuffy and unapproachable, so maybe leave dress pants for some other occasion. Wear a pair of jeans, instead. That easy, that simple.
You can't go wrong with Levi's jeans! The one LittlePinkTop picked for this occasion is an athletic fit in a color they call "midnight," so here's hoping the date is so engrossing that it lasts that long.
Belt
This blue suede belt with a silver-tone rectangular buckle and contrasting stitching will be a great addition to those jeans.
Shoes
As for shoes, we need something that couples smart with sporty. This pair of black leather shoes from Camper has an original twist on everyday style.
What makes these shoes striking and stylistically coherent is, again, the bluish-gray color, this time found in the outsole. Remember, the jacket we picked is grey with a blue art print on the pocket, and the jeans are dark blue with a lighter shade around the knees.
Hat
It's autumn so the temperature might drop unexpectedly. In case you are planning on walking your date home, you might need a hat. This navy blue beanie will go very well with the rest of the outfit.
Watch
Being late for a first date is a bad look that might leave a sour aftertaste even if the food is delicious. Don't be late! Wear a watch, like this color-matched one, which incidentally has a unique mesh dial with three subdials.
Now that you don't need to stress out over what to wear, just be yourself and have a good time on the date, my Eeyore hipster friend!