Want Handcrafted, Beautiful, Suede Shoes? Try Beckett Simonon!

In 2011, entrepreneurs Andres Nino and Nicholas Hurtado founded a high-quality menswear company, Beckett Simonon. They are making artisanal men's shoes, boots, sneakers, and accessories like belts, backpacks, and strikingly sophisticated bags in weekender and messenger styles. All their products are crafted to order in small batches in Bogotá, Colombia, and then shipped directly to their customers.
Their website explains their unique approach: "There's never unsold inventory, no middlemen or high markups to cover costs. The result? High quality products at a fraction of the traditional retail price."
You think it can't get any better from here? It does! Once you hold those handcrafted shoes in your hands. There's something indescribably artisanal and also extremely classy about these shoes.
I know because, full disclosure, Beckett Simonon sent LittlePinkTop a complimentary pair of their brown suede Oxford shoes, after which we eagerly joined their affiliate program. Because I have to say, the moment I opened the box, it was love at first sight. I'm not even mentioning the box itself, it's another work of art. It contained a booklet (of amazing quality, too) that provided detailed information on fit and returns, how the shoes were crafted, and how they ensure that the staff in their artisanal workshops are fairly treated.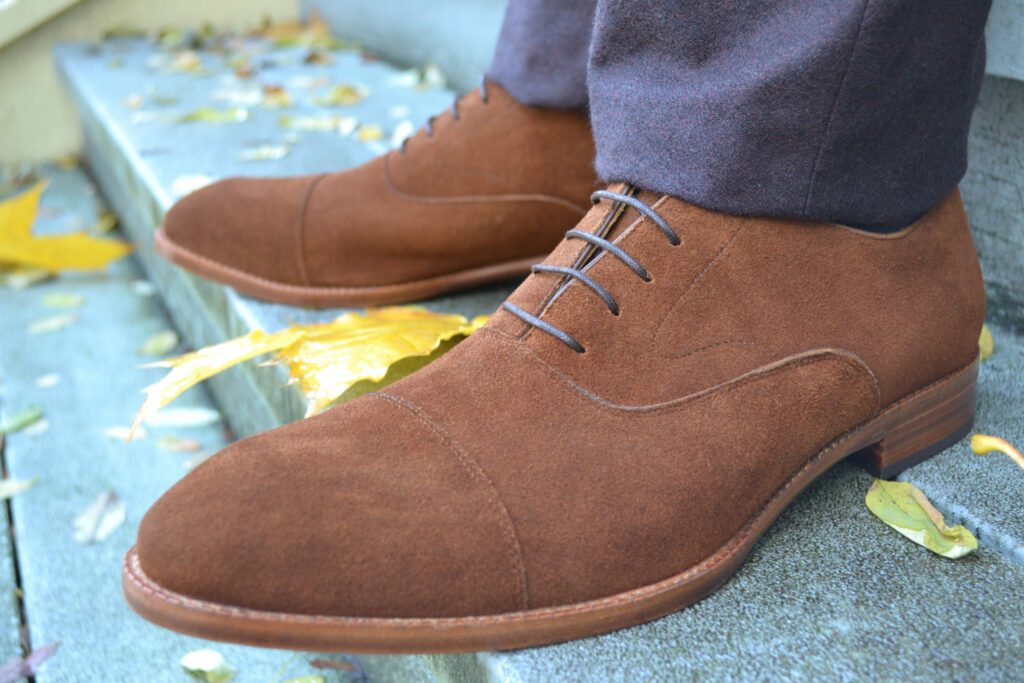 The shoes themselves are exceptional. Once you take the shoe out of the pouch (each comes in a separate one), you can't help but marvel. Maybe this is weird to point out but they even smell fantastic.
The suede option might look slightly more relaxed and creative than their full-grain leather option; either choice will project sophistication.
So, let's say you're sold and now your shoes are being transported from Colombia! Great choice. Now how are you going to style them?
LittlePinkTop put together an outfit idea for you:
The Jacket
This is described as a patchwork utility jacket and it has matching vibes with the suede pair. It's made by Ted Baker, another LittlePinkTop affiliate partner.
The T-shirt
This 100% cotton white T-shirt is creative and playful in the subtlest way possible, with mini salt and pepper shakers, you know, for you to spice up the outfit.
The Pants
These pleated herringbone turn up trousers, also from Ted Baker, come in a color described simply as "natural," and they're a natural match with the jacket and the shoes.
Socks
Distinguished shoes deserve non-random socks, and there's stylistic intention in these orange-spotted ones, again from Ted Baker.
The Watch
The brass color of this Nixon The Sentry watch case and the brown leather strap make it a winning accessory combination.
Or, you might favor the bold, gunmetal sunray dial face and brown leather strap of this Diesel watch.
Either way, you can't go wrong with those Beckett Simonon shoes! My first impression was that they were so lovingly crafted and precious that you wouldn't want to ruin them. You could wear pajamas with them and still seem like a playboy.
For more menswear styling advice along the same lines, check out the LittlePinkTop article "Creative, WFH-Friendly Menswear: How to Balance Artistic With Smart Casual."