Are You Feeling Fancy and Fantastical? Honey & Roses Coffee Co. Is There for It.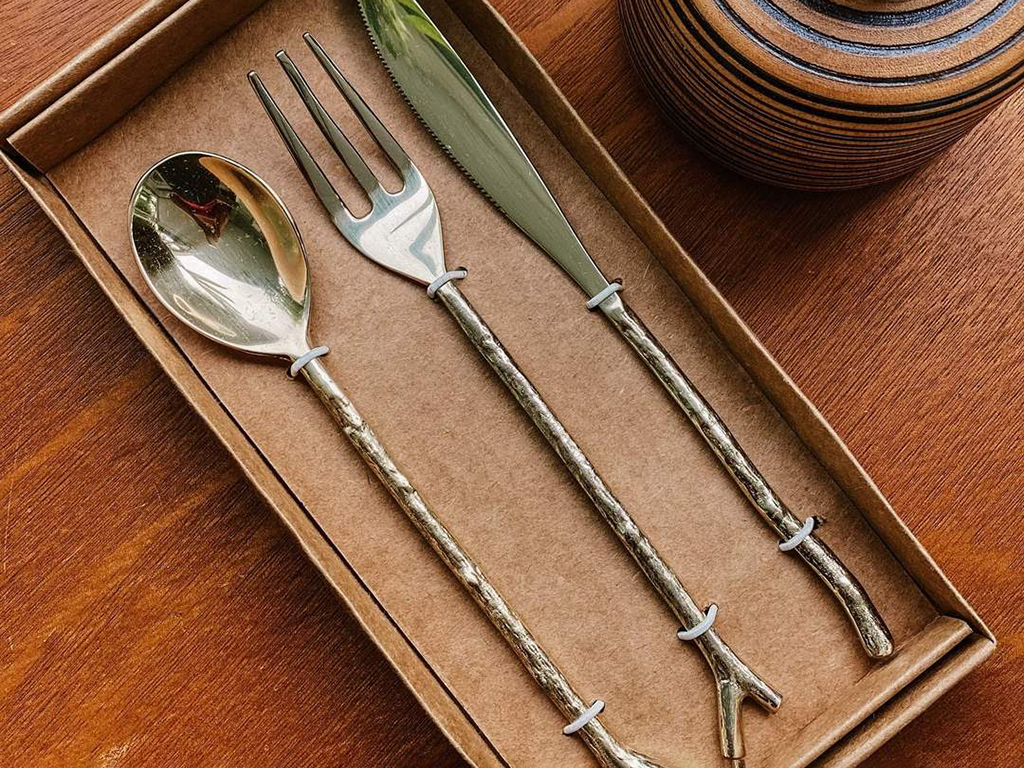 So, you've decided not to put off your holiday shopping any longer. You keep reading news about supply chain disruptions that will wreak havoc on your consumerist expressions of love and seasonality, and maybe even the global economy, as well. Ugh.
And you're not sure what to buy, anyway. You find yourself Googling for holiday gift guides. What do you give your mom this year? What about the co-worker you've been Zooming with? How do you handle that type of pixelated friendship? What about the creative friend who doesn't get your white-collar life?
If only there was one ultimate gift that covered all these types of people…
Maybe… there is? And LittlePinkTop accidentally found it?!
Maybe it's both fancy and fantastical???
Here is the reveal: the magical, inclusive holiday gift is a Brass Twig Cutlery Set from Honey and Roses Coffee Co.
I was a good girl here at LittlePinkTop.com, so Santa delivered me a gift even earlier this year in the form of a complimentary set of this very special cutlery. Well, okay, the set came from the brand, so that I could review it here, but let's all just believe in magic for a second.
And I've gotta tell you, this cutlery is so pretty!
The set includes a spoon, fork, and knife. Their handles are shaped like twigs, making the cutlery look slightly rustic and artsy, while the smooth finish of the brass makes these items also, somehow, sophisticated at the same time.
And that's why this gift is able to cover so many bases, from coffeeshop-frequenting hipsters to snobbish art critic types who are very picky and refined!
The quality is impressive: 100% brass, made by artisans in India.
I'd suggest handwashing these. Tarnish-prone metals like copper and brass should not go into the dishwasher because they can lose their luster.
"It is best to wash items gently with warm water and a soft kitchen towel," say the instructions on the company's website. It sounds like a real spa experience for cutlery. Trust me, these items deserve it!  
Honey and Roses Coffee Co. created an exceptional product. You can find different spoons and cutlery with handles shaped like tropical fruit, leaves, roses, butterflies, and more on their website! I have butterflies in my stomach every time I'm using my set.
So, if you want to feel fancy and fantastical, or you want to share that experience with others, Honey & Roses Coffee Co. is there for it!
And not just in terms of silverware. They're trying to be a paradise for coffee aficionados, with creative energy reflected in all their products.
Actor Ryan Hansen, a big coffee connoisseur who you might know as Dennis from the Netflix comedy "Good on Paper," is the company's co-owner, currently serving as their creative director.