How the Comfy Is Making Every Day Snuggly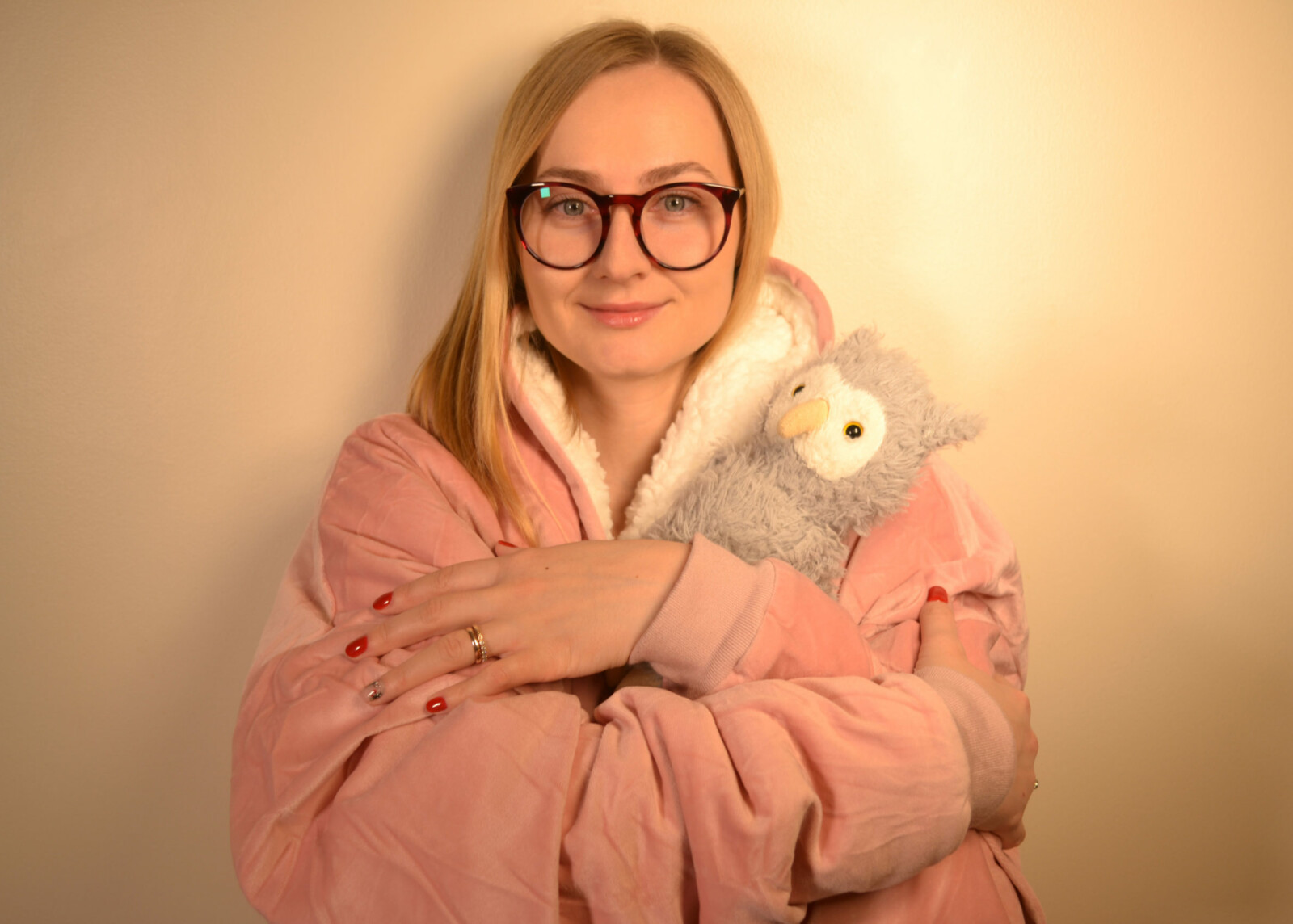 Work-from-home opportunities in the last couple of years were responsible for a decline of fashion standards, which is not to suggest that fashion deserved to be anyone's priority. And yeah, LittlePinkTop is a fashion blog, so it's been existentially challenging, you guys!
Anyway, The New Yorker reported that sales of pants dropped by thirteen percent while pajamas rose a hundred and forty-three percent! "The new focus is above the waist," writer Patricia Marx observed.
While the focus might have shifted above the waist, some employees lost focus and forgot to put on anything below the waist. So yep, they got fired after inappropriate Zoom calls.
But even when people do dress up for a Zoom call with, you know, clothes on, their wardrobe choices are more relaxed. It's all about the comfort, baby!
In times like these, everyone should be told about the Comfy, a hybrid of a wearable blanket and a hoodie!
I first saw it in Barbara Corcoran's Instagram feed when she appeared all snuggly and comfy on top of a windy ferry. Her picture in a cute pink Comfy had a humorous title "Them: dress for the job you want. Me in my wearable blanket: On it."
The Comfy's founders, brothers Brian and Michael Speciale, pitched this business idea during Shark Tank season nine. And it was real estate queen Barbara Corcoran who invested $50,000 in exchange for 30% of their business!
Since then, she helped them to get the product into the aisles, real and virtual, of major retailers. They rapidly expanded around the globe. And now, the Comfy has ranked as one of the best-selling Shark Tank products in the history of the show!
It must have been a fun ride! And even though LittlePinkTop never found out where Barbara was voyaging on the ferry, we know that she spent this Thanksgiving with her family… getting comfortable in Comfys.
Barbara posted an Instagram picture, saying, "What a wonderful Thanksgiving! We took a family walk around the reservoir in our Comfys!"
The Comfys are taking over not only the reservoir but my whole city! I started noticing people even around town wearing them as coats! I saw a girl walking her dog in a blush original wearable blanket and a goateed guy in their grey Teddy Bear, just grocery shopping.
It's a one-size-fits-all design, so if you plan to get it as a Christmas gift, you can avoid potentially awkward, pre-purchase inquiries about people's current sizes.
This holiday season, the company even gifted LittlePinkTop with a complimentary Blush Comfy. It truly is cozy. In fact, even this article is being produced under the soft and toasty "buttery soft" layer of the sherpa-lined interior.
The packaging of this wearable blanket is excellent, too. It's fully sealed, but you can still "feel the happy" because the box has a round hole filled with a sample cut of the material that the Comfy is made of.
This fun piece of attire is perfect for your Christmas morning, day, and evening, whether you're sipping hot cocoa with loved ones on a porch, or mindlessly shoving popcorn in your mouths while eating popcorn on the couch.
And judging by the people I've already noticed lately, a lot of people will be wearing these things right on into 2022. Honestly, this might just be the most ideal, comforting piece of attire for the chaotic and anxious times we live in.