Ukrainian Embroidery as a Fashion and Political Statement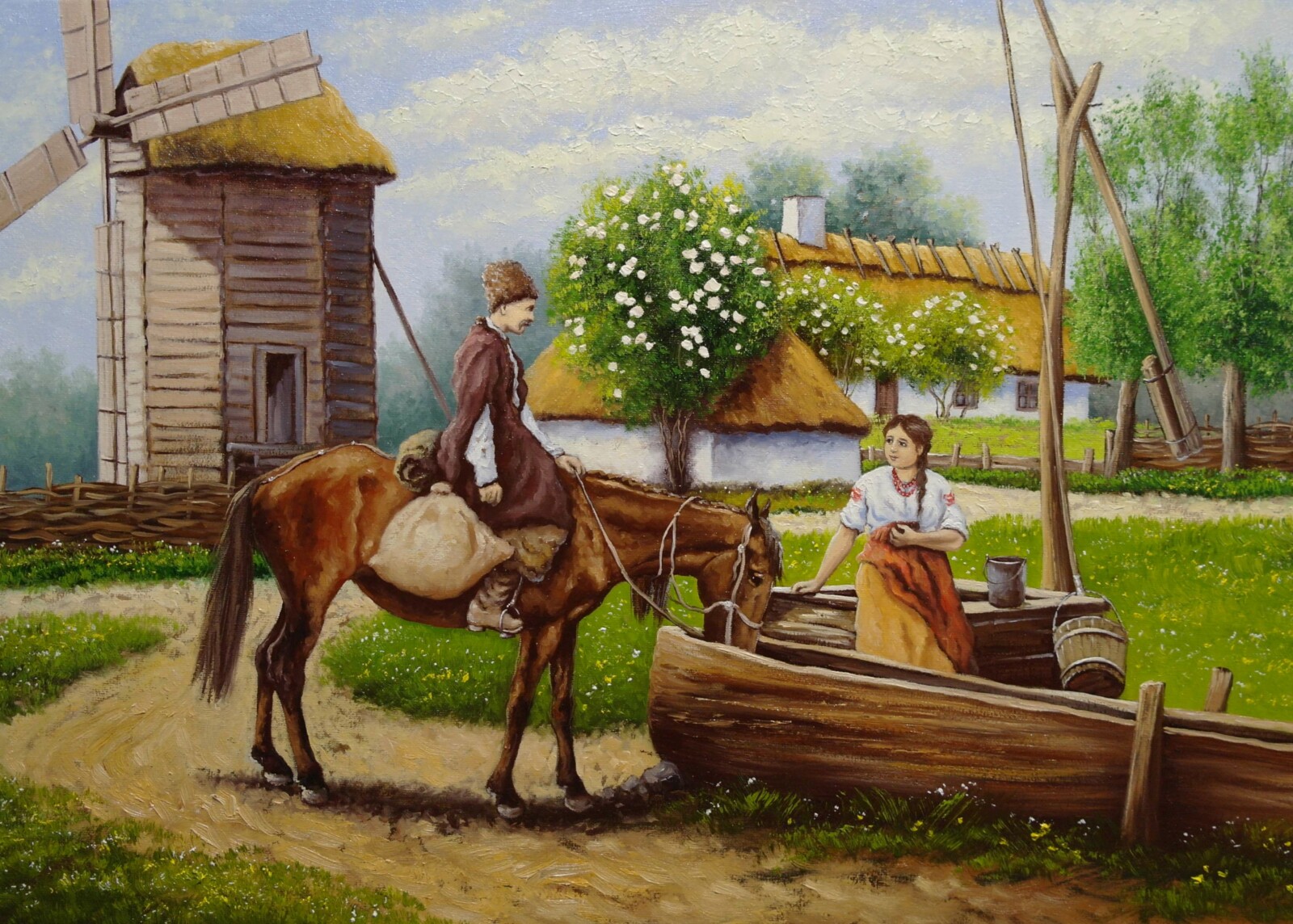 As someone who grew up in Ukraine, the past several weeks have been absolutely brutal, heartbreaking, and sleepless. Most of this past month and a half, I will keep to myself. However, after putting LittlePinkTop, my fashion blog, on a temporary pause, I've decided that I'd like to use the site to tell the world about my home country's rich heritage, because Ukraine is and will always be Ukraine, a culturally distinct and vibrant place.
So, did you try to find a yellow scarf, sweater, or shirt recently to create a blue-and-yellow ensemble that shows solidarity with Ukraine?
This is not an entirely new trend — it happens whenever Russian President Vladimir Putin fails to understand the difference between what is Russia, and what is a sovereign nation with its own values and trajectory, which unfortunately is quite often. This wardrobe "trend" happened in 2015, in response to Russian interference in Ukraine and the illegal annexation of Crimea. And that led to even broader awareness of Ukrainian cultural contributions. Back then, Vogue pointed out that popular "bohemian" dresses designed by Vita Kin were inspired by traditional Ukrainian costumes.
Many celebrities and fashionistas like Demi Moore, Alicia Vikander, and Anna Dello Russo are fans of Vita Kin's dresses.
The first collection of her eponymous brand was meant to reflect Ukraine's "famed embroidery methods and patterns." Vita Kin studied artisanal techniques closely and popularized Ukrainian embroidery on a global scale. "I adapted this ancient heritage into a modern context, adding a 70s vibe, when clothing was more relaxed and friendly. It's a bohemian eccentricity in a very luxe execution," she explained to Vogue.
Today, everyone is horrified by the Russian military's actions in Ukraine, yet again. So, people worldwide are going for the blue and yellow, or the vyshyvanka, which is a traditional Ukrainian embroidered blouse.
Even royals, typically encouraged to stay politically neutral, were seen in Ukraine-inspired outfits. Kate Middleton went for a blue-and-yellow ensemble when visiting the Ukrainian Cultural Center in London. It consisted of a blue jumper, along with a blue and yellow pin.
Queen Letizia of Spain showed her support for the people of Ukraine by wearing classy black pants paired with a vyshyvanka that had geometric motifs. The embroidered shapes displayed a combination of bright contrasting colors: black, red, cherry, orange, yellow, and green. This style is ubiquitous in the Hutsul region of Ukraine.
Daria Shapovalova, the former creative director of Kyiv Fashion Days and a TV personality, posted an Instagram picture with her own inspiring look. She was seen holding a Ukrainian flag and wearing a Vita Kin dress. Her caption said that if you want to receive all the compliments in a room, you should wear a traditional Ukrainian embroidered dress. "Fashion is the language, let's use it to support Ukraine!" she concluded.
But not everyone knows that a vyshyvanka has its own encrypted language. There is a lot of symbolism behind the images, shapes, and colors that get embroidered. Traditionally, ornamentation also served as a charm. That's why needlewomen held off on starting their work until their thoughts were pure and full of positive energy.
Ukrainian ornamentation is generally divided into three groups: plant/floral, geometric, and zoomorphic. Every region of Ukraine also has its stylistic characteristics and motifs.
Normally, geometric patterns abound in Western Ukraine, and plant/floral ornamentation is very common in Southern and Eastern regions of Ukraine. Such variations are often explained by the area's varying cultures, landscapes, nature, and even mindset.
Among the common elements of Ukrainian embroidery are symbols representing the sun and water. The sun was often depicted as an octagonal star, the water as wavy lines. These symbols served as protection from evil forces.
Another common symbol is a diamond with a dot in the center, which symbolizes fertility. Couples who want to become parents often wear vyshyvanka with such symbols.
Flowers, branches, and leaves reflect the purity and prosperity of the family. They mean constant renewal and infinity. Thus, wedding dresses usually had floral motifs.
Grapes symbolize a happy family life, often depicted on shirts, towels, and tablecloths.
The embroidery of animals and birds is rarely present on clothes, but they have a considerable significance on embroidered towels. For instance, doves and roosters are the characteristic ornaments of wedding towels. Birds should face each other to represent a couple that sees eye-to-eye. Moreover, they usually keep a twig of a guelder rose in their beaks, or sit at the roots of a tree.
The guelder rose, one of the Ukrainian national symbols, is often portrayed on shirts as a representation of the sun, moon, and stars. The red color of the guelder rose symbolizes the nation's blood and the immortality of the family.
Images of oak can be found on men's embroidered shirts to symbolize masculine strength, the energy of life, and development. Wives would often embroider patterns with oak leaves and acorns on men's clothing.
Embroidery of periwinkle and hops often adorn clothes, symbolizing youth, determination, and development, and are traditionally made for young boys and girls.
The symbol of a rose stood for love and mercy, while sunflowers symbolize life, energy, and happiness.
The embroidered red poppy was considered an ancestor amulet and form of protection from evil. Women would depict poppies on their clothes to commemorate the memory of fallen soldiers and members of their families.
Images of different animals can often be seen on Ukrainian embroidered shirts: cuckoos, owls, roosters, butterflies, hares, etc.
Colors have an enormous significance and are chosen carefully. Red is the color of the sun, luck, protection, love, and passion. Green symbolizes the processes of birth and growth. Yellow is the color of solar energy, life, joy, wealth, and prosperity. Blue is a symbol of feminine energy and peace, the color of water and sky. White is the color of purity, holiness, virginity (unmarried girls wore white shirts). Black means pain and suffering, negative energy, the energy of death. The dead were often buried in black embroidered shirts.
Today, we all hope that as few Ukrainians as possible will need black embroidery. Instead, this year should be a year of "yellow and light blue," a colloquial name for the Ukrainian flag. Let there always be a peaceful blue Ukrainian sky over infinite Ukrainian yellow fields of wheat and sunflowers.
Please pray for Ukraine.
~ Mila, Founder of LittlePinkTop