How to Have a Happy Hipster Kid: A Red and Olive Teddy Review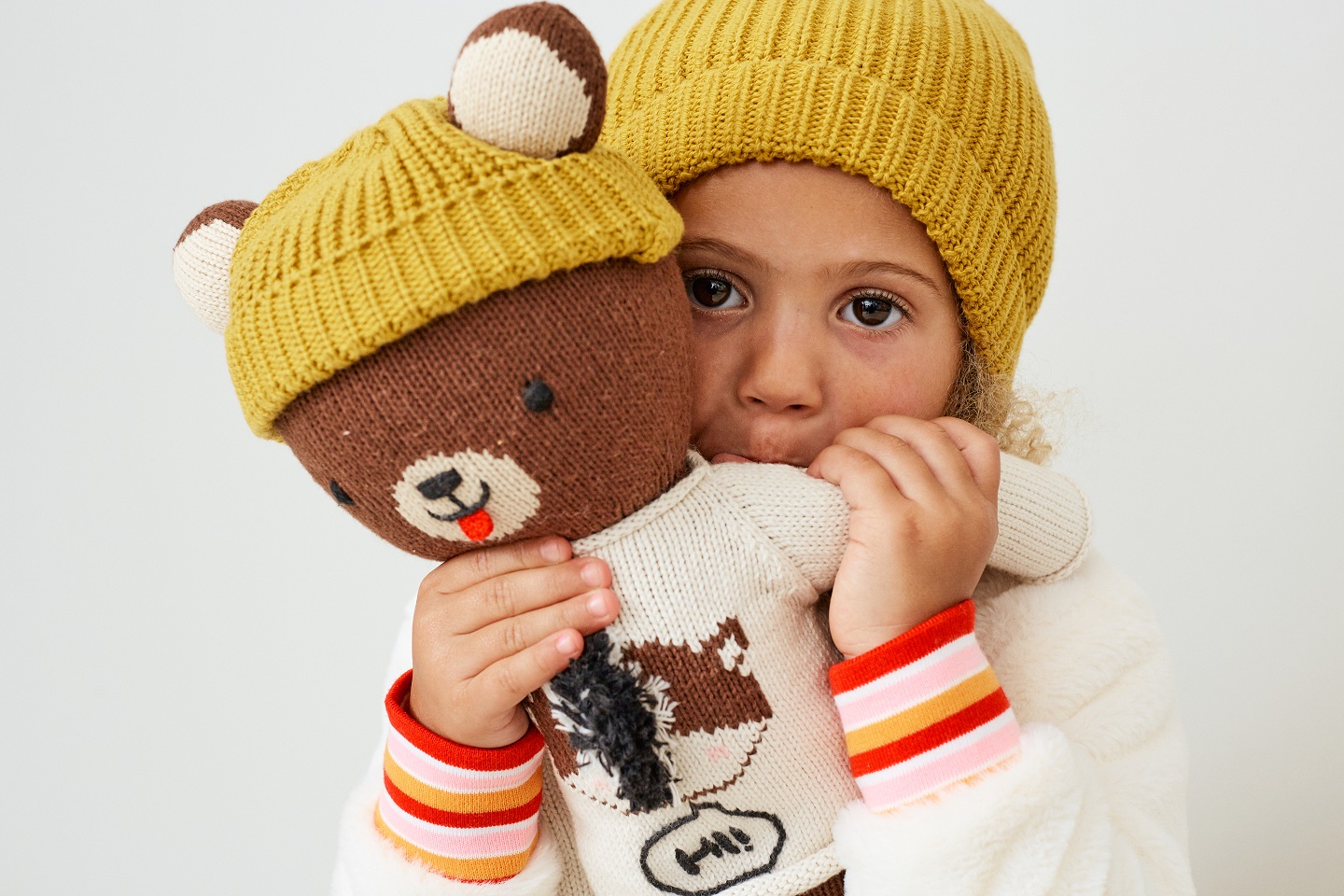 Do you remember your childhood teddy? Do you still secretly keep it or maybe even cuddle it sometimes when there is a thunderstorm or loud and scary wind outside of the window? It's because stuffies are said to help kids cope with anxiety and fears, promote emotional well-being, and assist in learning important skills, such as empathy, nurturing, and caretaking. "They also practice language skills and imaginative play, which is crucial to healthy development," says Beth Tyson, a psychotherapist, children's book author, and childhood trauma consultant.
I guess Stewie Griffin from the animated series "Family Guy" and his teddy bear Rupert are a good (but sometimes kind of twisted) example. Rupert is Stewie's best friend and a personal confidant, even though he is inanimate and, therefore, sometimes an involuntary co-conspirator.
Stewie and Rupert don't appear to have matching outfits, but their bond would probably be even stronger if they did… which brings us to Red & Olive Co., a children's, handmade, fair trade, doll manufacturer that you'll likely adore!
You know how mama and daughter matching sets are trendy right now? Well, Red and Olive Co. blended traditional art forms with the latest fashion trends and made it possible for your kid to have a matching set with his favorite stuffie! And in LittlePinkTop's assessment, it will make them a happy kid with "hipster" vibes.
LittlePinkTop received a complimentary Mr. Beary from the brand, which is beautifully handcrafted and stylishly designed. The stitching is exquisite. He's a great fit for children of various ages: easy-to-hold arms for infants, and a big round head for comforting bedtime cuddles for bigger kids.
Besides, the product – I'm sorry, buddy – is handmade in Peru with luxurious Peruvian cotton. My little nephew certainly approved, declaring that "Mr. Beary is so soft!" What is more, Red and Olive Co. donates 10% of their sales to organizations and programs benefiting seriously ill kids across the U.S. 
Mr. Beary brought smiles to both my niece and nephew. They both enjoyed wearing the matching hat and cuddling their new friend.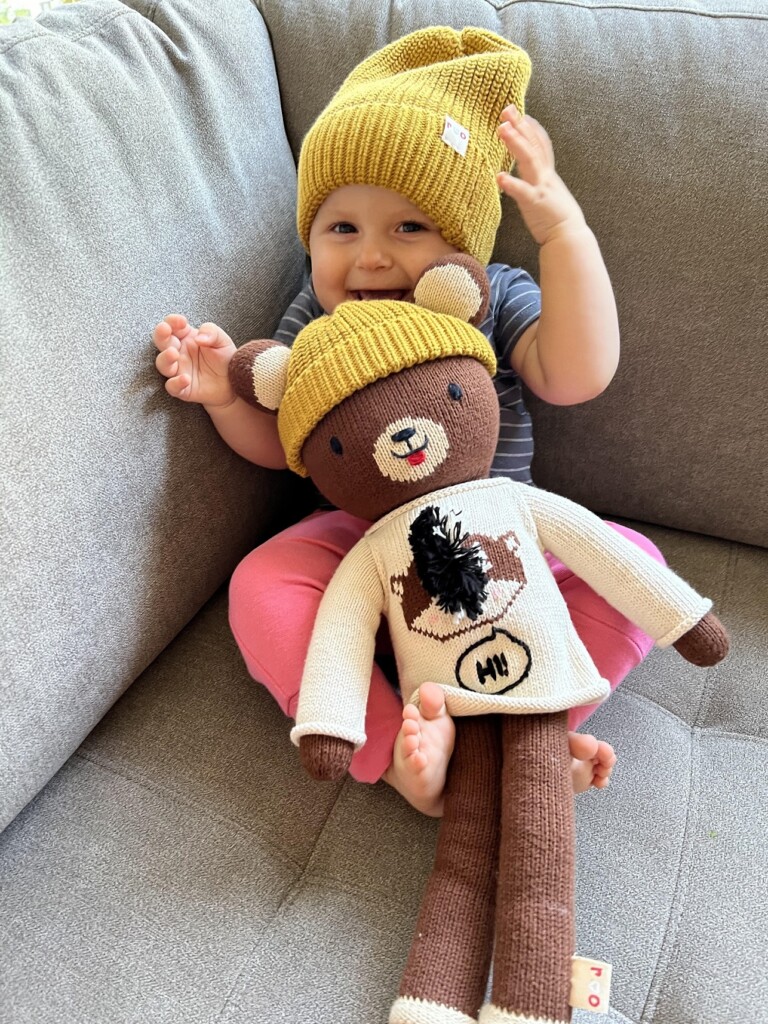 My nephew's observations went as follows: "I like his little Beary ears, and I like his little red tongue. I like his long legs; they're so long they can even touch his face." His cool hat was also noted.
Mr. Beary comes wearing a hipster-style mustard beanie, along with a matching beanie for his new best friend, i.e. your child. If a beanie alone isn't enough to create the intense level of stylistic harmony your child desires, you can go all in and create a total matching outfit.
Luckily, LittlePinkTop has already curated one for your kid to match with Mr. Beary, using products from our affiliate partners. (Usual disclaimer: we may earn a commission if you buy something through our links, though technologists say we're approaching a cookieless era so who really knows – tech cookies, not kid cookies.)
The Sweater
Mr. Beary is wearing a cute creamy knit sweater with a depiction of another bear face.
Here is a similar pullover crewneck sweater in a grey color with a hipster teddy bear on it rocking a pair of cool blue sunglasses.
It's 100% cotton because real hipsters try to be as natural as possible.
See Also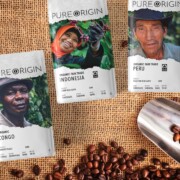 The Pants
Your little rascal will resemble a tiny cute grizzly bear in these sleek brown pants…
They are also 98% cotton, breathable, and very comfortable for all the cuddles and playtime.
The Shoes
Mr. Beary is wearing cute yellowish socks. But if your kid is going to a playground, he/she should probably wear shoes, just like these:
These tiny yellow sneakers will match Mr. Beary's "footwear." These leather shoes have a retro-vibe, which is another characteristic of hipsters. No, your kid doesn't need to grow a beard or handlebar mustache just yet.
Red and Olive Co. also carries other stuffed animals like an adorable Bunny, Cat, Fox, and Skunk. The Nikki Bunny comes with a matching headband, the Foxy Bella with a bow, and the Sassy Cassy with a beanie. Whichever one you go with, your kid will get the equivalent accessory. It's a delightful idea from a very special brand!