How to Dress for a Relaxed Weekend with R. Riveter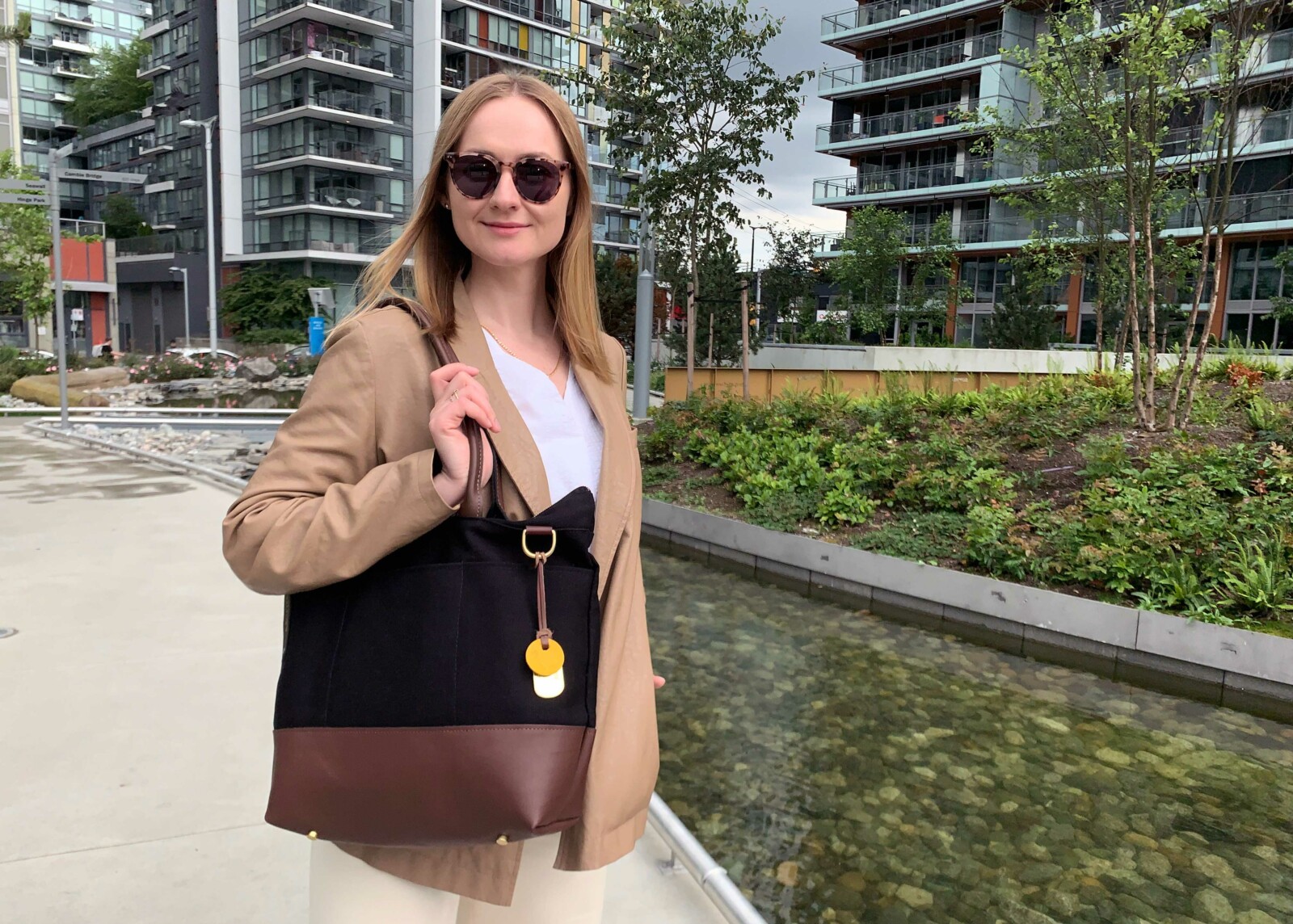 How should you dress for a relaxed weekend? Well, in today's world, even when we find a good style or fit and feel relaxed in our clothes, we might still feel uneasy in our minds, wondering about some of our fashion choices: Where were things manufactured? What's the story behind them? Never fear…
Recently, LittlePinkTop received a handbag from our new affiliate partner R.Riveter, an American company founded by military spouses Lisa Bradley and Cameron Cruse. Despite being academically well-qualified, regular relocations from one Army outpost to another made it difficult for Bradley and Cruse to find work, so they created an opportunity for themselves and, eventually, for what's been described as a "small platoon of military spouses" who cut and sew components of the handbags from their homes. Kickstarter and investments from the show "Shark Tank" helped to build a centralized assembly and distribution center in Fort Bragg.
So, when you order from R. Riveter, you're choosing something handcrafted in the USA. The name even comes from the famous 1940s cultural icon of WWII: Rosie the Riveter. Her well-known "We Can Do It!" slogan has inspired women for decades.
R. Riveter's "Otto" handbag will inspire you to go on a relaxing city stroll and will fit everything from a water bottle to hand sanitizer. It has a very easy feel to it ⁠— perfect for your cozy weekend look.
An adjustable strap provides flexibility. You can wear it cross-body, on your shoulder with a shortened strap, or carry it by the handles. It's made of a quality black cotton canvas with genuine brown leather detailing for maximum durability.
Here's a photo showing how I styled my R. Riveter bag:
So if you would like to create a similar look to cohere with your bag, here are some options from our other affiliates (we may earn a commission if you buy something):
Why is this a good look for your relaxing weekend? Well, cotton is great for summer as it is "hygroscopic," which means the textile fiber absorbs humidity and prevents the body from overheating. The 100% cotton blouse above is also loose-fitting and breezy. Balloon sleeves, ruffles at the bottom, and a row of little bows make it very cute, as well.
Summer is a time for white pants! The "Otto" bag will contrast nicely and stand out against this heavenly attire. Another thing to remember is that skinny jeans are probably not the best choice for a relaxed look because they will feel too oppressive. Go for a wide-leg or straight pair like the one above. They have a classy simple design and a comfortable fit that doesn't cling to the body.
If you are worried that the look is looking too bland, spice it up with a pair of colorful canvas sneakers like the ones above, from Lacoste. They're on sale! This light pink and orange design has a very chill yet fun look and the navy laces and suede back of the shoe would complement the bag.
As you can see, we can stuff a bag not only with things but with meaning, too. And if you carry it with common white jeans and a cute ivory blouse, your relaxed weekend look will be complete!