How To Wear a V-Neck Sweater and Look Your Best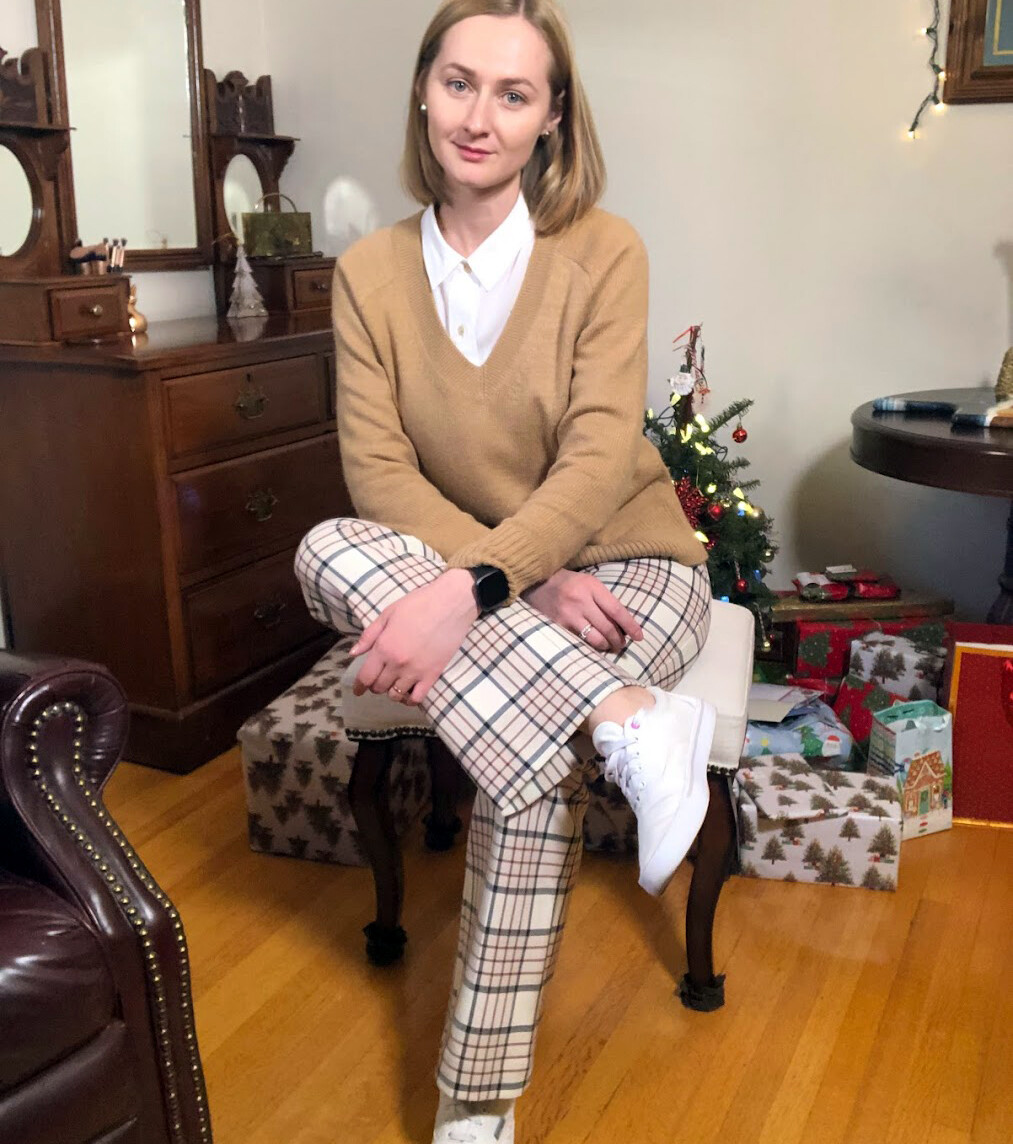 If you were going through your closet and found a sweater with a neck that has an opening shaped like the letter V, then surprise surprise, it's a V-neck! You probably already knew that. But if you haven't yet decided what to pair your sweater with and need some outfit inspiration, read on!
A V-neck sweater is a truly universal piece of clothing and goes well with pretty much any bottoms, from a black pair of classy pants to a leather skirt. For your top, again you could go with almost anything, from crew-necks to classic Peter Pan necklines or even flirty ruffles. Depending on the occasion, you could create a particular type of stylistic impression, like office-appropriate, preppy, or casual-smart.
As much as LittlePinkTop loves V-neck sweaters, this type of sweater has a low-cut neckline, so if you wear a low-cut top underneath, no one will even see the top, but everyone will be paying a lot of attention to you – which you may or may not want.
If you think that a V-neck sweater paired with a conservative white button-up dress shirt is a look for a librarian, you might be wrong. A December 2022 Instagram post by actress Sydney Sweeney, who starred in HBO's "Euphoria" and "The White Lotus," would suggest otherwise.
She showed that a simple gray V-neck sweater and a formal white shirt can look intriguing, especially if you throw on a black denim blouson (a.k.a. a blouse jacket or a short loose-fitting jacket that is drawn tight at the waist) and some sexy shades, and especially if you're Sydney Sweeney.
If you need even more inspiration, here's how I styled my light brown V-neck sweater.
Office-Appropriate Look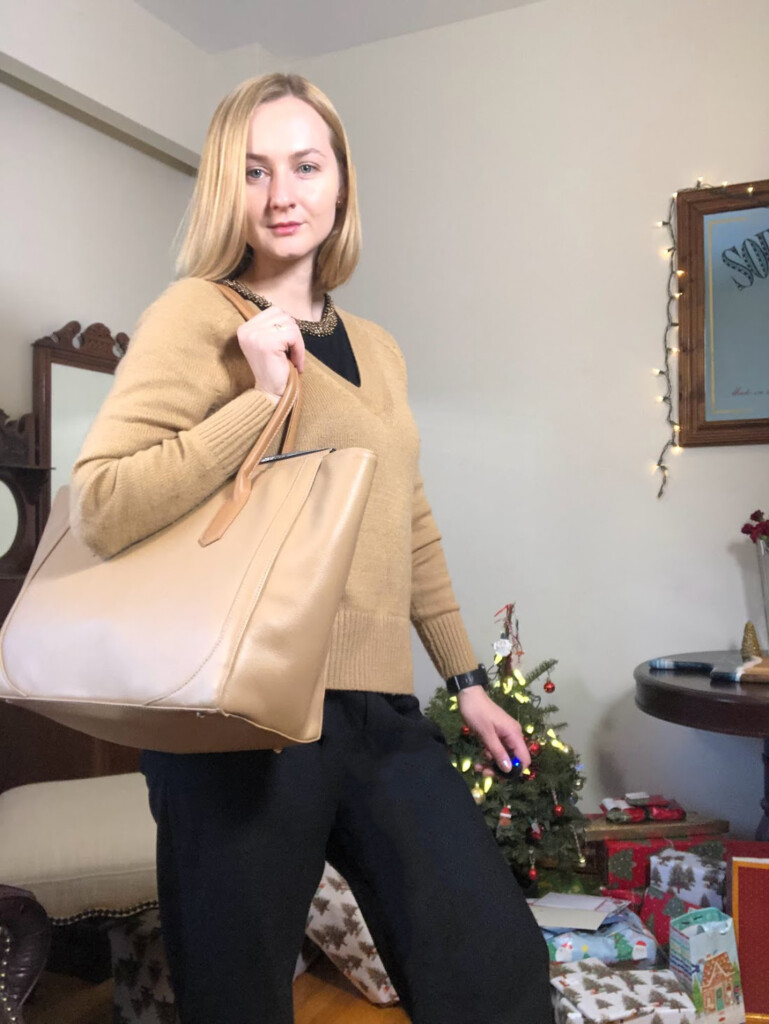 You can create a simple yet chic office look by pairing classy black pants with a black crew-neck and an elegant brown V-neck. If the T-shirt has an embellishment at the neckline, like mine does in the example, it will add a bit more character.
If this option is too conservative for you, swap the black pants with a shorter pencil skirt.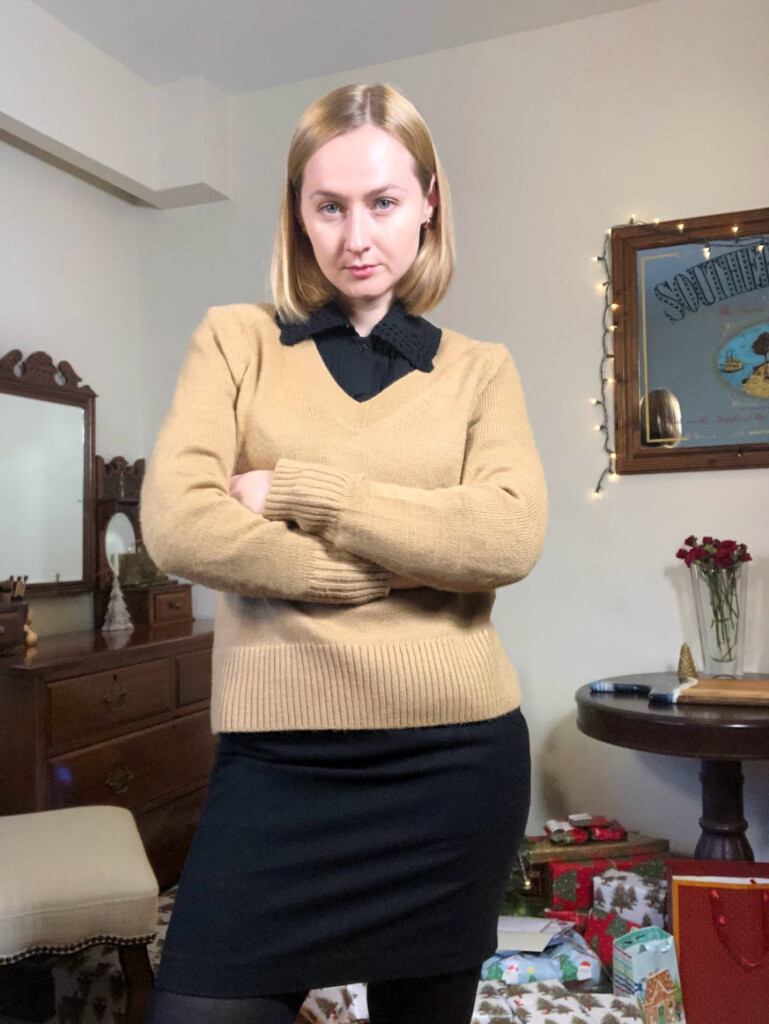 If you like interesting collars that will make you stand out, consider a Peter Pan collar blouse.
Pop those collars on top of the sweater – this styling trick never gets old! That was a Peter Pan reference, by the way, so I want you to chuckle, please!
Preppy Look
If you would like to create a preppy look, wear your sweater with a bow blouse.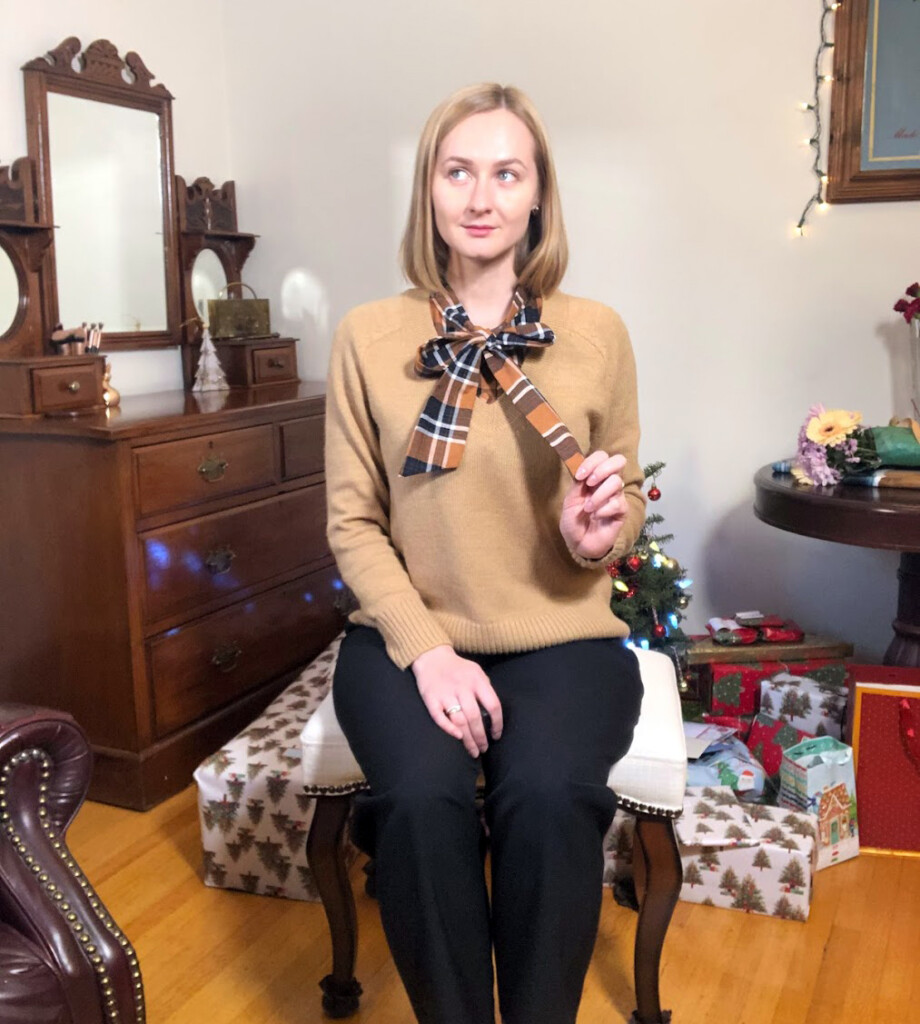 Different shades of orange and brown usually look visually appealing together, so if you happen to have a bow blouse in autumn-themed colors, you could match that with a light brown V-neck, without any fashion fears (see above). And if you pair it with a chocolate leather skirt or black pants, as I also did, the whole outfit would really pop!
Smart Casual Look
If you want to look somewhat preppy, but you are not into skirts at all, then you're in luck, because plaid pants are a thing!
For this type of look, you can choose some fun prints, like gray and red plaid over ivory. Pants with this print look hip, and when you pair them with white sneakers, they are a perfect combo. A white button-up shirt would also serve you well here, and the V-neck sweater brings it all together with those desired smart casual vibes.
If you liked the outfits above and would like to buy something similar or exactly the same, then check out 6 items from LittlePinkTop's affiliate partners below.
(Disclosure: If you buy something using these links, LittlePinkTop may earn a commission.)
1. Gentle Herd V-Neck Ribbed Knit 100% Wool Jumper
2. Unique Vintage Ivory Satin Polka Dot Colvin Blouse
3. CeCe Sleeveless Textured Pleat Front Collared Blouse
4. Unique Vintage Magnolia Pumpkin Spice Plaid Estelle Bow Blouse (seen in the photos above)
5. Lysse Elysse Pants – Scuba
6. Joe's Jeans Doreen Cross Seamed Faux Leather Skirt
Now that you've seen some different outfit ideas, it's time for you to create your own warm and fuzzy winter outfit, using a V-neck. No doubt, you can now confidently pull off office-appropriate, preppy, or smart casual looks, but what matters most is finding an ensemble that reflects your personal style!