Lacoste Reinvents Itself with a New Flagship Store in London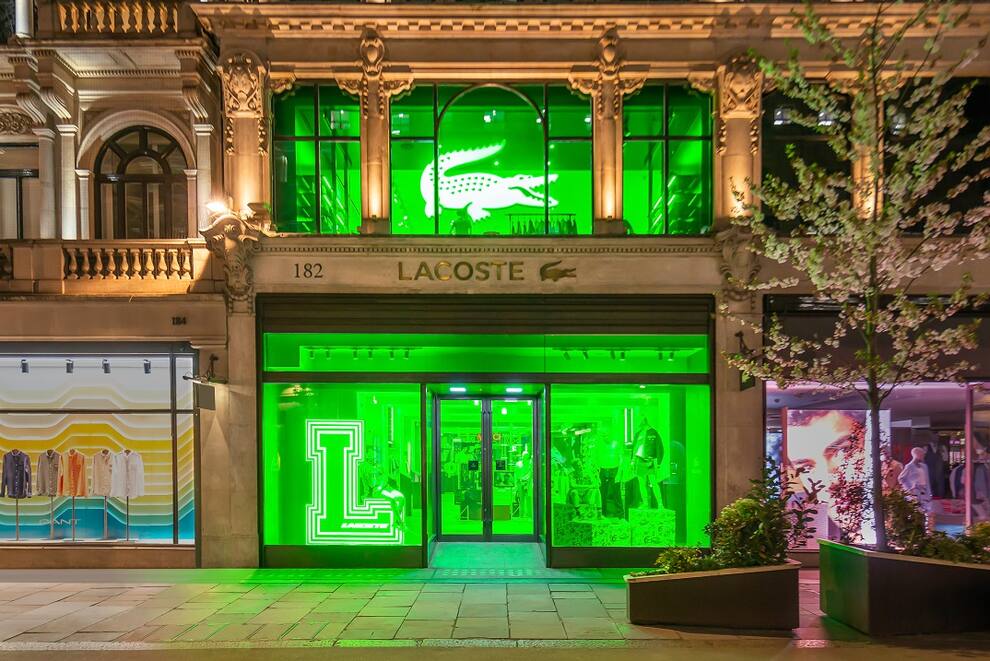 Lacoste, which was founded in 1933 by tennis player René Lacoste, has started fresh in London with a new flagship store on Regent Street in London, saying "au revoir" to their old Knightsbridge digs. This new store is designed to reinvent customer experiences, making them as snappy as the fashion company's iconic crocodile logo. On its website, the company explained, "With a mission to connect cultures through experiences, Lacoste Regent Street, now the largest Lacoste store in the UK, becomes a meeting place where everyone's personalities and styles will resonate individually or collectively."
The 9,700-square-foot store has two floors and displays 4,000 pieces, featuring collections for men, women, and children, as well as footwear, golf, tennis, and other fitness/performance lines. Customization services are available on the ground floor. Japanese artist Hayu jazzed up the store with artwork installations, including a wire crocodile that's a real "court" jester. Interior elements also showcase a smashing history of the brand's involvement with tennis.
Plans are in the works for new spaces in New York and Asia, where other brands are also trying to liven up their brands and collections, but who's keeping score? Lacoste celebrated the opening with a cocktail party in-store and an after-party in Soho featuring a special performance by Bugzy Malone. Lacoste appointed Pelagia Kolotouros as the new creative design director in February, succeeding Louise Trotter, who joined the company in 2018.
If this news made you hungry to snap up some great deals on Lacoste apparel, LittlePinkTop has curated some of their most stylish items, all with jaw-dropping discounts, below:
Sneakers
The right pair of white sneakers will finish any smart casual outfit and look as appropriate in a country club as on a city stroll.
But if you want to add a splash of color, check out this pair:
The padded tongue and collar are added for extra foot support. And the overall design will support your reputation as a well-put-together gent. But for the casual days when "your feet desire elevated comfort," the option below might be good:
This pair has a retro vibe and a clean design.
Polos
And now, for the polos! If you have fine taste, you may like the so-called "caviar polo shirt."
Caviar in this context refers to a three-thread cotton knit, which looks very luxe. There are also options that offer great savings:
The Pique Polo with Multicolor Neps offers a very sleek design and multicolored neps (small knots of entangled fibers) if you want to be visually intriguing. But if you're ready for some supernatural adventures, check out the collab between Lacoste and "Stranger Things":
That's right, there's actually a polo shirt where the iconic crocodile is actually more of a demogorgon! This is quite distinctive, but in the world of fashion, we've seen stranger things.