Driving in Style: The Perfect Pairing for Your Laidback Look

As the world goes mad all around us, sometimes you just gotta try to take it easy. And you can tell that soothing story with your style, to others and yourself! Maybe you're just a dude on the lookout for a relaxed yet sharp and eye-catching look. It's a tough balance to strike but with high-quality materials and LittlePinkTop's fashion advice, you can make it happen! So, read on…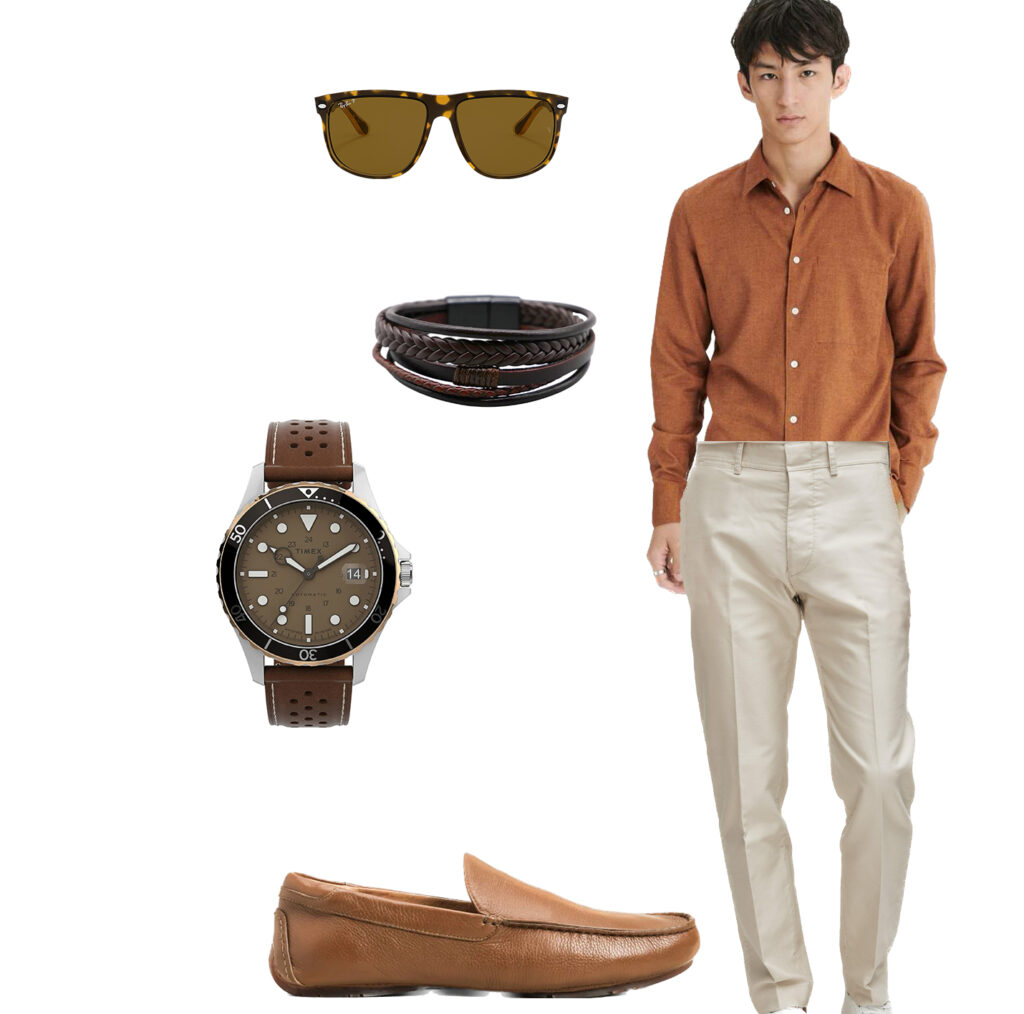 Shirt: Delikatessen; Pants: Tom Ford; Shoes: Kenneth Cole; Sunglasses: Ray-Ban; Watch: Timex; Bracelet: Gernie.
Let's start with the finest Italian flannel shirt that radiates a distinctive allure with its rich, burnt orange hue, capturing the essence of autumn while offering unparalleled comfort. This shirt is ideal for casual gatherings or even the office, offering the softness and warmth you might need this fall! It's easy to see how this shirt could be paired with beige trousers to achieve a suave Southern flair.
Orange, being a warm and vibrant color, can make a bold statement, while beige-colored pants offer a neutral background, which helps to anchor the outfit. The contrast between the two colors enhances the overall look, making it eye-catching and stylish, without being overwhelming.
With such a look, you can be formal without overdoing it or surrendering your easygoing spirit. You'll feel as comfortable as you do on your couch, but with a whole lot more swagger.
So, where do we find the pants and shoes? They could already be in your closet or wherever you stash your clothes. Is it a pile in the corner? No judging here. Just make sure everything is ironed when you head out.
If you don't have the right pants already, cotton chino pants from Tom Ford will elevate your casual attire. Besides, this stylish pair is made in Italy, which is synonymous with quality in fashion.
And don't forget to accessorize to add a little character to the overall look. A cool pair of sunglasses, a leather strap watch, and a matching leather bracelet would do the trick.
So, with the laidback clothing and accessories options we've picked above, shoes should match the desired aesthetics. And what could be better than a pair of slip-on driving shoes? Driving shoes were originally created for and worn by racecar drivers to allow maximum traction when gripping the pedal. They took the form of a traditional moccasin but were fitted with small rubber treads all over the sole. The Nyle Leather Driver pair above comes in a beautiful cognac color and will complement the shirt and pants we've picked.
So, in a world filled with chaos, you can effortlessly express your easygoing spirit with a confident, balanced look by following LittlePinkTop's advice.