How to Pair a Silk Skirt with a Sweater

Mixing and matching textures and fabrics can turn an ordinary outfit into a style statement. One combo that's been popping up in celebrity looks lately is the silk skirt and sweater pairing. You might think that your comfy knit sweater and most glamorous, flowy skirt are from different corners of the fashion world. But if you pair things right, you'll have a mix of comfort and style, casual and dressy, making it a versatile option that works for just about any occasion.
But pulling off this look isn't without its challenges. Getting the balance right between these two can be tricky. It's all about choosing the right proportions, colors, and accessories to make sure one doesn't overpower the other. Let's check out how Jessica Alba and Jennifer Lawrence approached this look.
Jessica Alba's Silky Skirt + Sweater Pairing
Actress Jessica Alba was snapped with such a look. Her oversized sweater and flowy skirt looked relaxed, while her combat boots added a touch of toughness. Her choice of colors is harmonious and fall-appropriate. The mix of textures – ribbed knit, silky fabric, and glossy leather – create layers of visual interest.
Let's break down the outfit a little more!
Oversized Ribbed Sweater: The camel-colored sweater is ribbed and has an oversized fit. It provides a sense of comfort and warmth, making it suitable for fall or colder weather. The color is neutral and versatile, allowing it to pair well with various items.
Silk Skirt: The skirt has a deep rust color and lustrous texture, contrasting nicely with the sweater.
Combat Boots: The lace-up combat boots appear to be glossy leather or patent leather. They offer a grungy and edgy feel to the outfit, again providing a nice contrast.
Accessories: Alba is holding a clutch-style wallet or small purse and is wearing gold-toned jewelry, including a necklace and a bracelet, bringing a touch of femininity and luxury to the overall ensemble. Even Alba's socks match the overall hue of the look.
Fashion Picks
LittlePinkTop checked what our affiliate partners offer and curated a similar look to save you time.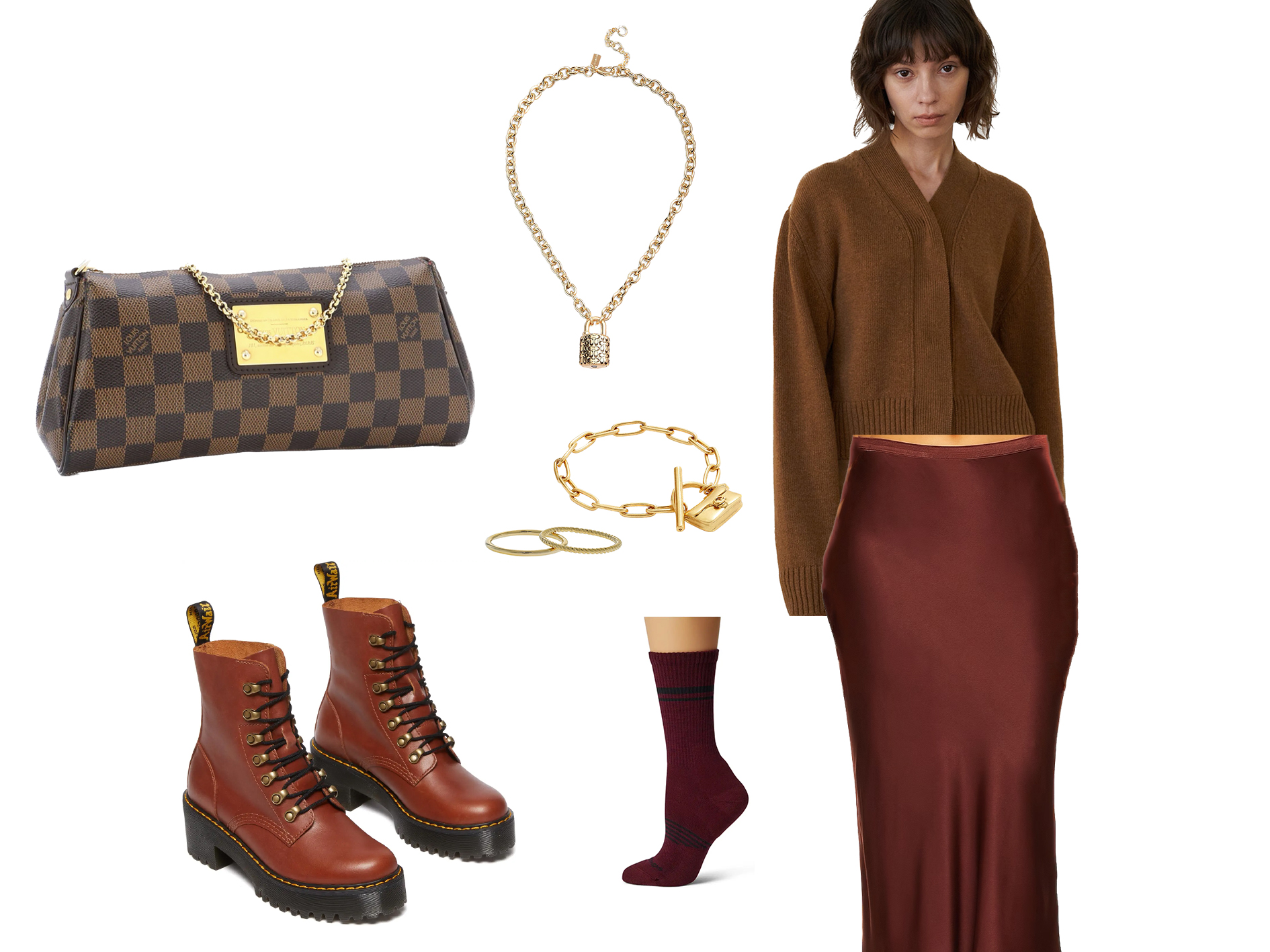 Sweater: AEER, Skirt: ANINE BING, Shoes: Dr. Martens, Necklace: Coach, Bracelet: Coach, Stacking Rings: Madewell, Handbag: Louis Vuitton, Socks: Darn Tough Vermont.
Jennifer Lawrence's Outfit
Like Jessica, Jennifer happened to be emerging from a parking garage when she was snapped with this stylish pairing. This actually speaks to one of the reasons you might choose this look: it's a way to be stylish while still running errands! Overall, Jennifer Lawrence's outfit exuded the same relaxed, yet sophisticated aura, perfect for transitional seasons like fall or spring, as Jessica's did.
Let's break it down.
Turtleneck Sweater: Jennifer was wearing a loose-fitting, beige turtleneck sweater with a chunky knit pattern, giving her a cozy and warm appearance.
Silk Skirt: Again, it's a very similar look, since Jennifer's skirt was also rust-colored, complementing her sweater nicely.
Suede Loafers: She wore beige loafers, likely made of suede. Their neutral color seamlessly integrates with the overall earthy palette of the outfit.
Long Coat: Draped over one arm, we see another piece to the outfit, on standby in case of a brisk wind – a long, beige, possibly wool coat. The coat's color is similar to the sweater, creating a monochromatic effect.
Round Sunglasses: The celebrity vibes come thanks to Jennifer's round, dark-tinted, metallic framed sunglasses. She either wasn't wearing jewelry or it wasn't visible, ensuring her look remained clean and uncluttered.
Fashion Picks
Here are some items from LittlePinkTop's affiliate partners that you could throw together to channel these same vibes: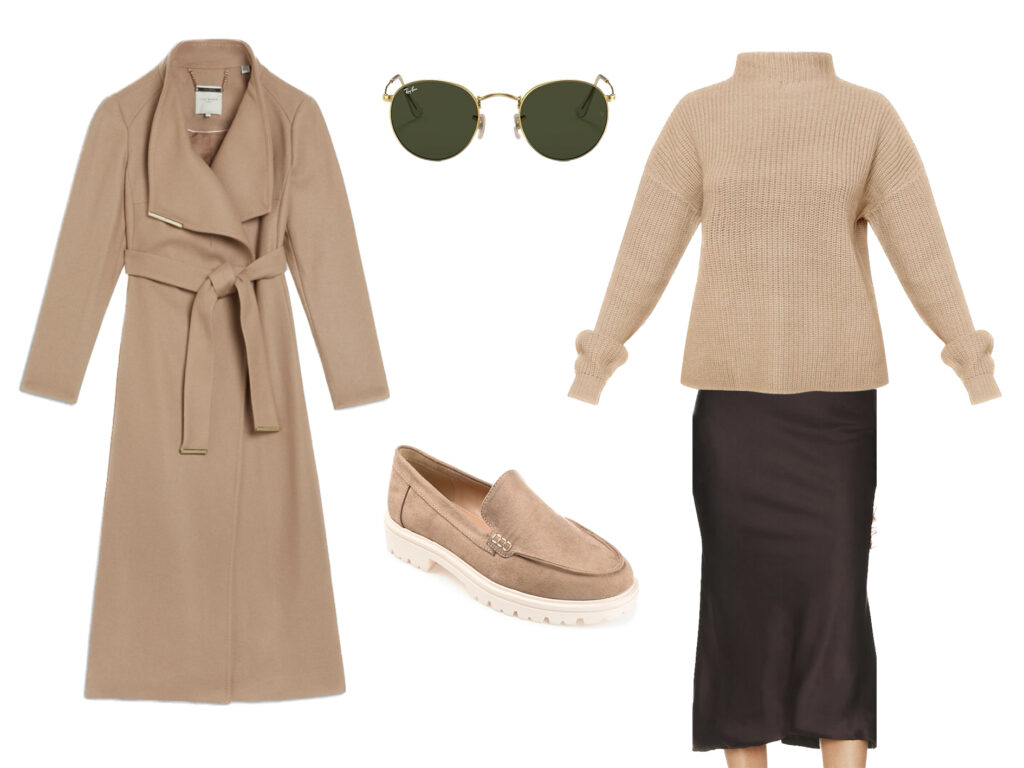 Sweater: PrettyLittleThing, Skirt: Norma Kamali, Shoes: Journee Collection, Coat: Ted Baker, Sunglasses: Ray-Ban.
Looking at these celebrity examples, we see the importance of a monochromatic palette and how it can make the look seem both cohesive and sophisticated. Layering is also important, as we noticed in the coat draped over Jennifer Lawrence's arm. Also important is the mix of textures – the knit of your sweater, the sheen of your skirt, and the suede of your shoes can all play well together for a lovely autumn look.
What pairing a silky skirt and sweater really gives you is a casual elegance. With such a versatile outfit, you'll look like a celeb even if you're just packing groceries into the trunk of your car!