Deal or Disaster: How to Find the Best Boots and Wallets This Week

https://www.instagram.com/p/BoHVPUbACey/
Every day, when I look at the news, it seems like the world is falling apart. And people are struggling just to pay their bills. Even last year, before the pandemic started and ruined people's economic stability, there was over $1.5 trillion in US student loan debt! That's why I decided to come up with a new "Deal or Disaster" series of articles here at Littlepinkptop.com. I'll point out what I consider to be the best deals of the week that will help you look stylish and save some money. I'll also feature clothes and products that you should probably wait to buy or not buy at all! With the explanation why, of course. And it's up to you if you want to fasten your belt or shop for some good deals.
If you see shopping as some kind of investment and have the ability, go for designer stuff. You will always have an opportunity to sell those pieces later, calling them pre-owned or even better, "pre-loved." I am a big sucker for sales, always vigilant, always on the lookout because: "It's the eye of the tiger. It's the thrill of the fight."
And today I'm here with some deals for you.
Farfetch, one of the biggest global platforms for the luxury fashion industry, has a sale! In a special sale section, you can find new items every day and discount up to 60% off. Disclosure: LittlePinkTop is an affiliate marketer with Farfetch.
You can get Maison Margiela ankle boots in pink with a 40% discount, this is a real catch! You can also purchase Saint Laurent fringed cowboy boots for $523 or Paris Texas embellished trim cowgirl boots for $235! Are you still with me or shopping already?
Farfetch understands that consumers of luxury products are really into doing their homework online and in stores, spending about four hours a week just researching the trends and brands they're interested in. Their website includes lots of large, high quality images and details. They show both the product measurements and the model measurements, which can be really convenient if you're trying to figure out how something might fit on you.
If these prices seem steep but you still want an awesome pair of boots, Littlepinktop has got you covered there, too. When I went to Austin, Texas, I discovered a Southern paradise: Allens Boots.
It's a family-owned business and the city's go-to spot for boots, hats, and belts since 1977. All their boots are excellent quality so I'm sure they will serve you well for a long time. And now they have an up to 65% discount, so you better giddy up! You can get an amazing pair for $99!
Many styles come in both black and brown options. And you know that brown will be everywhere this fall as well as cowgirl boots walking all the streets. There are so many great options to choose from, yeeha!
If you are hunting for a cute wallet, by cute I mean pink of course, you might like Hermès Constance compact wallet that first appeared in their 2012 collection. Farfetch has it pre-owned with 30% off, or $6,506. That's a little steep, but you might be able to snag an identical "pre-loved" wallet in good condition on Modaselle, for roughly $2,195. The condition of that one is very good but not perfect as there's said to be some scuffs on the hardware and a marking inside the zipped pocket.
And guess what, the original Hermès Constance compact wallet on their official website is going for $4,150. So you peeps be vigilant! Even when you see a discounted pre-owned piece that you want, it's worth checking to see if you can get that same pre-owned item elsewhere, and it's worth checking to see the price of a new one straight from the brand. It may actually cost less money when it's brand new and not used! What?!
You might also want to check out Coach Outlet. In the clearance section, you can find a pink zip wallet that slightly resembles Hermès Constance compact wallet. You will be pleasantly surprised with the price! You can get it with a 70% discount for about $50, which is a lot lower than the original price of $168! That's a real catch, you guys.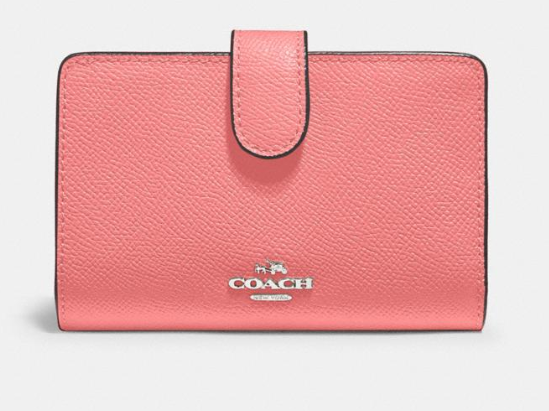 I couldn't resist the temptation so I did order two pairs of cowgirl boots: Skyler Boots in cognac and Katie Boots in black. I chose not to get anything from Hermès as it's out of my budget, but those Coach deals are very enticing. Come back next week for more deals and disasters!