Summer Jumpsuits to Jump on Right Now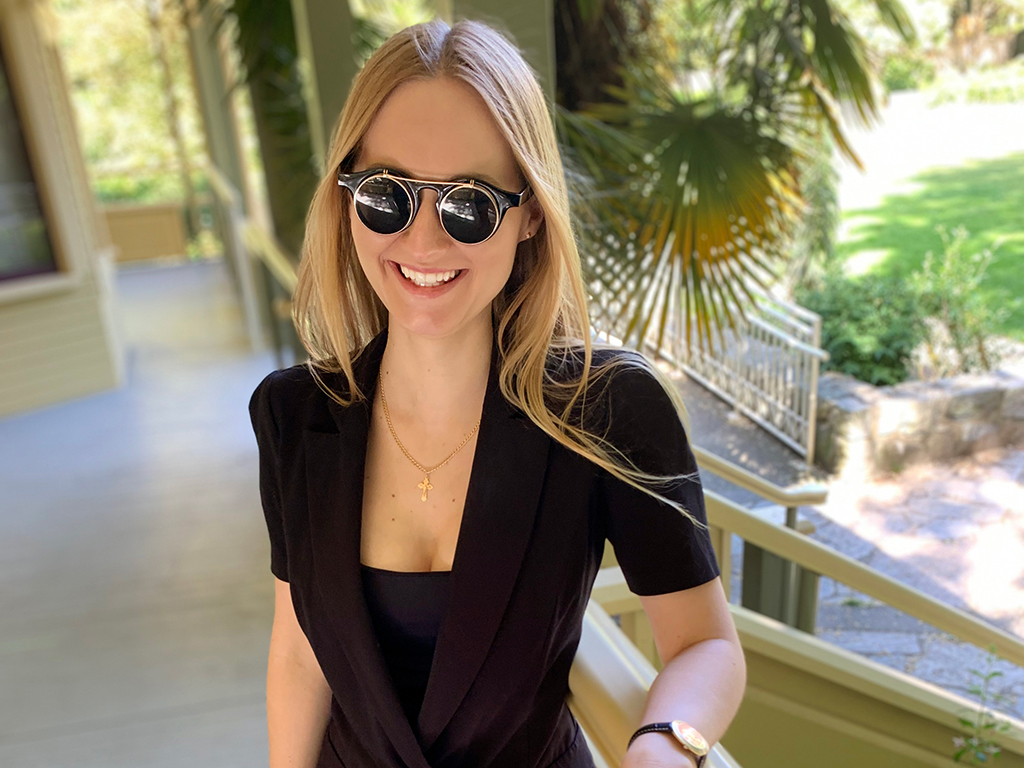 When the weather is hot, it is, of course, better to dress and feel summery. That means light and breezy, not sweaty and sticky. It doesn't necessarily mean that you have to look like a beach bum. There's a way to pull off a summer look while remaining practical and refined.
I'm talking about the jumpsuit, my friends. And yes, if you're a LittlePinkTop reader, you've probably noticed that I've been talking about jumpsuits a lot lately. Why? Because young women like Florence Pugh and Sofia Wylie are showing the fashion world that jumpsuits can be the key to unique, expressive, and classy fashion.
Atlanta-born model Chanel Iman is a fan, too.
She posted an Instagram photo of herself wearing a black short-sleeved jumpsuit with a contrasting blue top underneath. For Chanel, the look was part of her work-from-home adjustments, back in March 2020. She captioned the photo, "Trying to keep up with my normal routine, wearing work attire for Skype meetings."
If you want to have a stylish summer, jump into the jumpsuit trend! To help you do that, LittlePinkTop curated a list of winning looks and found similar options that can be purchased online!
(Disclosure: These items are from LittlePinkTop's affiliate partners.)
Here's a black jumpsuit, somewhat similar to the one Chanel Iman was wearing.
Heidi Klum's Jumpsuit
This one is all about chic and sexy. An elegant black jumpsuit will help you channel the Heidi Klum vibe.
A little tip from LittlePinkTop for flat-chested girls: the ruffled top will make your chest visually bigger, if that's what you want, and a halter neck doesn't show cleavage, so you will leave room for the imagination of your date or significant other (again, if that's what you want).
The tie at the waist will accentuate your curves. If you don't have any, it'll visually create some. Do I even need to mention that the open back looks hot but will keep you from overheating?
Hailey Bieber's Jumpsuit
Are you keeping an eye on Hailey Bieber's style and frequently trying to recreate her looks? Well first off, listen, there's only one Justin Bieber, if that's your true motive, and according to Esquire, he's gone through a "de-Bieberfication" (yeah, I'm not quite sure what that means, either). So don't copy Hailey Bieber just to get yourself a Bieber, because there was only one Bieber and now apparently he's not even a Bieber.
Anyway, Hailey was spotted in a white cotton jumpsuit.
So, if you want to bring the supermodel vibes or are planning to attend one of those parties where everybody wears white attire, take notice of this white denim jumpsuit. It has structured shoulder pads that are rather popular right now, which makes the design unique and noticeable.
Fashion Influencers' Jumpsuit
Many fashion influencers like Blair Eadie and Sofia Sanchez de Betak are really into structured jumpsuits.
If you go for a jumpsuit like this, you can easily dress it up by sliding into a pair of heeled or platform sandals and putting on extravagant sunglasses, like these pairs from Gucci. If you value comfort more, dress it down with flat sandals or even Converse sneakers and a pair of Ray-Ban sunglasses.
This utility jumpsuit by Ted Baker is an excellent choice, especially if you find the AC in your office to be a little too good at its job. This jumpsuit is long-sleeved and has a utilitarian style but at the same time it looks very sharp and neat. A belt creates a beautiful waistline and adds some grace with the golden buckle closure.
Zendaya's Jumpsuit
This vintage-looking overall is a good pick if you're into frills. Besides, Zendaya was spotted in a similar style before!
Zendaya wore a denim jumpsuit, but I would rather go for something made of lighter fabric. This lightweight frilled jumpsuit from Ted Baker is definitely more appropriate for summer. You can wear it with a pair of white sneakers or comfortable platform sandals. Think twice before wearing heavy jewelry, especially necklaces, because it might make the look too busy. It's so perfect and summery as it is!
Emma Stone's Jumpsuit
Some people find denim to be too heavy for summer. If you feel the same, go for something effortless and light, similar to what Emma wore to the 2017 Oscar Nominees Luncheon. I think it's really classy, and there's a little dash of sexy with the bare shoulder.
You can find a similar wide leg jumpsuit from Zimmermann. It's a one shoulder jumpsuit with a necktie that adds an intriguing and sexy touch.
Here's a more affordable option from PrettyLittleThing, which advertises its figure-hugging fabric.
Closing Tips: Accessorize!
You don't need to do much to make your jumpsuit outfit work. Just remember these simple rules:
If you have an uncomplicated jumpsuit, especially a strapless one, you should wear some statement jewelry and maybe add fancy sunglasses if it's bright outside.
If your jumpsuit looks too simple but it happens to come with a removable waist tie, you could swap it for an eclectic, unique or just interesting-looking belt you might already own. Don't be afraid to experiment, it's not a lab experiment, nothing is really at stake here…
One more thing, don't wear a crossbody bag if your jumpsuit has a drawstring or tie waist, or a row of front buttons. It will ruin the proportions.
And… shoes!
The same applies to shoes. Don't mess with proportions and don't wear boots with your jumpsuit. I know that it's trendy to wear baggy pants with cowgirl boots but even this trend is controversial because it looks hideous if done wrong. Besides, it'll make you look shorter, which you might not want. Rather, you should opt for sandals, flats, or peep-toe pumps that will complete your jumpsuit look.
So, why not jumpstart your fashion game this summer with one (or two, or maybe even three, you madman) of these looks! If you style it right, you'll be jumping for joy.