How to Dress Like Joey King in The Kissing Booth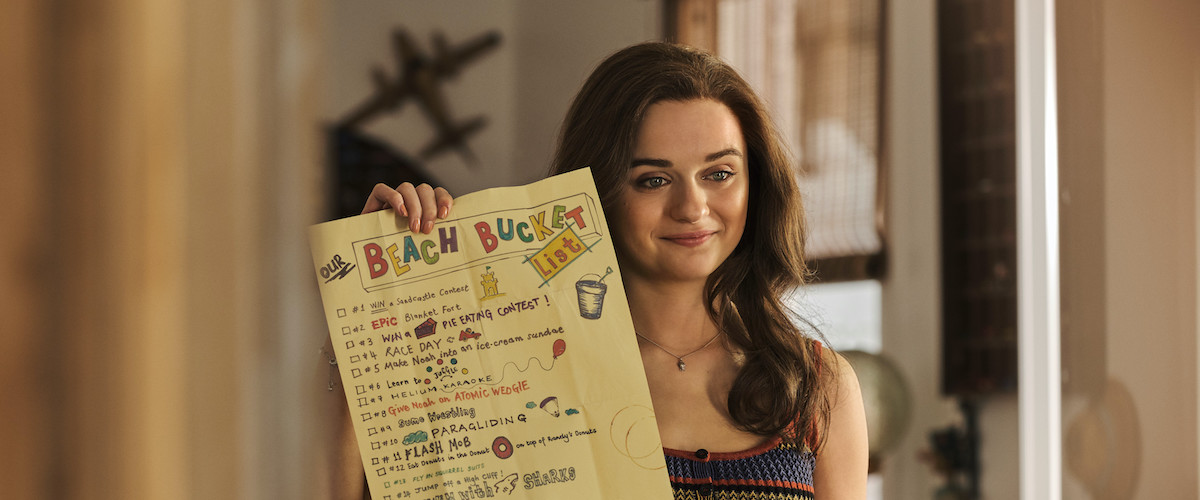 If you feel like you are stuck and can't get out of a situation, maybe check out the LittlePinkTop wellness section to balance your mood and gain some clarity, then draw inspiration from one of our interviews with fashion/beauty entrepreneurs. But you know what? If you are physically stuck, like Gen Z actress Joey King was, even these fashion blog articles won't save you…
While filming one of "The Kissing Booth" movies, Joey King wanted to prove to her co-star Joel Courtney that she could fit in a locker!
Joey did so successfully, buuuuuuutt she got stuck…
The actress said she was fully panicking because she's claustrophobic. At different points, she squealed "you're going to have to break my arm to get me out of here," and "my hips are too wide." That must have been a terrifying experience for her but with wise coaching from the film director Vince Marcello, she was able to pivot her body out!
If watching that Instagram video made you want to dress like Joey but you are now stuck because you don't know where to find similar clothes, let LittlePinkTop guide you out.
LittlePinkTop created a similar cute and preppy look: yellow top, navy tie, grey pants, somewhat dressy shoes. The goal is not to directly mirror Joey King's character Shelly Evans but to draw inspiration from some of her best stylistic qualities.
Each item came from LittlePinkTop's affiliate partners, so we might earn a commission if you buy something.
Top
This yellow shirt from Ralph Lauren is a perfect pick.
The 100% linen fabric and relaxed fit will help you feel relaxed, not fully panicking. It also has a shirttail hem, which is a curved bottom hem, higher on the side hip area (for ease of movement) and dipping low in the front and back (so that the shirt will stay tucked into pants).
If you're worried about looking untidy, take a breath: this long sleeved shirt has a professional-looking point collar and buttoned barrel cuffs. The buttoned shoulder epaulets (those military-style ornamental pieces on the shoulder) enhance it further.
If you need a more affordable yellow T-shirt, you can get one for less than $20 from Izod: same bright color but with a y-neck placket that enables layering and a more effortless change of clothes.
Tie
If you really want to go all in and create a look that is as close to what Joey King is wearing as possible, get a tie as well. The one the actress was wearing looks a little grandpa-like, which might be an intentional character choice, but I think we can find something more stylish than a navy blue tie with light blue stripes.
Check out this one this one instead!
Ted Baker consistently offers an impeccable sense of style, which is present even in accessories like their ties. This tie has the same color combination (navy blue and light blue) but dots instead of stripes, which makes all the difference. It's more classy than quirky.
Pants
What's more relaxing than sweatpants? Not much. But if you rely on them too much, you're basically broadcasting that you stopped caring.
Well then, how can we redeem those sweatpants? A cute star pattern might make all the difference. Check out this pair that looks almost exactly like the ones that Joey was wearing.
The pair is from Chaser, a contemporary clothing company "raised on rock and roll," so no wonder they are all about stars. These drawstring joggers are also made out of recycled material, which makes you a star of sustainability!
Shoes
Camper has a way of infusing ingenuity into footwear, and they've done it yet again with these deliberately incongruent and somewhat preppy black leather shoes.
Camper explains: "Born in 1988, our classic TWINS concept — opposite yet complementary – challenges the idea that shoes must be identical and lives on in these mismatched women's shoes to form a truly unique pair."
Now that you have a complete outfit idea, with unique and preppy selections, you don't need to feel stuck!
Go forth and take people up on their dares or challenges, like the adorable Joey King. You might just wind up in a kissing booth with the person of your dreams.