The Shia LaBeouf Approach: Fit and Feel Comes First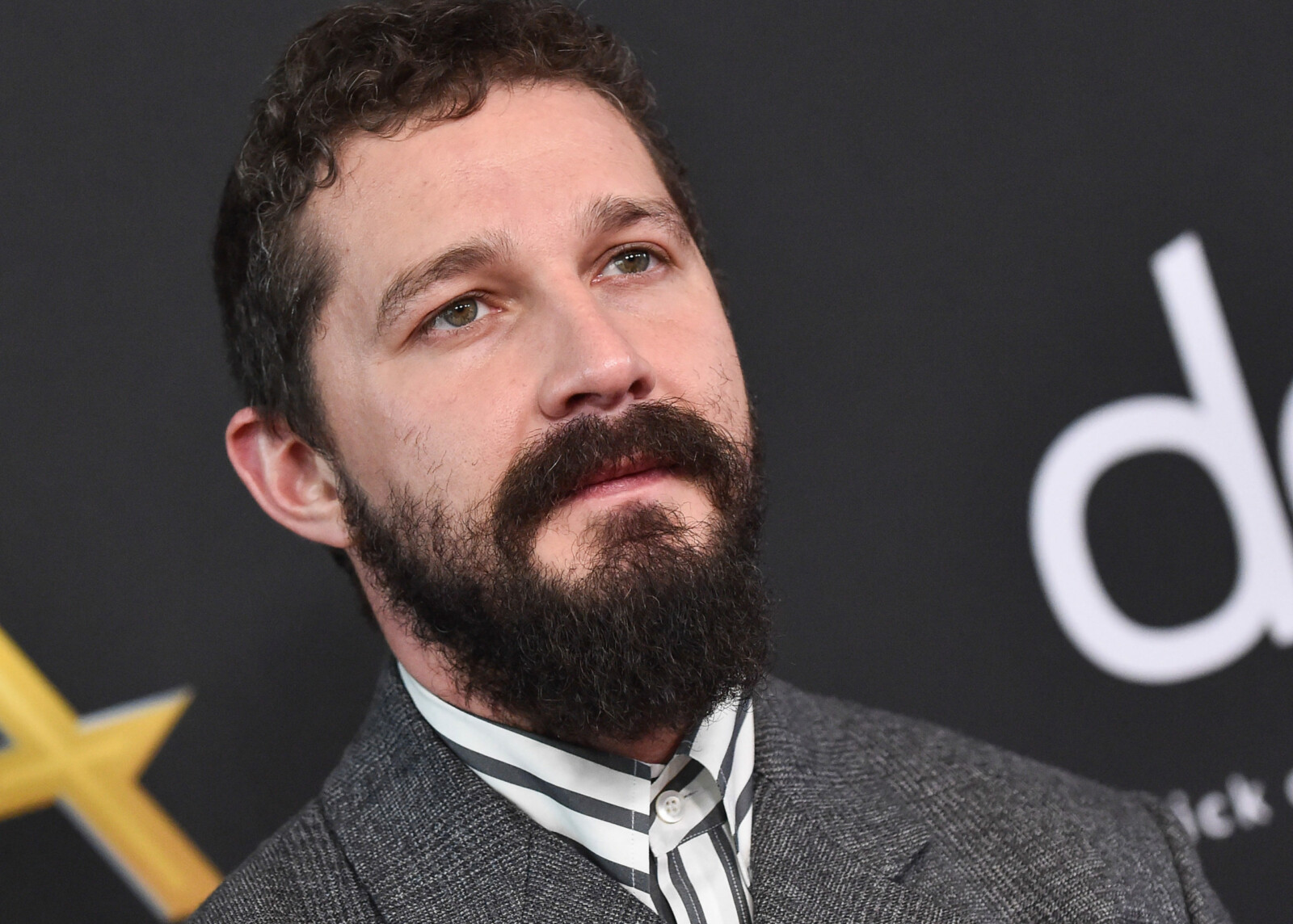 Esquire called him "the guy who was handed a golden ticket and promptly lit it on fire." The New Yorker labeled him as a particularly handsome version of a fashion-conscious hipster. Highsnobiety, a streetwear blog, decided that he was "a bona fide fashion icon." According to The New Yorker, our subject is a "hirsute, still sexually viable Silver Lake dad crossed with a Chinatown-dwelling trust-funded art-school kid who's never not up for doing psychedelics."
If the picture hasn't come into focus just yet, all these publications were talking about Shia LaBeouf.
These are the many takes on the actor's unconventional take on fashion. But LittlePinkTop saw a simple but important fashion lesson: the importance of fit and feel.
It must be pointed out: Shia's controversies have escalated in recent years. He's now involved in a legal case related to abuse allegations made by his ex, the singer-songwriter FKA Twigs. Shia has denied these allegations.
Radar Online, an American entertainment and gossip website, reported that according to court documents, the actor has reached a deal with FKA Twigs to postpone the next scheduled hearing. It's being pushed from December 15, 2021 to May 2, 2022 because "the parties have been engaged in productive settlement negotiations and are in the process of arranging for an early mediation." It might be due to the rumors that Shia is about to become a father.
Anyway, LittlePinkTop is a fashion blog, so we'll just keep the focus on Shia's streetwear…
This guy is all about fit and feel. Every item in his wardrobe got there by passing those two tests. It fit well, and he felt good about it. And hey, that's actually a very effective shopping strategy.
It may seem like a pretty basic idea but it's amazing how easily we can be distracted by the way that something looks, like a color or a pattern, and we forget to value how it looks on our own bodies, or feels against our skin.
Shia LaBeouf isn't concerned with following the latest trends or promoting luxury fashion houses like many other actors do. Many items from his unique wardrobe are thrifted, making his approach more sustainable and accessible.
The actor is not afraid to go against establishment rules and establish his own fashion philosophy. Believe it or not, a lot of thinking and consideration goes into his outfits, even when he looks especially random or shabby to others.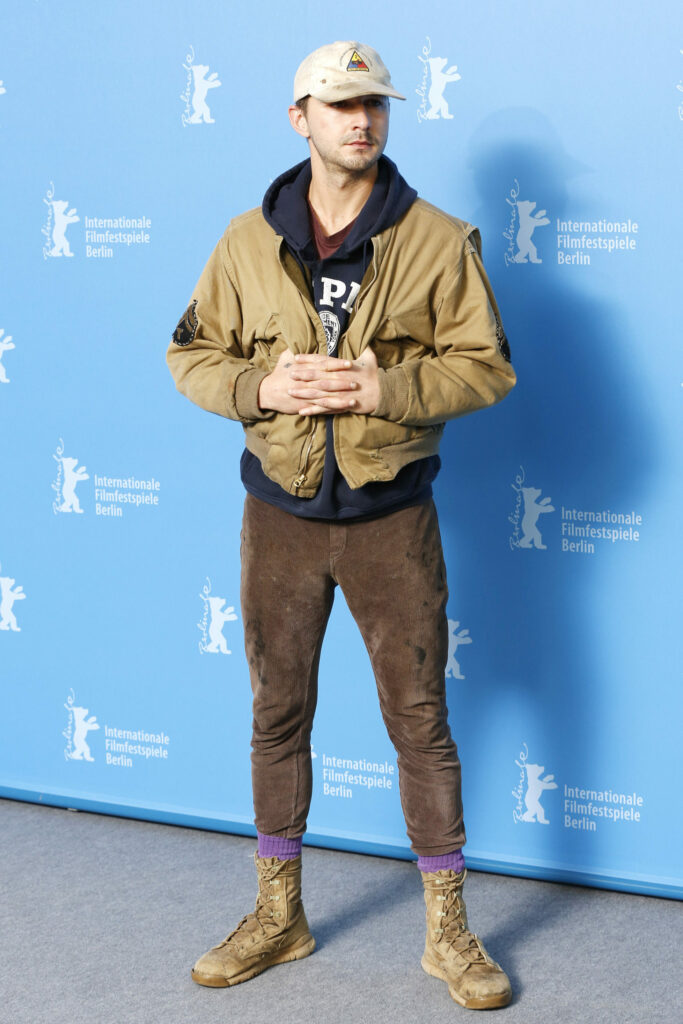 Shia expressed this sentiment during an interview on B96 Radio in Chicago: "People look at me and they go, 'He looks homeless. He doesn't care…' This took a lot of time. For real."
He insisted, "Everybody's got a uniform, you know what I mean? Even though it looks haphazard, it's actually very thought-through. I'm trying to be aware of my Whitman and like my blue-collar."
With his looks, LaBeouf shows that he is a down-to-earth creative who honors and respects the grind. When he gets dressed in the morning, he also considers where he's going and why.
Shia revealed as much in the radio interview. At the time, he was promoting the movie "Man Down," in which he played a U.S. Marine.
He said, "I'm also talking to veterans. I'm over at the USO talking to people who've been through stress, and they don't really want to see clean-cut Charlie… We're always performing, and we're thinking about who we're going to go perform for. You look in the mirror and you ask, 'Who do I want to show up with?'"
The unconventionally dressed Shia LaBeouf is also down to explain his style, his art, and his approach to life on unconventional platforms. On the YouTube show "Hot Ones," host Sean Evans peppers his celebrity guests with wide-ranging questions, and they have to give their answers while consuming increasingly high-intensity spicy chicken wings.
At the beginning of the episode, LaBeouf was asked how much heat he can tolerate. He replied, "I'm half Cajun so, yeah, I'm a hot sauce guy but I'm also half Jewish so I'm a little frightened."
In-between his best attempts to take the spiciness like a man, Shia explained his fashion choices: "I wear stuff that's comfortable and I'm big into shape. I don't really care about colors and stuff like that, I like shapes, like a certain silhouette."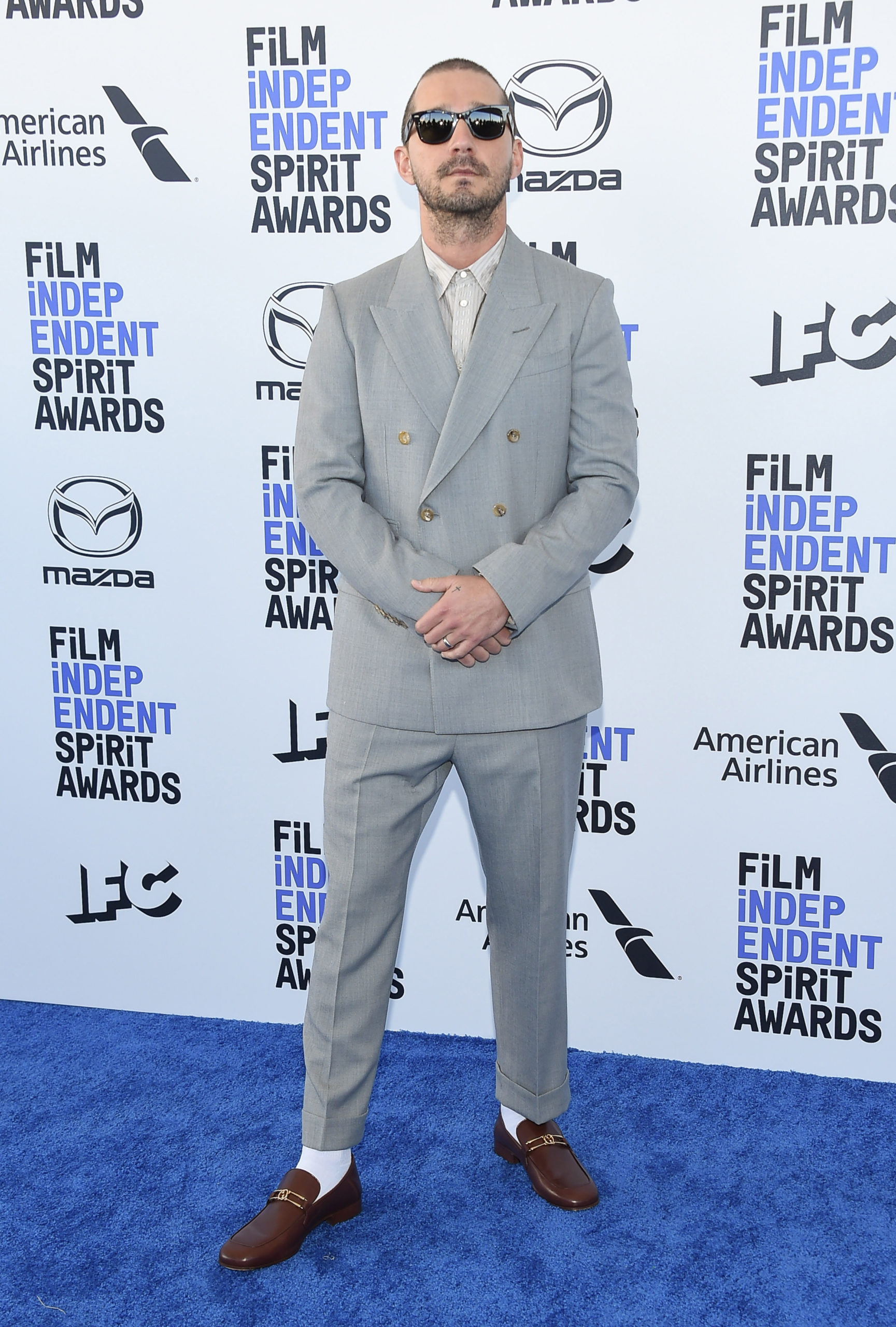 Shape matters to Shia. What about symbols?
Sean asked about other clothing features, such as specific imagery or meanings. LaBeouf said that the shape is his starting point, before elaborating, "And then if I see something on there that I don't f*** with, then I have to give it up. Even if the shape is great."
So, again, the Shia LaBeouf fashion approach is all about fit and feel. It's not giving an f* about fashion formulas but giving an f* about what story you are trying to tell with your looks.
With that being said, let's see some of Shia's looks!
Down-to-Earth Look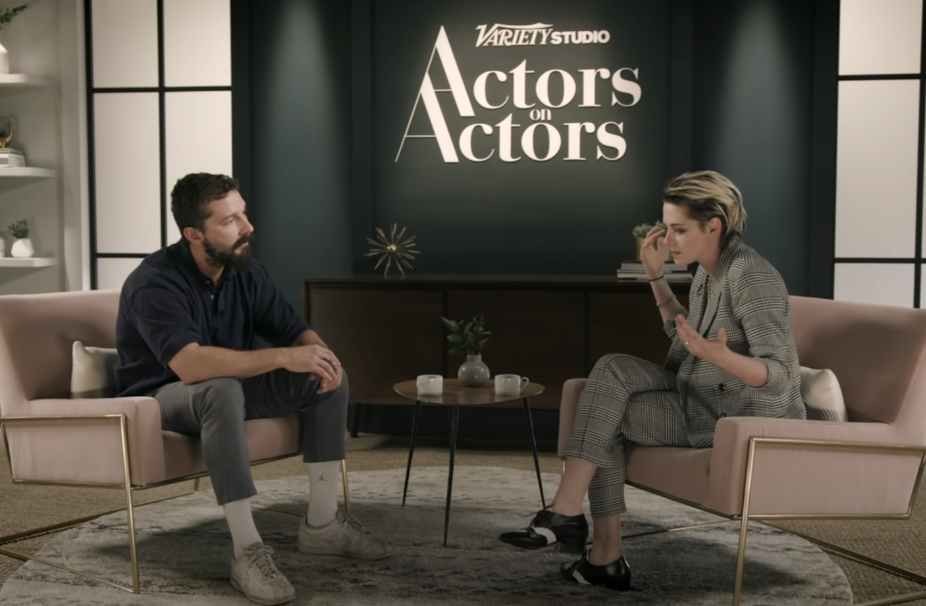 Critics might say that Shia showed up for a filmed "Variety: Actors on Actors" conversation, with the actress Kristen Stewart, looking a little disheveled. It's easy to see why. He was wearing dirty sneakers, cut-off sweatpants, and a dark navy blue Polo shirt that looked slightly washed out. This is far from a conventional, polished Hollywood publicity look.
Stewart, on the other hand, was wearing shiny patent leather shoes, most likely Chanel as she is a brand ambassador of the fashion house, and a sleek grey plaid suit over a white tee. Their vibes couldn't have been more different and the exchange was fascinating.
Shia was disarming and likely withdrew more interesting and revealing responses out of Stewart than she otherwise would have been willing to surrender.
One upvoted YouTube comment suggested that the video was like "watching depression and anxiety have a conversation with each other."
Shia's outfit was probably far more intentional than many might have thought. His down-to-earth fashion approach worked! It made Kristen more comfortable in his presence and led to a candid exchange.
To be like Shia and put people around you at ease, just put on your favorite polo shirt (the one that has potentially seen better days but which you still love), blue jeans, and white (or not so white anymore) Converse sneakers.
Unpretentious Normcore Look
Even when LaBeouf is not on screens, his looks have been covered by fashion news outlets.
He's something of a leader on the streetwear scene.
One winter day, he was spotted looking somewhat shabby and shaken-up. He was wearing a purple hoodie with his hood on, a grey fleece sweater, grey skinny jeans (torn on the knee), a backpack, and combat boots.
As the actor revealed on the "Hot Ones," that photo was taken after he had just been fired from a play in New York. Maybe his combat boots served as a suggestion that LaBeouf was ready to fight to get his career back…
While some people thought that Shia looked homeless in that photo, he said he was just walking around in snow "like Edgar Allan Poe right there." One Redditor called LaBeouf "a true fashion inspiration" because he "perfectly combined the military aesthetic with normal-core and the homeless look that has been made so popular because of designer brands like Yeezy." Another Reddit user claimed that LaBeouf is "a normcore god for sure."
So, whenever you decide you want to look normcore, just follow Shia's example. Even if skinny jeans are not en vogue with Gen Zers, you can still wear them proudly. Put on an oversized blazer or a sweater and chunky boots. The most important things: proportions (chunky-skinny-chunky) and fit.
Western Look
We've already established that Shia takes into consideration where he goes and who he meets when deciding what to wear. Take the Sundance Film Festival, for example. It's Utah in the middle of winter, so it's cold. Everyone wants to bundle up in their best winter coats and sleek parkas.
In 2019, LaBeouf stole the show with his outfit: cropped navy pants, high white socks, a grey crewneck sweatshirt, a pair of Golden Goose sneakers, and a thrifted camel leather jacket with fringe detailing and a brown leather collar.
People have a stranPeople have a strange respect for Shia because he's not afraid of self-expression, whatever it is: Spandex, Uggs, Gucci heeled loafers, or thrifted treasures. Meaningful clothes are more important to him than famous labels.
If you want to stand out, spice it up with an unconventional thrifted piece. You will be able to find cowboy boots or the perfect Western-style leather jacket in a thrift store if you persistently hunt for it. You can go full Western and put on all of the above or wear a black suit, white shirt and add accessories like a bolo tie or a buckle belt. It will put a Wild West spin on your modern look!
When Sean Evans showed LaBeouf several of his looks and pointed out his shoes, the actor said he was really embarrassed by the Golden Goose sneakers: "So I was teaching this class down Slauson and they were like 'hey, you know your shoes are like $500' and that was the end of those shoes."
The actor said that it's important to be careful with such stylistic choices: "You can't do sh*t like that because then you're making a political decision."
This is the Shia LaBeouf approach: find your fit, make sure it feels right. Shia may have starred in "Transformers" but he's got his style figured out and he's not willing to transform it.