How to Accessorize the Right Way: A Review of Ekster Wallets

Accessories work on multiple levels. They can be a way to signal taste and status, like a classic pink gold Vacheron Constantin, known for its lightweight movement, or more conspicuously, a Gucci bag. Accessories can also serve as a social cue. Suppose a poker-faced person is wearing headphones and avoiding eye contact with you. In that case, that individual might not be very willing to tell you how to get to the library. 
Most importantly, accessories can spice up an outfit. Even an unremarkable, well-worn black dress shines in a new light when paired with a unique necklace. If you pair accessories just right, you might not have to buy new clothes as often. It's a counterintuitive money-saver. Or maybe that's just a story you can tell yourself. Breathe new life into your wardrobe by adding a beautiful scarf or pendant! Feel no regrets!
But you don't need me to tell you to "buy a scarf," the weather's already doing that. Let's not overlook some more creative options, especially as newer brands apply new ideas and startup approaches to style accessories.
Yep, that's right, gadgets are getting smarter, but so are accessories! Even wallets. You might know what I mean if you've already seen the social media ads for Ekster, which "started as a rag-tag team of dreamers" motivated by a vision for a "smart wallet brand." They were powered along that journey by crowdfunding.
LittlePinkTop received a complimentary Vachetta Parliament wallet from the brand, which also offers other cleverly designed products like bags, key holders, and laptop sleeves.
What's unique about this wallet? Let me put it to you this way. Have you ever struggled to pull out a tightly packed-in credit card as the line of impatient people in Starbucks grows longer behind you? Maybe you happen to be a resilient, confident person, but I know for me, I might get even more flustered and take even longer, in a vicious cycle.
Well, Ekster's wallet has a special button on the bottom. When you push it, all of the cards you have in the wallet slide out, but not all the way, just enough for you to view, select, and grab, "making fumbling through your wallet a distant memory." The brand calls this "ejecting technology." I call it getting my fix of Starbucks even faster and not upsetting the fellow grumpy morning people behind me.
Ekster's Vachetta leather collection comes from tanneries located in Tuscany that use traditional Italian vegetable tanning (one of the oldest methods of tanning leather, even though it's said to be used on less than 10% of the world's leather today). What this means for you is that the wallet will serve you well for years to come as a slim, neat, well-designed, and polished accessory.
The Ekster Tracker Card, also provided to LittlePinkTop by the brand, is a solar-powered, credit card-sized "wallet tracker" that basically allows you to "ring" your wallet because it's the 21st century, baby!
As Ekster demonstrates, it's possible to take a modern approach towards accessories and forget the disasters of the past, like oversized, clunky, plastic costume jewelry or 1970s "pop top" outfits that tried to add "a chrome touch" to outfits by chain-linking together soda can tabs. Yep, that was a real thing and they promoted it as "pop-topping."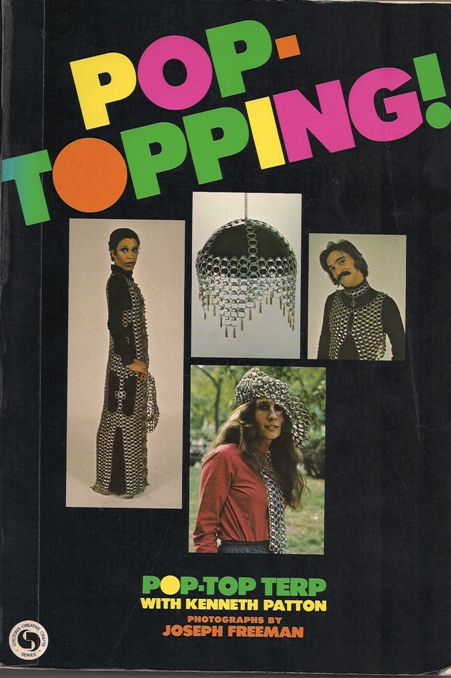 Need another contemporary recommendation? By hopping over to LittlePinkTop affiliate partner Zappos, you can clip this pretty tag onto your bag, adding some delicate floral impressions:
But wait, this is the 21st century, remember? It secretly contains a charging wire for your phone. That way, you'll never be stuck somewhere with a dead, unrestorable battery. I mean, if your phone is dead, how would you even be able to feel bombarded by your notifications? Exactly. You'd be stuck in the present moment, and who wants that, besides happy forest creatures and monks? I mean, how would you even read LittlePinkTop.com?