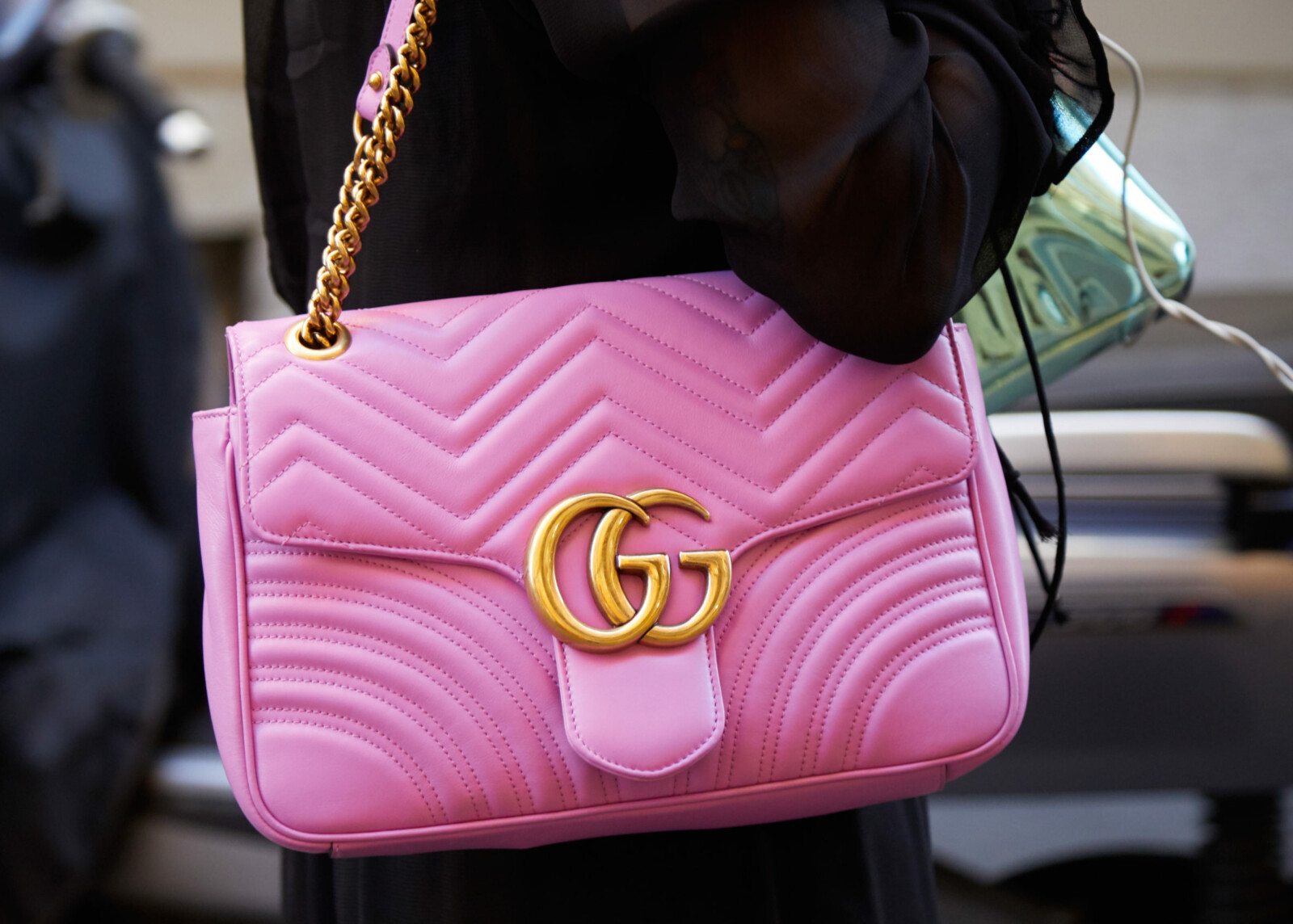 When it comes to Gucci, you know it's Gucci. It's almost impossible to mislabel it (well, unless you're a counterfeiter but that's something separate). What about those tags, though — is it all mispriced, aka overpriced? That's a question that strikes at the heart of the luxury industry! (We won't go there either.)
Today, LittlePinkTop will teach you how to style your Gucci (real or imagined).
Gucci is known for its eccentric and sometimes experimental patterns and accessories. Even if it weren't priced so extravagantly, you'd probably still stand out by wearing Gucci designs, even in a big crowd. And that's a big part of why so many people want it!
Does everyone know how to style it, though? A lot of evidence says: no.
You can make your Gucci work for you or against you. If your bag is just a way to signal that you have a lot of money, or are in a lot of debt, it's not going to flatter you. Just because it's a designer item doesn't mean that you don't have to design your outfit.
Many people buy luxury staple pieces like the Gucci Marmont bag but at the end of the day, they really don't know what to do with them. LittlePinkTop.com is here to tell you how to rock your Gucci bag just like Hailey Bieber, Elle Fanning, Katie Holmes, Kendall Jenner, Kourtney Kardashian, Gigi Hadid, Dakota Johnson, Chiara Ferragni, and many others do.
The Gucci Marmont bag comes in different sizes and shapes but one thing stays the same: it's made in Italy (which translates as excellent quality). There's the black GG Marmont bag, which will look good with just about anything that you pull out of the closet.
Gucci Looks
So, you have a Gucci bag. Now what?
To figure out how to style your bag, you first need to have a clear idea of what look you want to create.
Here are 5 looks you could go for, along with a list of what you need to create them and some inspiration from Pinterest. Think of it as a recipe for Gucci fabulousness.
Lady vamp
If you want to create a flirtatious and teasing look without turning into Morticia Addams, then style your GG bag with a pair of black mom jeans, a black graphic tee that has some red accents, and red shoes. If you happen to have a pair of Gucci horsebit detail loafers, great! If not, any red flats will make the look come together. Wear your bag on your shoulder or crossbody. For a seductive look, put on some red lipstick. Done!
Grungy
If you are feeling rebellious, wear an oversized cardigan over a white shirt. And if you add military-inspired leather combat boots by Prada, you won't go to the army but you will conquer everyone with that outfit. The Gucci Marmont bag will harmoniously complete this outfit. For more of a streetwear look, swap those military boots with Balenciaga sneakers. Wear your Gucci bag crossbody to create a nice silhouette and show that you do have a waistline (even though you are wearing an oversized cardigan).  
Classy
The total black pantsuit never looks out of place, that's why it's classy. Pair it with a red satin bow blouse to add a soft feminine touch. A Chanel-style tweed skirt suit or a houndstooth overall dress combined with a black turtleneck and black heeled shoes will make you look like a real boss babe. You are ready to close a deal during a client meeting! Well, hypothetically, if meetings were still taking place during COVID. Sadly, no one can see your amazing shoes on that Zoom call, unless you go out of your way to show them, which would be weird. Anyway, put that girl boss pen that just signed the contract (metaphorically speaking, I guess) back into your GG bag (which may be metaphorical depending on your budget). Slowly and elegantly…  
Casual smart
When it's casual Friday and you don't feel like wearing heels, go for a light blue shirt and a pair of blue jeans. For an extra relaxed look, wear a knit cardigan. If you want your outfit to be more office appropriate any day of the week, put on a grey blazer. A GG logo bag will make any look complete, be it casual, smart, or anywhere in-between!   
Don'ts
Watch out! Even when you follow all of the above stylistic guidance, there is always a chance to mass it up! Here is what you don't do when styling your Gucci bag.
Don't over-accessorize! Many women can't wait to show off all their fashion "investments." They often wear both their GG belt and GG logo bag as one outfit. Don't do that! The look will appear busy and slightly tacky. Even Larry David, of "Curb Your Enthusiasm" and "Seinfeld" fame, has his own fashion philosophy, which is relevant here:  "One should wear only one 'nice' piece of clothing at a time. Otherwise it's too much." The bald funny man explained to GQ: "Too dressed. You have to be half-dressed. That's my fashion theory, since you asked: 'Half Is More.'" If you were to ask LittlePinkTop, I would say that this is a pretty, pretty, pretty good piece of fashion advice.
Be mindful of proportions. You need to be mindful of the overall look, especially if you subscribe to Larry David's "Half is More" approach. If you're a petite girl and choose to wear one of the intentionally oversized Gucci bags, which basically looks like incorrectly handled luggage, you might be widely mocked.
Celeb Examples
If you are still unsure what's right for you, go for a modest and cozy Kendall Jenner look:
If you are in the mood for something funkier, add some color-blocking, just like Gigi Hadid did here:
If you are ready to rock the night (by which I mean, your own living room because… COVID), get inspired by Hailey Bieber:
However you decide to style your Gucci bag and whatever you do, be creative and take a fashion risk. Or, you know, just sell the darn thing and pay a month's rent.