How to Wear a Pink, Summer-Friendly Outfit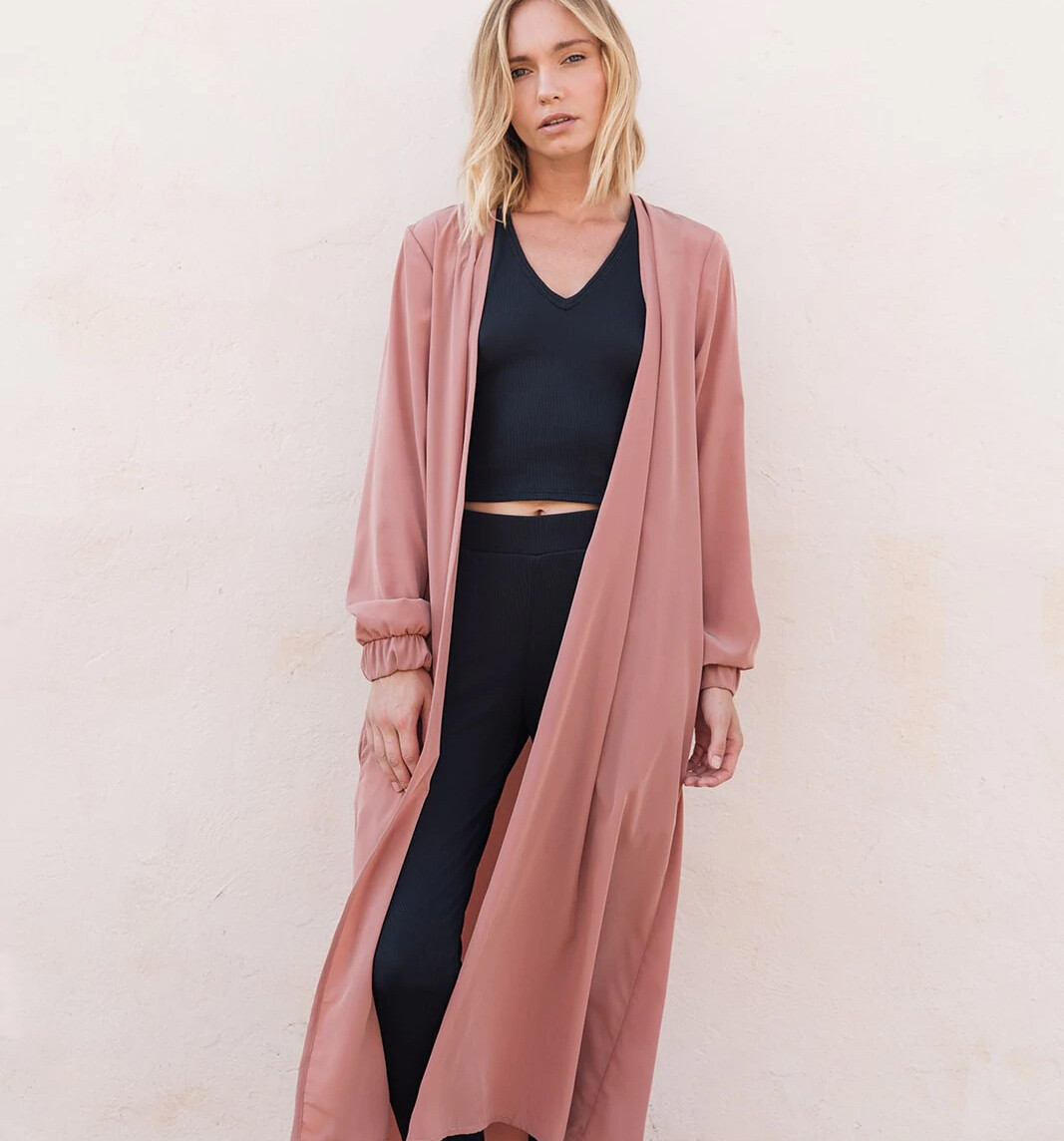 Today, LittlePinkTop will help you to meet another possible fashion need: a pink, summer-friendly outfit! Such a look would be suitable for an outdoor summer event, especially if it's a classier occasion like a wedding reception. You might also find some relevant inspiration in our garden party styling article.
With a hot summer ahead, it makes sense to put together an outfit that incorporates the Sienna Duster from Constant Sol, a clothing company that tries to help "prevent the occurrence of skin cancer by providing stylish UV protective clothing." The sun, you could say, is like a "frenemy" – it's the ultimate source of Vitamin D, which helps to regulate mood and reduce the risk of depression, and it also, you know, enables all life on Earth. When it finds the time! And yet, we all know what happens if we spend too much time in the sun: damaged skin, sunburns, or even skin cancer.
Fortunately, Constant Sol sent over the Sienna Duster, a very light, breezy, and stylish item, so that LittlePinkTop could review it for you here!
Constant Sol founder Allison Dvorak had melanoma and basal cell carcinoma, so she channeled that experience into an entrepreneurial, design-focused vision: clothing made from fabrics that have a high UPF (Ultraviolet Protection Factor) rating. Furthermore, the pieces are both designed and made in the United States!
The Sienna Duster, a lightweight, versatile duster, is really cute and the rose color would be very appropriate for a summer wedding reception or garden party. It would also work for a Sunday brunch, or a summer walk around the neighborhood. Constant Sol also suggests that its open front and full-coverage sleeves would be "perfect over a swimsuit as an elegant cover up." So, yes, very versatile!
As your source for fashion inspiration, LittlePinkTop created a total pink outfit for a more formal event and paired the Sienna Duster with a hot pink dress designed by affiliate partner Ted Baker, a light pink tote (also Ted Baker), and a pair of hot pink pumps from Zappos. A bag and earrings are included for your consideration, as well.
When creating a total pink look, go for different shades of this color that complement each other and make some items stand out. For instance, if you want to accentuate a dress, it should be in a richer shade of pink, while the bag and shoes could be more subdued pink hues, to not take attention away from the dress.
Here's a complete outfit that might work for you, assembled from LittlePinkTop's affiliate partners:
Let's go through these items and the intention behind them!
The Sienna Duster, with its dusty rose color, would look amazing over the deep pink dress above. Even though it's a skater dress (a short dress with a fitted waist and a skirt that flares into an A-line shape), it looks chic. Creative detailing at the chest also makes it visually interesting.
The kitten-heeled pumps would match the vibe of the event and complete this look. The drop cuts at the back also prevent them from being just boring pumps. Similarly, the bag has a cute bow that makes it unique and irresistible.
Special occasions call for special jewelry and the intentionally mismatched set from Jeulia, above, would definitely attract attention. As one of the head designers for Jeulia puts it: "Jewelry is not just something you wear, it's something you feel," which can also create memories.
As you can see, you can easily look elegant at an outdoor summer event like a wedding reception, without fearing too much exposure to the sun. Explore the LittlePinkTop fashion section for more outfit inspiration!