How To Dress Preppy With an Affordable Sweater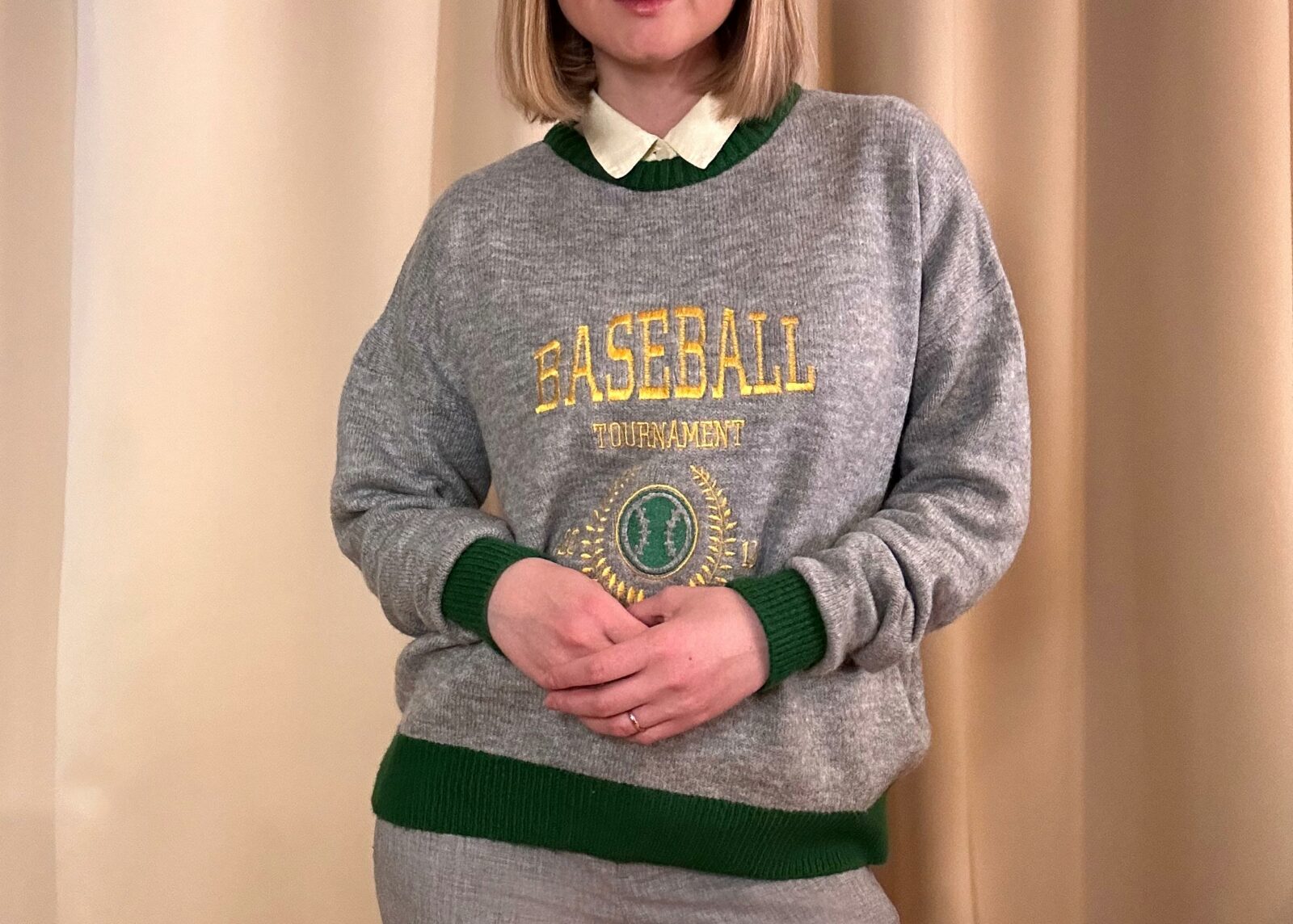 When you think about a preppy style, you might envision a crisp button-up shirt, a pleated skirt, a pair of tailored pants, or the iconic cable knit sweater. All of this sounds extremely fashionable and… expensive. Fortunately, LittlePinkTop is here to prove that you don't need to have a trust fund to dress in a preppy style, so just put your trust in LittlePinkTop. Let me show you!
To create a preppy outfit with university campus vibes, I picked a preppy-looking grey pullover with a collegian embroidery design. You're not going to believe how inexpensive it is – more on that later! I styled it with a light yellow shirt underneath, popping the collar. I also color-coordinated my sweater with a pair of grey cigarette pants – no, LittlePinkTop doesn't encourage smoking as that wouldn't be trustworthy.
Cigarette pants are a style of slim-fitting, typically high-waisted pants that taper down to the ankle. Unsurprisingly, they're named after their slender shape, which is said to resemble a cigarette. They've been around for over 70 years now, way longer than any gross cigarette would last, and if styled right, they'll draw people near you, not away.
So, if you want to create a similar preppy outfit, you can easily do so yourself, with the right sweater, the right shoes, and a reliable backpack.
(Disclosure: LittlePinkTop has featured fashionable items from affiliate partners throughout this article, so if you buy something, we may earn a commission.)
Pick the right sweater
Even fast fashion brands know that cable knit sweaters can bring a "heritage accent" to what otherwise might feel like disposable apparel. So, a good cable knit sweater or pullover with collegian designs is guaranteed to be preppy and timeless. Another sweater style that's perfect for preppy looks would be the classic cardigan. It's so versatile and can be worn buttoned up or open as a layering piece, or even wrapped around the neck (think Donnie Azoff in "The Wolf of Wall Street"). But if you want a sweater exactly like mine, you can get it from our affiliate partner PrettyLittleThing. This sweater is 90% off right now, which means it's literally only $5! Hurry up!
Invest in a good backpack
Since you're saving so much on the sweater, you could maybe spend a little extra on a good-quality backpack that would serve you for years. A backpack is an essential accessory in a preppy style that can add both function and fashion to your look. Try pairing a structured leather backpack with your outfit as it will make you look deliberate and put-together.
Find the right shoes
To look preppy, you need to put your best foot forward by choosing the right footwear, like Oxfords! Why? Because they are not just comfortable – they have an air of education and sophistication about them, as indicated by the name itself! Oxford shoes often come with a brogue design, which is the pattern of holes that marks the outer leather of the shoes. It adds an extra layer of chic.
The brogue Oxford shoes that LittlePinkTop selected above would pair well with the backpack, also selected above, showing off your preppy sense of style.
Nataliya Gotsii, a Ukrainian fashion model and television personality, is no stranger to the preppy style. In an Instagram post, Nataliya Gotsii, winner of the Ford Supermodel of the World 2004 search, created a stylish student sort of look by pairing a baby blue button-down shirt with a dark grey pullover and black dress pants. To project a more chill vibe, Nataliya threw on a black leather biker jacket and wore a pair of sneakers.
Dressing preppy is a matter of balance, so if you're wearing a dressy shirt or polo and a sweater wrapped over your neck, large-frame glasses might make you too much like Donnie Azoff. Be careful! If you overdo it, you'll seem like you're tripping, as the characters of "The Wolf of Wall Street" are throughout, well, most of the movie.
Finally, as promised, LittlePinkTop is here to help you achieve the preppy look inexpensively. Some banners from the affiliate brands are included below, which will lead to great discounts!