Q&A with Chic and Responsible Fashion Designer Margo Paige

On a busy day when a fashionista's schedule is as packed as a massive warehouse sale, athleisure can come in handy. But too often, athleisure is just… ugh. Kind of nothing. A weird way to work out, and a weird way to show up for work. But what if athleisure… actually worked?
Lululemon's been struggling to answer that question/need, and in LittlePinkTop's opinion, hasn't quite figured it out… uh-oh. Is that an angry horde of women in leggings charging at me, while chanting "sweat culture"? I'd better get on with this article!
So, anyway, LittlePinkTop went on a quest to find an elevated athleisure example that's more dignified than little black stretchy pants and, luckily enough, the brand Margo Paige reached out. The answer, it turns out, was right in my inbox, via Margo's design inspiration and entrepreneurial handiwork. This compelling new brand specializes in cute athleisure clothing and clear handbags that are a great fit for stadiums, which have strict rules regarding bag sizes and, in most cases, require them to be plastic.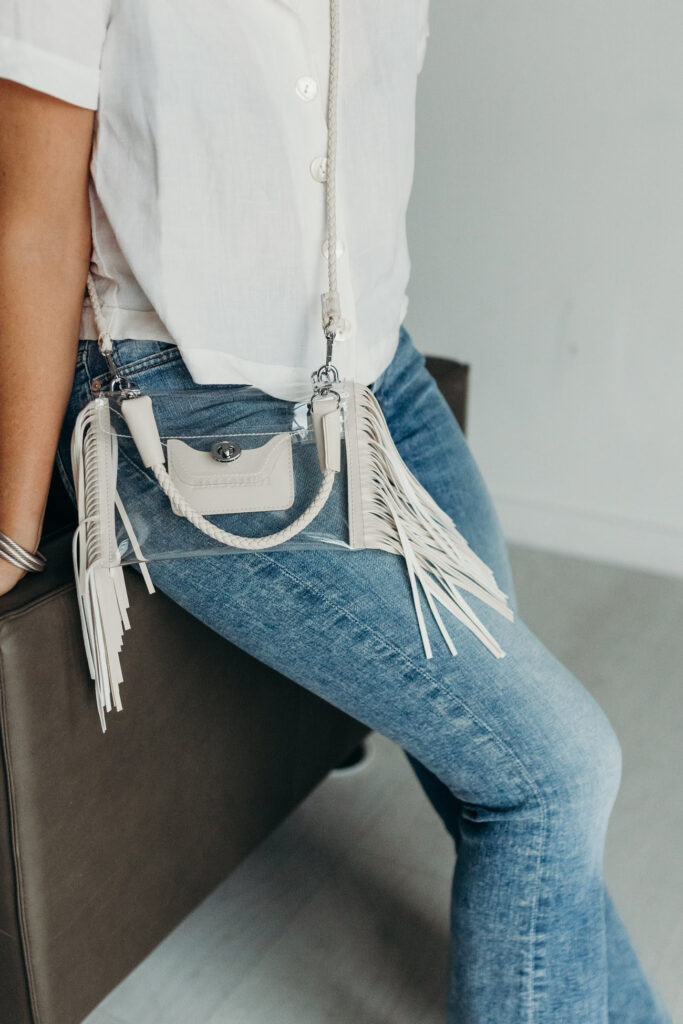 Margo Paige is "a woman owned company that creates sustainable, multi-functional and fashionable pieces that allow your lifestyle and ethos to be aligned." They're all about "a new fashion paradigm built on sustainability, ethics and transparency."
LittlePinkTop received the Mock Neck Shoulder Zip Dress, courtesy of the brand. This T-shirt dress has an elegant mock neck. This type of neckline doesn't fold over like a turtleneck and is a bit lower and looser. The fabric is lightweight and buttery to the touch. The overall style is designed to maximize movement and ease while still looking cute.
You can easily dress it up or down. You can wear it with a distinctive belt to help shape your look and finish with pretty loafers if the setting is more fancy than just running errands.
LittlePinktop wanted to learn more about where founder Margo Paige got her design inspiration, so we went straight to the source! Check out the Q&A below:
Tell us more about yourself, your eponymous brand, and what inspired you to create your own company.
I have a background in working with professional sports teams and major retailers. I started my business, Margo Paige, after being turned away from college football for not carrying a clear handbag. After going online and seeing the two options: inexpensive and would break on the second wear or priced over $200, I knew there had to be a cute handbag that met regulations, was affordable and cute. I launched a few months before the pandemic hit. During the pandemic, I pivoted the business to become more sustainable. I believe that is the future of fashion and wanted to move my company in a positive direction. We relaunched July 2022 with a new model that is completely sustainable. Our focus will always be creating multi-functional, stylish products that show longevity. Our products complement any outfit, any season. We follow strict standards from the materials, to our people, to delivery to your door.
What do you believe sets your products apart from your competitors?
Our products are unique in the fact that they are eco-friendly, stylish and affordable. We specialize in product lines that prioritize social and environmental sustainability by supporting our people all the way through our value chain, and leaving as little waste and negative impact on the environment as possible. We focus on small production using a circular business model. We believe that there is a happy medium when it comes to sustainable fashion and we are it.
Your first apparel collection features athleisure items like a wrap dress, mock neck dress, cami, and shorts. Why did you decide to start off with athleisure, and are you planning to expand to other categories?
We started off with an elevated athleisure collection because it went hand in hand with our flagship products, the clear handbags. Our elevated athleisure is lightweight, durable and sweat wicking, which is needed when someone is attending an outdoor event. These pieces are suitable for year round wear and ideal for travel too. We love the olive and black are great colors to add into the closet and will go with other pieces that people already own.
We are launching a new clothing line in October that will focus on vegan silk. We are looking forward to bring on something that will compliment our athleisure wear with matching an elevated, casual look for year-round wear.
Celebrity stylist Lindsay Flores describes athleisure as an "entire category of functional clothes worn to make fitness, comfort, and style synonymous." What does athleisure mean to you?
Athleisure to me is something I'm able to hang out at home in but feel confident enough to wear out to lunch with friends. It's the updated version of home hang out clothes that allow you to be ready for anything!
See Also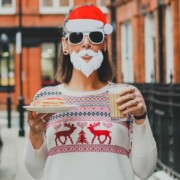 Please tell us what a sweat-wicking fabric is and why it's a good option for athleisure clothes.
Athleisure clothing is meant to be flexible so you're able to go out for a walk, brunch or relax in. Our pieces reflect that you can have an elevated look with athleisure that doesn't sacrifice style and still gives a polished outfit more than maybe a pair of joggers would. We like the idea of being able to have athleisure at the office, at home or when you're headed from work to a Tuesday night concert. You can be cool, comfortable and not worry about sweating through your outfit. Our fabric is ideal because it's lightweight and durable with some stretch but isn't going to feel or look like a typical athleisure wear clothing piece. These pieces are great for year-round wear and perfect for throwing in a suitcase for travel.
How do you personally style your transparent handbags?
I style our clear handbags with almost every outfit. The benefit of having the bag be a majority clear, you're flexible with clothing and shoe colors. The colors that are on the bags are neutral and pretty much go with anything! My favorite way to style the bag is through what's in the bag. We often know the contents that we put in our purses, but never really get to show off our cute wallet, sunglasses case or lipstick. It's a fun way to showcase your personality! Again, these bags can be dressed up or down, my favorite go to is a pair of jeans with a button down or a casual dress.
Thanks, Margo!
To see Margo's chic and responsible designs, check out MargoPaige.com!
If you're vibing with this female founder interview and want more entrepreneurial inspo, dig into the LittlePinkTop archives and check out the interview with Cheeterz Club founder Jennifer Farrelly!