The Style of the New First Lady: Jill Biden

https://www.instagram.com/p/B9TGG76BBLD/
https://www.instagram.com/p/CEK3pcLB04-/
https://www.instagram.com/p/B8hJkzwBa6p/
https://www.instagram.com/p/CEu3rXhhSKz/
https://www.instagram.com/p/Bw90oR0Hcfx/
Jill Biden has been by Joe's side for decades. She has also been incredibly devoted to the cause of education, making her a very different kind of First Lady. Jill taught English full-time at Northern Virginia Community College even while Joe was VP!
2020 has, of course, been a year of turmoil. The year hasn't actually ended yet but record numbers of American voters made it clear that they were exhausted by the last 4 years and they're ready to change course. Now, the Bidens need to roll up their sleeves because the hard work is just getting started.
The good news is that it doesn't seem like Jill will find her duties as the First Lady too burdensome. Unlike Melania, who once raised the question: "who gives a f— about Christmas stuff and decorations but I need to do it, right?"
There's always the risk of trivializing accomplished women by writing about their stylistic choices. And yet, style is a part of life, and it's a little bit different with Jill, because at a young age, Jill Biden actually had a strong interest in fashion.
As she mentioned in an interview with Roadtrip Nation, she went to a community college in Pennsylvania in order to study fashion merchandising. After realizing that it wasn't quite for her, she decided to drop out. Jill went back to school, majoring in English at the University of Delaware, and eventually becoming an educator.
"It takes a while to figure out what your strengths are, but it will happen. Don't worry about it—you will find your path," explained Jill.
And yet, Jill didn't leave the world of style completely. She still looks fabulous, and after dropping out of fashion merchandising, she did some modeling gigs for a local agency.
Jill Biden's interest in fashion also seems to have connected her with the love of her life, Joe.
There are different versions of events over how they came together. As the President-elect tells it, he saw pictures of her in an advertisement for a local park in Wilmington. This was back in 1975. According to the New York Times, that same night, his brother, Frank, gave him the number of a young woman, thinking that Joe would really like her. In part, due to the fact that she wasn't into politics. Senator Biden called her up and asked her out, for later that same day (because of his busy political schedule, he was in town for only one night).
She was busy, too.
But Mr. Biden didn't take no for an answer. He persisted and asked if she could change her plans for him. He finally got that date after she backed out of her prior arrangements. The NYTimes reported: "And when Mr. Biden arrived to pick her up, she turned out to be the woman in the advertisement." So, it turns out, Frank, serendipitously, happened to set him up with the woman he admired. And the rest is history. Or did Joe have Frank arrange it, based on the photo? Other biographical accounts claim that he "sought her out." Who knows!
Jill opened up about that period of her life in an interview with Vogue. She remembered dating guys in jeans and T-shirts, who wore clogs. Joe showed up to knock on her door wearing a sport coat and loafers. Jill says she thought to herself, "God, this is never going to work, not in a million years."
Jill and Joe could easily be described as a power couple, devoted to their causes. Jill was the first second lady (I know, too many numbers!) to "hold a paying job" while her husband was the Vice President. "I would join the campaign when I could and would grade papers on the road," she said.
According to USA Today, she is planning to keep teaching even after moving into the White House in this new administration!
When that happens, she will be the first First Lady (numbers again!) in the role's 231-year history to keep a paying job while living in the White House. Katherine Jellison, a historian whose research includes women's suffrage and First Lady Studies, told USA Today: "Maybe the time has come when Americans will be more accepting of the idea that a president's wife can simultaneously be a first lady and a working professional."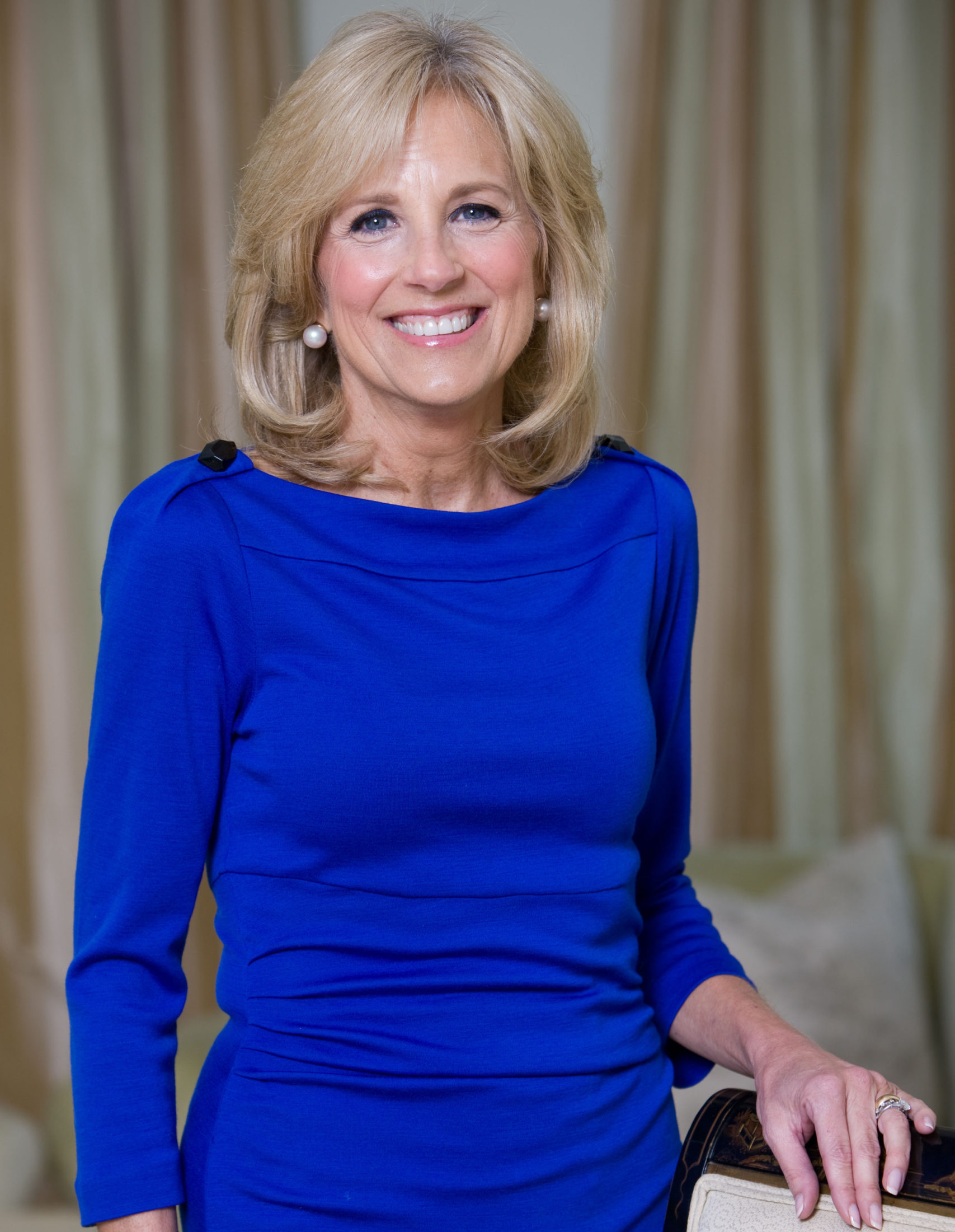 Luckily, Jill has a perfect wardrobe for both. She is very classy, always appropriate, always elegant and neatly dressed. Maybe it's because she is a teacher.
If you think Jill's new schedule might be tough, you're not wrong. But Jill finds ways to take care of herself. She is an avid runner. And during these outings, she incorporates a wellness technique: "I have a rule that I never think of anything negative when I'm running."
As Jill Biden told CNN back in January, Joe always supported her career: "And this is a critical time for me to support him because, you know, I want change." Who doesn't!
Jill wore "The 5050 Vote Boot," from Stuart Weitzman, while voting in Delaware's state primary. They're somewhat edgy, just-over-the-knee black boots, with one silver word — "vote" — on the sides. After her public appearance, she instantly made them out of stock.
The look Mrs Biden created with those Vote Boots was bold and unconventional. They looked like combat boots, signaling that she was ready for a battle. And she sure was prepared to fight for Joe.
When Joe was delivering his victory speech in Los Angeles on Super Tuesday, vegan activists stormed the stage. Jill appeared to be trying to protect her husband, by acting like a shield and pushing the protestor away!
Jill's fierce independence carries over to her stylistic choices.
Sissy Dent Aerenson, a longtime family friend and the owner of a Peter Kate boutique, which Jill Biden frequents, told WWD that Jill isn't easily persuaded by designers. "She is much more influenced by the occasion and what she needs for her different events," said Aerenson.
Looking through the gallery of her photos, I've noticed that her wardrobe consists of many beautiful dresses. Jill Biden wears a lot of green, which traditionally stands for new beginnings, health, renewal, harmony, hope, and peace.
She is big on wearing purple, too. But unlike Hillary, Jill looks softer and more feminine. No offense to Hillary; it was her conscious decision to project authority (more on that here).
Whenever I see Jill Biden in pink, my day instantly gets better! At the same time, I have an impulsive desire to find that pink piece of attire and add it to my cart. But you check it out for yourself! I mean, have a look, not necessarily buy. Although, I'm not restricting your freedom to purchase stuff… you can always buy that exact piece or something similar to recreate the look.
Sissy Dent Aerenson said that Jill is "always someone who looks at a price tag, is careful about what she's doing, thinks about it and asks prices." Her fashion friend also mentioned that Jill is her loyal customer for many years and "has always been very supportive of Delaware and small business… That's what the Bidens are known for."
Jill also seems to prefer simple, clean cut outfits. Very often, she is spotted with a string of white pearls, a very conventional Washington accessory.
But whenever she wants to spice it up, she wears those staple aviator glasses, just like her husband. They both look like they are about to hop into an Air Force jet to patrol and protect the country. Given everything that's been going on, let's hope they do! (From the White House.)