How To Quit Being a Fashion Coward

What is a fashion coward, and are you one? We all go through our own stylistic journeys, and we all change over time, so it makes sense that our clothes will change over time, too. But there are also those moments when we're not as bold and confident as we could be, or maybe even should be.
In 2019, Saturday Night Live addressed the concept of the "fashion coward" in a fashion-centric sketch with celebrity guest Emma Stone. Buried within the humor, there are actually some valid pieces of stylistic advice.
As the SNL sketch suggested, the fashion coward store is a place for people who hate shopping and feel lost and scared when confronted with fashion choices. The store depicted in the sketch sells brown sweaters, navy blue shirts, grey hoodies, "pants for the legs," and clothes that "suggest the general idea of the person."
If other fashion brands are going after the sexy, cool, and confident people, then this place is for the shy and insecure ones who find blouse knots to be excessive. When these shoppers are faced with too many existential questions or stylistic doubts, the clothes burst into flames, and the fitting rooms release "mercy gas" that knocks them out. At the end of the sketch, the narrator reveals a little twist: this made-up store is said to be Ann Taylor.
The people working at Ann Taylor probably went "ouch" after they heard that punchline.
A top comment on SNL's YouTube upload of the sketch was: "I somehow feel attacked and comforted at the same time."
All jokes aside, how can these so-called "fashion cowards" find their bravery so that they can look and feel amazing? If most ladies had the choice, they'd probably prefer to look like Emma Stone in her Louis Vuitton ad videos or better yet as her fashion genius character Cruella, not like the bland and meek Emma from the SNL sketch.
To go from fashion coward to fashion hero, it might be as simple as knowing your size and fit, making some bold or at least complementary color choices, and evaluating your look in a full-length mirror to better appreciate context and coherence. With the right choices, you can channel sophistication or even creative mastery.
Do's
First, get a full-length mirror.
Some mirrors are fancy and expensive but you don't need something that feels palatial. You might even be able to find an inexpensive, elegant, antique mirror on Craigslist.
When deciding what to wear, you might imagine that a mustard skirt would look good with that little pink top you own (hey, hey, that's the name of this website). But when you put it on, you might realize it looks horrific. That's why you need to always look at your reflection in a big mirror to see the big picture.
"A great sense of style" is a very vague and often elusive concept. Sometimes we can't pinpoint what it is. We see it and we just know that it looks great. Why? Many times, it's because it fits well. Your attire shouldn't just cover up your body. It should bring out your best features. How do you know if it looks good? By looking at yourself in a full-length mirror, silly!
For me personally, slim-fit bottoms and skinny jeans are not my go-to. I often wear a midi or maxi a-line skirt that shows off the waist because I'm a little insecure about my hips.
In all fairness, basic Ann Taylor-type colors are a good start for a good wardrobe. But you need some colors, too, so that your days don't feel all grey and bland. It doesn't have to be a complete either-or, cowardly or courageous. Even the most subdued colors can be used intentionally to channel a personality or mood.
On Wednesdays we wear pink, but that doesn't mean that all your clothes should be only pink, blush, rose, and peach.
Don'ts
What should you avoid doing? Here are the don'ts, which can be just as essential…
Far mirrors, bathroom mirrors, and vanity mirrors.
They are good for your makeup but won't help you evaluate your entire look. Different mirrors have different purposes and believe me, you'll never really know how your total outfit looks if you check your appearance in a small, portable mirror.
You can put some thought into your stylistic choices without overthinking them. If you notice that you're going into a thought spiral, you're probably not trusting your gut and being brave with your fashion choices.
Get out of your comfort zone. Stay away from clothes that make you feel invisible, like grey hoodies and boring T-shirts. After all, Mark Zuckerberg is not famous for his fashion sense, and sadly, most people would probably rather add Louis Vuitton Emma to their social network than Fashion Coward Emma.
Let me prove the point about color. I know that Zendaya looks stunning under any circumstances; that's part of the reason why she's become such a Gen Z icon. But which Zendaya would you notice on the street first? Zendaya in a total grey look?
Or Zendaya in some color?
But you know what? Let's bring Emma back onstage (it's not a stage, it's an article, just go with it) because she's actually very well-qualified to prove the exact opposite point of the SNL sketch she was in. Because she was also in…
Cruella!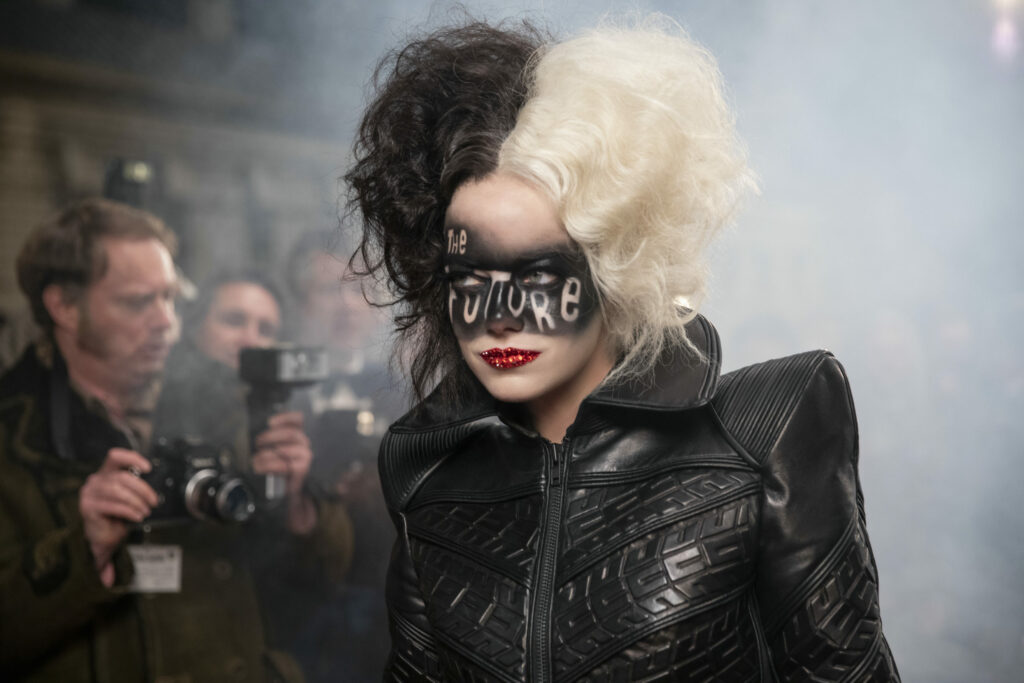 The Disney remake has been described as "The Devil Wears Prada" meets "The Joker," and it's a visual feast when it comes to costumes. Not at all generic!
So, where did the Cruella version of Emma draw her inspiration? Actually, it was directly from the annals of fashion history!
Cruella can make a fashion statement even from a pile of… garbage!!!
In one scene which has already made waves, Cruella is confident and cackling as she rides away on a garbage truck, in an original dress with a massive train of repurposed dirty fabric. This might have actually been a reference to the Christian Dior Fall 2005 Haute Couture collection. John Galliano, creative director of the fashion house at that time, designed deconstructed dresses, which had exposed tulle and swags of unfinished fabric much like Cruella's own look.
The use of newspaper print is seemingly another Galliano reference. He used it in the Christian Dior Spring 2000 Haute Couture collection.
One of the boldest and most memorable looks in Disney's crime comedy is a black blazer covered in safety pins and buttons (the shoulders even have miniature horses and carriages).
The blazer is decorated with ceremonial military braiding. The black and red tulle skirt is over-the-top, too. It literally unfurls all over the baroness's car and is used to diminish the baroness's status.
And finally, remember the scene where Cruella's white silky cape burst into flames?
No, it wasn't because she was too indecisive while shopping. It was to reveal a ravishing red gown at the "black and white" ball.
So, if this version of Emma can be fearless and feisty, you shouldn't feel lost or scared either. If you are slightly anxious that a shop assistant will come up and pepper you with questions that you just don't know how to answer, there is always online shopping, which probably makes even more sense during a pandemic. Or just respond to the retail staff candidly; sometimes, they can be very helpful!
Just be a decision-maker, be brave, and be you!