7 Different Ways to Style a Leather Skirt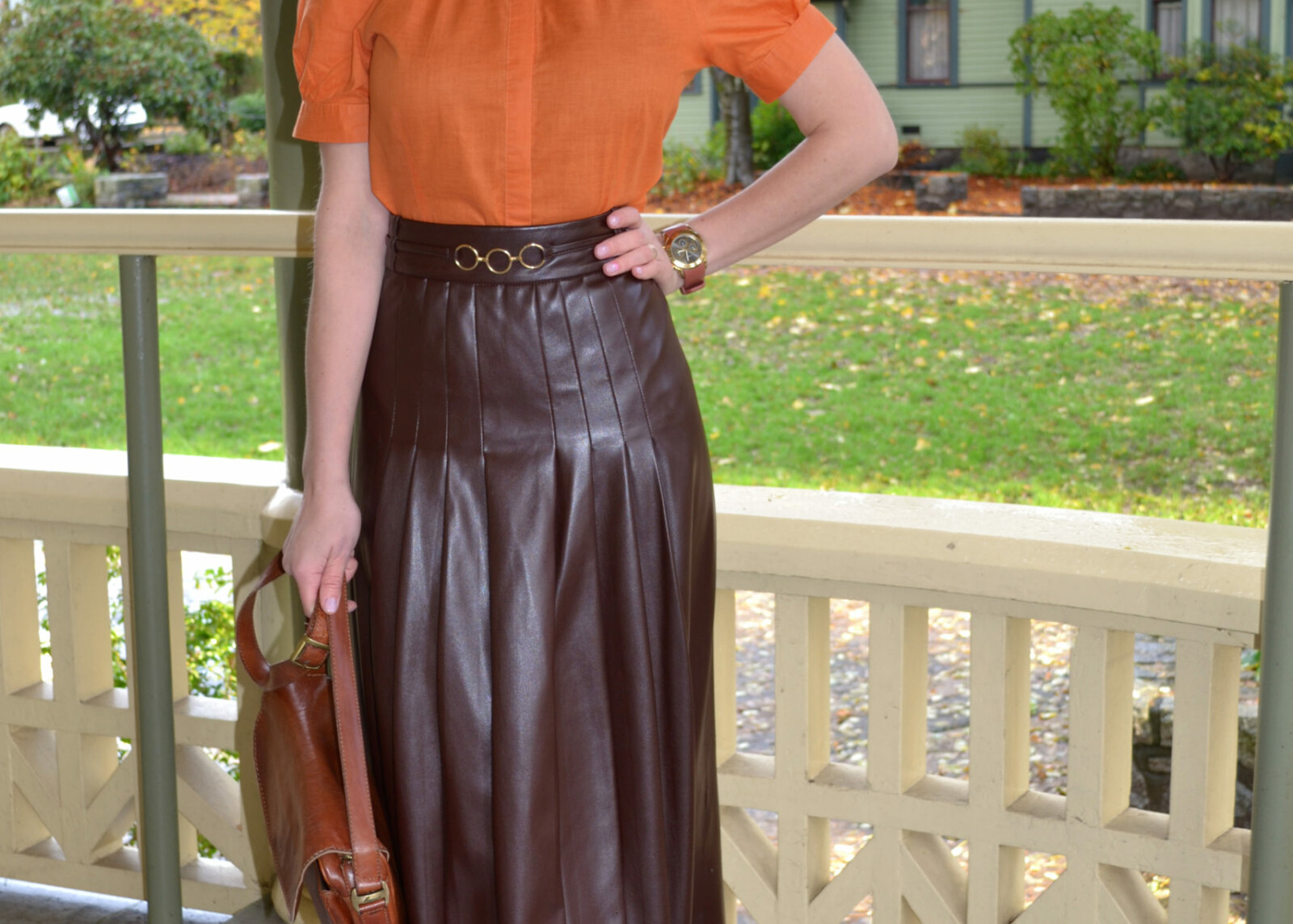 Do you open your closet and find nothing to wear? Yet again? Same problem every day, even though clothes are spilling out of the closet? Maybe the problem is not a lack of clothes but a lack of confidence in how to style all those impulsive purchases. Well, LittlePinkTop is here, as always, to be your stylist and shopping friend. Today, let's find out how to style 1 leather skirt… in 7 different ways!
A leather skirt is either going to collect dust in a closet or produce a wow-effect if styled right. And of course, it's not just about how you wear it. It's about how you feel in it.
When Kim Kardashian rocked her mini skirt, she was clearly being confident, and even optimistic. Her post's caption proclaimed: "Our future looks bright ✨" (Star emoji repeated here for accuracy.)
A leather skirt doesn't always have to be provocative. Believe it or not, you can look noble and sophisticated in a leather skirt, too.
Remember Meghan Markle in her green monochrome look?
When Meghan travelled to Sussex with Prince Harry in October 2018, she wore a green leather skirt from Hugo Boss, a fern green blouse from the brand "& Other Stories," and beige pumps. The whole outfit looked classy and dignified.
There are so many ways to create cute leather outfits. It all depends on your mood and how you want to be perceived.
Together, we will create a romantic look, something a little more Southern-style, a reality TV drama look, an office-appropriate outfit, a laidback set, and some looks that you could rock at a brunch or a date night.
If you happen to own a brown or black leather skirt, put your wallet away! There's a good chance you already own everything you need. White or graphic T-shirt? Check. A classic blouse? Check. A white shirt? Check. See? Easy peasy! We can make this happen with what you have, and you can save those pennies for a great boho dress instead.
The 7 Looks
The Romantic Look
If you want to create a delicate and romantic look, style your leather skirt with a light silky blouse. It can be a bow blouse, a balloon-sleeved blouse, or even a turtleneck.
The blouses will make the look seem very soft and feminine. However, when you want to be warm and snuggly, go for a roomy cashmere sweater.
You should also be mindful of color combinations. Brown leather looks great with pastel and beige colors, and it can also work with orange or navy blue.
The Southern-style Outfit
Each one of us has probably had a desire to look like a badass from a Western movie, sipping whiskey neat in a saloon. The leather skirt is a perfect piece of attire to create a Southern look. Wear it with leather boots, a floral or retro-inspired blouse, and top it off (literally) with a wide brim felt hat.
The Drama Look
If you feel like adding a little drama (especially if you had more than three glasses of that whiskey), it's better to add the drama to your look instead of getting in a fight with an anti-masker.
Leather on leather looks both dramatic and sexy. Especially if you can find leather pieces of the same hue to create a monochrome look.
No leather top? No problem! Wear your leather skirt with a satin or silk blouse of the same hue. And hey, no need to button it all the way up. This is a little drama look, remember?
Accessorize heavily, too. Even simple sunglasses will add that "little extra" to the overall look.
The Office-appropriate Look
Don't mix it up with a "drama" look, no one wants THAT in the office. Even if you think that a leather skirt is NOT an appropriate thing to wear to work, it really depends on how you style it.
If you pair it with a sexy see-through top, then yes, you might be testing the limits of HR but if you put on a professional-looking shirt or a blouse, it's a different story.
A simple turtleneck looks professional, too. If you are unsure about leather in the office, rock the look on a casual Friday.
Trust me, an A-line dark brown skirt looks excellent with a pastel pink shirt. It looks slick and sharp, so don't be afraid to show up like that at the workplace.
The Laid-back Set
Prim and proper looks aren't your favorite? Would you rather wear something easygoing? Style a leather skirt with a graphic tee or a simple white T-shirt and put your favorite sneakers on.
The Brunch Date Look
Something unpretentious like a Breton striped T-shirt will do great with your leather skirt. V-neck, square, or crew neckline shirts will be very appropriate for a brunch date. Don't waste any more time deciding on a look, your date might be already waiting for you!
The Date Night Look
For a date night, you need something bolder than what you'd typically wear for brunch. You can be a little provocateur and wear a see-through or a strapless top. You can always put a blazer on when you get cold or if you feel like a sexy top was too much, or if you don't like your date that much.
Don'ts
If you are someone who is slightly conservative or prefers a sophisticated sense of style, don't wear a mini leather skirt with over-the-knee boots. If this is your style and it makes you feel empowered, by all means, go for it! But it's always good to be aware of what you're trying to achieve, so that you can be yourself.
Personally, I think that leather and denim are not easy to style together. So, when in doubt, don't wear a black or brown leather skirt with blue denim.
Also, don't wear a mini pencil skirt with ankle boots because it visually alters your body proportions and makes your legs look shorter. It might not look too flattering if you are a shorter girl like me.
So, there you have it, 1 leather skirt, styled 7 different ways.
If you want to do something different tomorrow morning, keep these styles in mind! And always remember, you can keep it fresh through a good pairing!