Why You Should Seriously Consider Less Serious Sneakers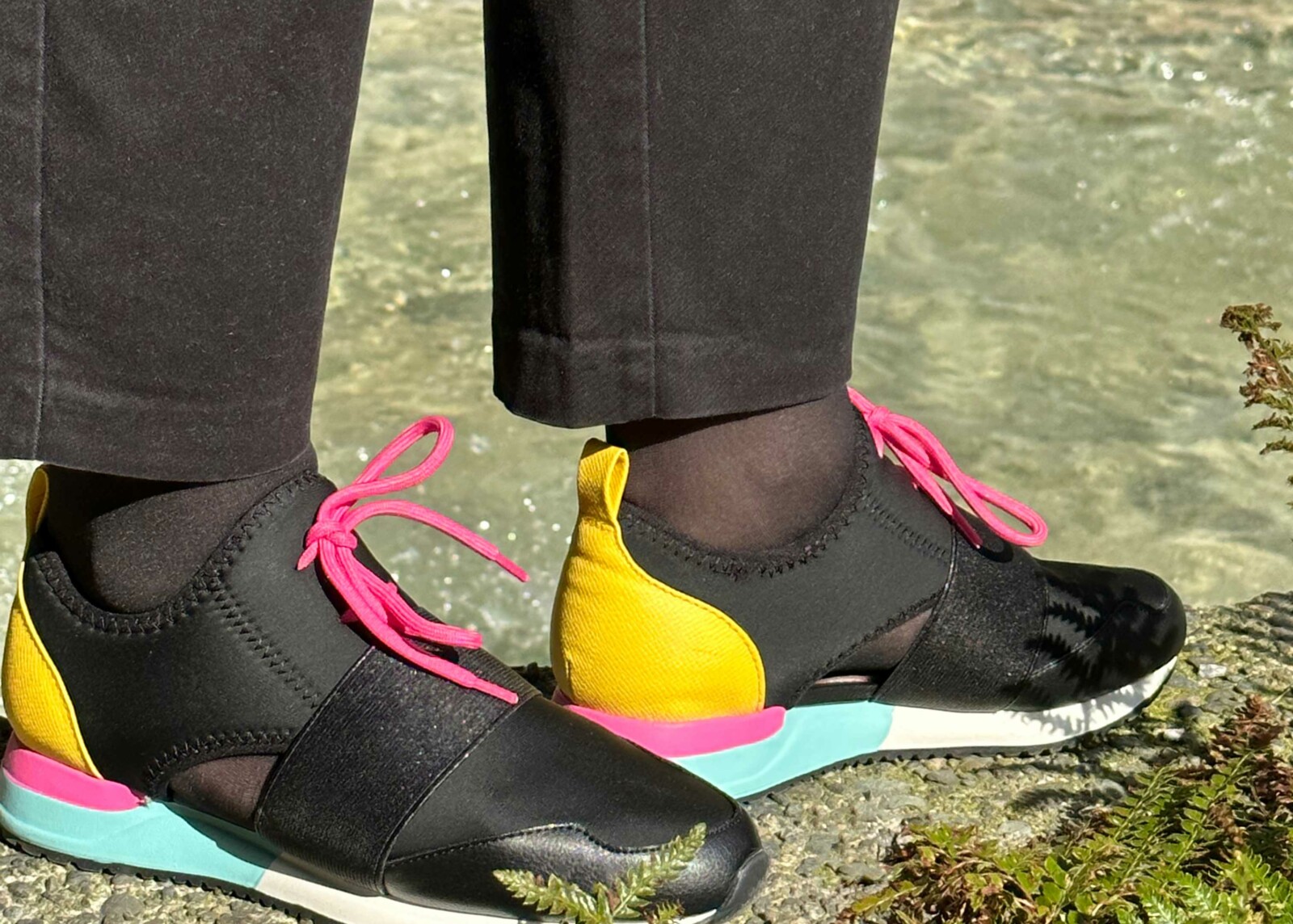 My husband has long legs and he likes to walk. A lot. Often for dozens of miles. So, I follow along sometimes. But not all the way. Because, you know, this is LittlePinkTop, not David Goggins. A fashion problem does come up, though. When I tag along, I never know how far we'll end up walking. What does this mean for my outfit? It means comfy yet cute shoes, but not necessarily gym shoes… It might even mean flamboyant sneakers.
Today, LittlePinkTop will explain why you should seriously consider less serious sneakers. Your sneakers could probably be more expressive, even if you're an introvert yourself.
Last weekend, my husband and I went for our usual city stroll, and I knew I'd wear my funky pair of sneakers as they have character and are super comfortable. Thus, I built my outfit from the bottom up.
The shoes I picked up have fun pink shoelaces and flamboyant soles, incorporating yellow, pink, turquoise, and white stripes. So, I color-coordinated the yellow heel counter and pull tab with a yellow sweater!
I also needed a jacket I could feel confident yet relaxed in, so I picked a black vegan leather jacket that always receives compliments, even from strangers. I didn't forget to accessorize with a shoulder bag on a chunky chain strap that stood out against my black blazer and cheerful caramel-framed sunglasses.
Of course, you might be a fashion skeptic, thinking nobody pays attention to your appearance, especially in a big city.
But even the Real Estate Queen from NYC, Barbara Corcoran, admits that she filters out job candidates that are dressed sloppily. So, hey girl, if you want to look and feel your best this spring, incorporate a pair of flamboyant sneakers into your wardrobe!
Here are some steps you might want to follow:
Decide on a statement piece to build the outfit around (in this case, the flamboyant sneakers).
Choose attire based on the style and color of the statement piece. If you have a pair of Adidas Originals Stan Smith with the green heel counter, you could pair them with a pistachio green graphic sweater and light blue jeans.
Don't forget about the fit of your garments, as the wrong size or shape might look unflattering.
Also, select a jacket or outerwear piece that complements the overall style and feel of the outfit.
Add finishing touches with accessories that make you feel confident yet relaxed.
It's important, though, to avoid over-accessorizing or wearing too many statement pieces at once, as it can overwhelm the outfit and make it look cluttered. After all, flamboyant sneakers are the outfit's centerpiece, so adding a belt buckle, a newsboy cap, and a chunky necklace might cost you fashion credibility.
And just like that, you're ready to head into spring with the right wacky attitude!