How to Style a Vegan Leather Jacket: A Review of DuetteNYC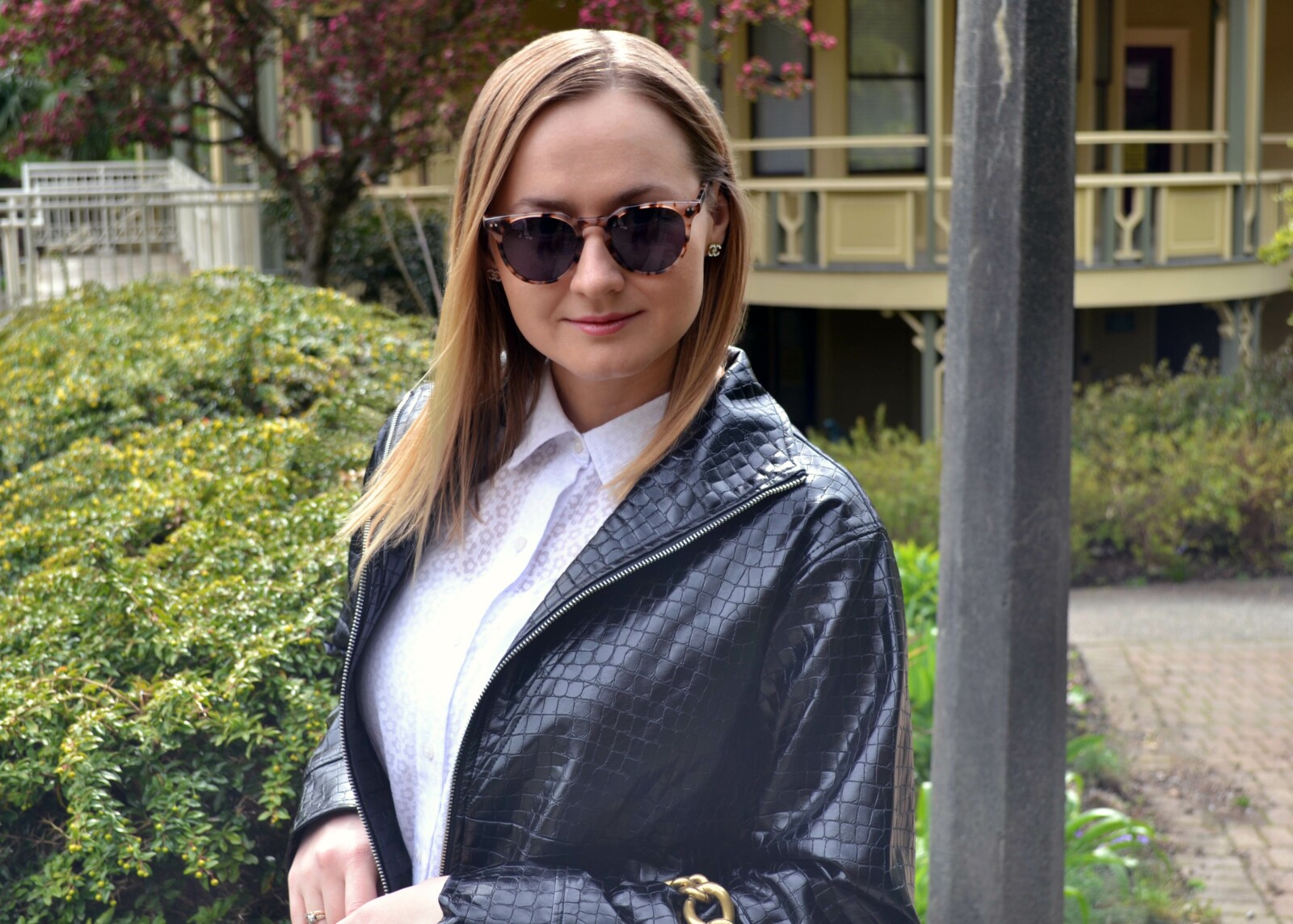 Do you ever channel fashion inspiration from movies? If you've seen "The Batman" and were really into it, you might be hiding in the shadows, waiting for an opportunity to declare "I am vengeance" to anyone who litters or cuts a line. But if you prefer fashion to confrontation, you might just want to give off Batman or Catwoman vibes. Actual vigilante justice is… you know, too much work.
Good news: LittlePinkTop is here to respond to the styling call!
Recently, LittlePinkTop received a vegan leather jacket courtesy of DuetteNYC. They're creating apparel for busy women who need their outfits to be appropriate at the office, in lunch meetings, or over happy hour drinks.
But if you need more of that sexy Catwoman vibe in your closet and your life, you should definitely check out the brand's vegan leather and suede collection. 
What is vegan leather, anyway?
Before jumping into actionable styling advice, you might still ask yourself: what makes vegan leather look and feel different from regular leather?
In a nutshell, vegan leather is a material that imitates leather but is created from artificial or plant products instead of animal skins. One of the distinctive features of pleather, a.k.a. plastic leather, is that it's stain-resistant as it doesn't absorb liquids. So, you don't need to worry too much about dirt or makeup stains. You can easily wipe them out with a wet cloth. Nasty foundation smears, be gone! 
What makes DuetteNYC's vegan leather special or different?
Are you still skeptical and think that a vegan leather jacket might feel plasticky, stiff, or rigid just because it was derived from recycled plastic? DuetteNYC will pleasantly surprise you!
When I took my jacket out of the bag, I genuinely thought it was made of genuine leather because it felt almost buttery. So, you can style it as you would any other leather jacket. And don't worry, the content of the material won't make you a member of the Plastics either.
Due to the way vegan leather is produced, it's possible to create different textures. DuetteNYC's Vegan Leather Embossed Jacket has a very stylish croc texture that will allow you to create some explosive looks! 
How can vegan leather jackets be styled for different fashion needs?
DuetteNYC's jacket is also extremely versatile. You can create a moody, pronounced outfit with some gothic hints, especially if you pair it with black pants, Dr. Martens boots, and some chunky necklaces you might already own. Finish the look with a red crossbody bag to add some color and not appear too grumpy.
If you're more of a classy girl, it's easy to turn this jacket into an office-appropriate piece by matching it with a fancy white shirt and black dress pants. It's not a coincidence that the brand describes this piece as rock 'n' roll meets the professional lady! Moreover, it's really functional, with a stylish collar and relaxed fit.
If you want to project an even more sophisticated air, pair the DuetteNYC vegan leather jacket with their Christopher pants. They have a sexy center-cut slit on the pant leg and are wrinkle-free, meaning you will feel confident in any situation. Throw on a silky beige blouse and slip into some black heeled sandals, and you're ready to go.
This jacket is indeed universal when it comes to styling, and its unique design and texture add character to it. So you can be whatever character you want to be: The Batman, Catwoman, a fashionable professional ascending the corporate ladder, or a cute, gothic chick hiding in the bushes.