Breaking the Vicious Cycle of Acne with EVXO Cosmetics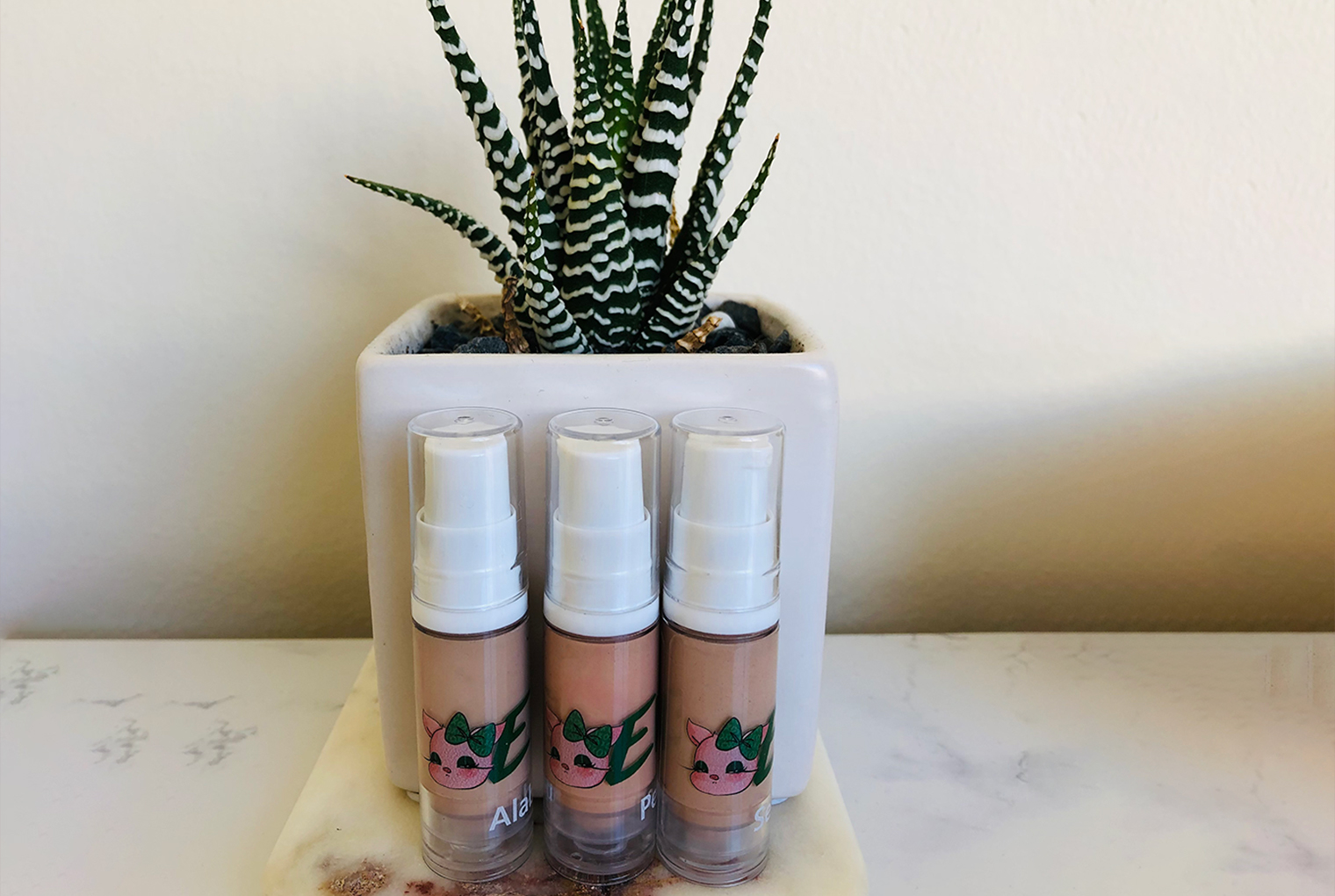 When it comes to skincare, you obviously don't want to break out, but you also don't want to leave the drugstore with an armful of products that break the bank. There are so many choices in the skincare aisle, and what's in them, anyway?
​​Brittni Livingston founded a brand called EVXO Cosmetics because she had skincare problems herself and wasn't impressed with that aisle. She found that many of the products created a vicious cycle of acne and didn't meet her ethical standards.
Brittni sent her brand's foundation, lip and cheek tint, and mineral mascara to LittlePinkTop.
And if Jerry Maguire had Dorothy Boyd at "hello," EVXO Cosmetics had me at the pink bubble envelope my makeup came in. It was packed with such love and care: the lip and cheek tint came in a purple pouch, confetti filler kept the products protected, and they slipped in the cutest hippo sticker that my niece will probably take from me.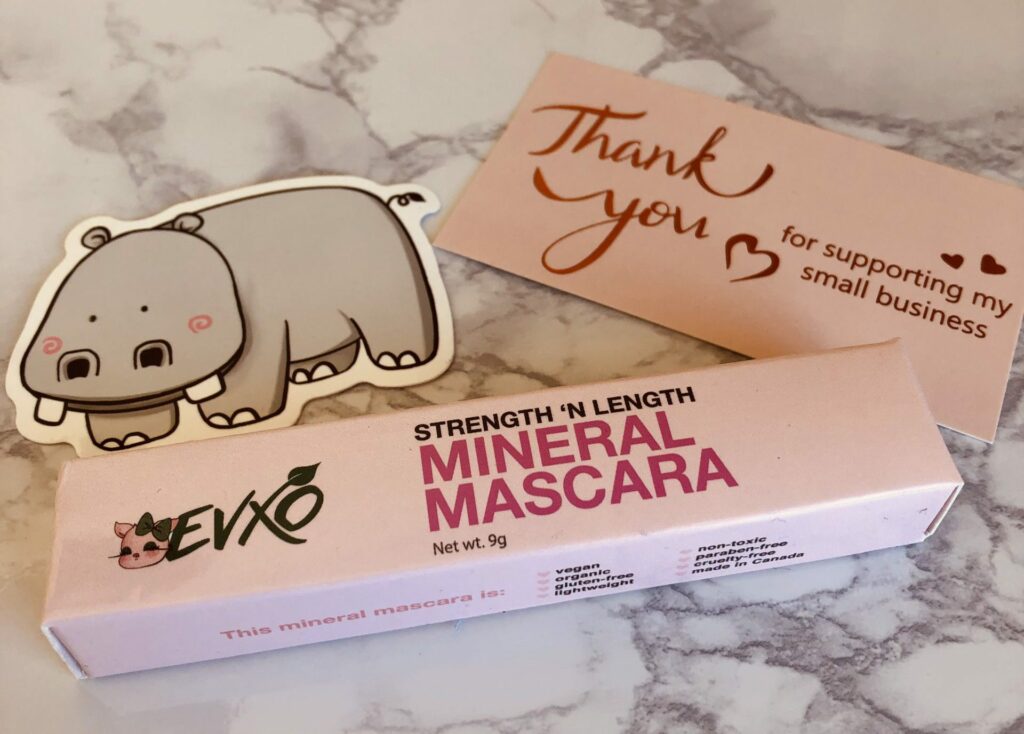 This appreciation of the customer is the common thread that wraps around this whole startup because Brittni thinks carefully about her ingredients.
The foundation applies smoothly and evenly. My skin looked hydrated but not oily, which is hard to achieve, especially if you have combination skin like I do.
The lip and cheek tint in light pink has a silky texture and leaves skin super smooth.
In the past, I've sometimes found that natural mascaras don't stay put and flake easily. EVXO Cosmetics' "Strength 'n Length Mineral Mascara" lasts the whole day, makes lashes more prolonged and voluminous and doesn't cause eye irritation. And yes, it doesn't clump!
Intrigued?
Brittni Livingston answered some of LittlePinkTop's questions about how this startup came to be and what they stand for! If you're a female entrepreneur, prepare for some inspiration.
I think that skin is pretty high up on the list of universal insecurities. We've all gone through some time in our lives when our skin just wasn't at its best. For some people, it's a lifelong struggle. Can you tell me about your belief that traditional makeup products can cause or exacerbate skin problems, creating a vicious cycle? And what makes your company's approach to skincare different?
The scenario you've described is exactly what inspired me to make EVXO Cosmetics a reality. I had cystic acne for most of my life, though you likely can't tell now. I was breaking out in really angry-looking acne, then using whatever products I could find in a drugstore that would cover them. However, when I took the makeup off at the end of the day, I noticed just how much worse my acne looked.
Once I was older, I did some research and realized there was a huge gap in the clean beauty market. There are very few brands like ours that offer cosmetic products with anti-aging and acne-fighting ingredients.
Tell me about your brand's commitment to cruelty-free, vegan products. What steps did you undertake to pursue that mission and to achieve a level of transparency for consumers?
Animal cruelty is a very big deal to me, as I know it is for many of our customers. It's 2021, and there's absolutely no reason to support brands that promote animal testing when there are so many brands that have pledged to avoid it. We go a step further, offering products that have only been created in the US and Canada to ensure that we never support child labor or slave labor.
Your website has a page addressing the issues of makeup and mature skin, which reminds people that wrinkles and fine lines are a part of life, not an inherently bad thing. You also list off helpful tips: use minimal products, avoid harsh brushes and cosmetic pencils, smudge your eyeliner, examine ingredients labels, pick moisturizing foundations instead of matte products, etc. All great, well thought-out advice!
It also got me thinking about one of the existential tensions in fashion/beauty, which I always try to be aware of when creating content on LittlePinkTop.com. Sometimes, we're trying to accept a personal insecurity, or encouraging other people to accept their own insecurities, but we're also addressing that insecurity through clothing or makeup, maybe even covering up or hiding something.
Is there an inherent conflict there? Obviously, fashion/beauty is also about self-expression, not just self-esteem… I'm just wondering what the right balance looks like, in your eyes?
You bring up a great question! As women, we're held to an impossible beauty standard. Men age, we call them silver foxes, but as a woman's age starts to show, the public says she's "aging poorly." On the one hand, of course, we want to work to eradicate this stigma, but on the other hand, it's difficult to hold the weight of that scrutiny without being affected.
I'll personally never shame someone for doing something surgically or topically to increase their confidence, nor would I criticize someone for going completely natural and avoiding cosmetics or what have you.
All I can hope to do is offer an option. For those who want to cover a little here and there, or enhance their eyes, or make their lips pop so they feel a little more badass that day, EVXO is there if that's what you're looking for. And if not, great! I admire your confidence.
What was the hardest thing about starting EVXO Cosmetics?
There are two things that have made it especially difficult.
The first would be the money it takes to start a business. I come from trailer parks in Kentucky and absolutely never expected to be able to have the original investment needed to build a brand. Fortunately, I was able to get my hands on a few thousand dollars, but without outsider investors and with my standard for what I will and won't accept in my brand, the growth has been slow. However, this year is a little different, as we've found an investor that aligns with our beliefs. I'm excited to be able to scale the business the way I've wanted to for so many years!
The second, and arguably harder to overcome aspect, was my own confidence. I'm on the autism spectrum, so I've struggled with social anxiety for as long as I can remember. Going to networking events, organizing photo and video shoots with photographers and models, these things are very hard for me. I still struggle with it, don't get me wrong, but I've succeeded in all of these things enough times that my voice of self-doubt has gotten quieter and quieter. Now with a bit of an internal pep talk before a big social event, I know I can do it.
What was the most surprising thing?
The most surprising thing was the positive response! We started as primarily an Amazon company, and at that point, there weren't many clean beauty brands on the platform. I think Amazon customers who had been looking for organic or gluten-free products were very relieved to finally have options, and this showed in our 5-star reviews. Since then, we've obviously expanded to our own website, where we've gotten an equally positive response.
Any other tips for LittlePinkTop.com readers?
Check out our new bath and body line, which we just released! We're starting out with a moisturizing bath bomb, a set of exfoliating loofah soaps, and a hand and body soap in our unique brand colors. And keep an eye out for our zero waste bath and body products that will likely be dropping at the start of 2022!