A Southwest-Inspired Look You Can Wear Every Day

Originally, cowboy hats were created for utilitarian purposes, which is not to say that craftsmanship didn't go into them. Ranch workers would wear these hats to protect themselves from the sun — yep, big surprise, they were not posing for social media, because social media was just Jane and Annie gossiping at the general store.
Cowboy hats then spread more widely throughout our culture, with Western movies as a big contributor. Nowadays, it isn't just John Wayne or country singers keeping the trend going; it's stylish people everywhere! Even Lil Nas X is taking his horse to the old town road while wearing a cowboy hat.
Nancy Flaherty, a style historian, told LittlePinkTop that the American drama television series "Yellowstone" has contributed to the recent spike in popularity of this fashion accessory.
"Cowboy chic is back and heads the list for any collection as the perfect finishing touch," she commented.
The author also mentioned that cowboy hats can be worn as a nighttime accessory, since they can serve as "a fun addition to concert-goers' ensembles or just evening revelers who want to show up and be seen."
Have you heard about the "Pinch Front" cowgirl hat? No, LittlePinkTop is not about to pinch you! This style, which has two deep indents on each side of the front of the crown, is particularly popular among ladies because its design elongates the face.
You can get one like that from designer Heidi Houston.
In a recent interview, Heidi commented, "I feel like my creative juices didn't really start flowing until I was in my mid-thirties. I slowly started designing clothes, making patterns, finding tailors… I now have beautiful hats and jewelry that I think really complement the collection. I love to keep the clothes clean and classic and then add in the fun bold accessories to really kick up the style."
So, if you are ready to spice up your look, you could check out faux suede hats, adorned with tortoiseshell beads, from Heidi's namesake brand, which are described as "a chic take on a classic style hat."
Heidi Houston sent a complimentary hat like this over to LittlePinkTop, which in true LittlePinkTop fashion, inspired an entire look! I tip my hat to you, Heidi!
In the past (not the Wild West type of past, just a few months ago), LittlePinkTop has shown you how to style a leather skirt and dress more boldly, and now, yeeee-haaaaaw, we're all gonna become cowgirls!
But hold your horses!
The beads on this Heidi Houston hat give it a particular Southwest feel, in my opinion, so we're going to build around that idea, using items from LittlePinkTop's affiliate partners. (Disclosure: We may earn a commission if you buy something.)
The Shirt
A Southwest style calls for vibrant colors and earthy tones, patchwork or striped patterns, and flowy cuts. If you have a top that matches at least one of those descriptions, you struck it lucky! If you are looking for one, you can check out the following option from Desigual:
This boho style shirt is like patchwork — it has a tartan background of red checks, shoulders, and the upper part of the yoke has beautiful Southwest-style embroidery.
Sometimes, people confuse yoke and yolk. This shirt has nothing to do with your breakfast, although you can wear it to breakfast. A yoke is the part of a garment that fits over your shoulders, to which the main part of the garment is attached.
You can also easily thrift a shirt like that. If you get it vintage, it would have even more of a rugged cowgirl look.
The Pants
You can play it safe and go with black jeans like I did, or go all in and style your shirt and hat with leather pants or a leather skirt.
I would go with pants in one color, no additional prints or embellishments, or else it might clash with our colorful shirt. These faux leather pants give off Southwest-style vibes, and the flared leg also adds some playfulness to the look.
The Shoes
If you are into cowgirl boots, LittlePinkTop found a great option for you online.
These leather boots have a slim, sexy silhouette. They have stylish four-row Western stitching on the shaft. The boot shaft is the tall part of the boot that differentiates it from a typical shoe.
These are not just fancy, in my opinion, they are also comfortable because they have a cushioned leather insole.
If you are going with the flared pants, you don't want to tuck them in the boots. So pick a pair that is tight on your ankle.
These block-heeled boots in a cow print will add one more creative pattern to your look. They will also let the flared pants stand out more. They have Steve Madden/Bratz Dolls aesthetics.
But if you are creating a skirt look, you would need some tights. You can get high-quality ones from our affiliate partner Wolford.
The Jacket
If you have a leather or even suede jacket, it's your time to shine, baby. If it's fringed, even better! I got this black suede jacket in a thrift store several years ago. This find has broad shoulders, in the best '80s aesthetics, and narrows down to the bottom.
If you want something with a similar cut that would match the shirt and the pants we picked here, this oversized faux leather jacket is the right choice. It comes in toffee color, which makes me want to eat it. But, for those who are wondering, toffee color is a shade of brown with notes of caramel. Sweets, you can't avoid them I tell you!
The Hat
And to top it all off, here comes our creative and fancy faux suede hat from Heidi Houston!
The brand carries this beautiful style in black, orange, tobacco, stone, and olive green. It has an elastic band inside that will keep the hat on your head without the risk of wind blowing it off.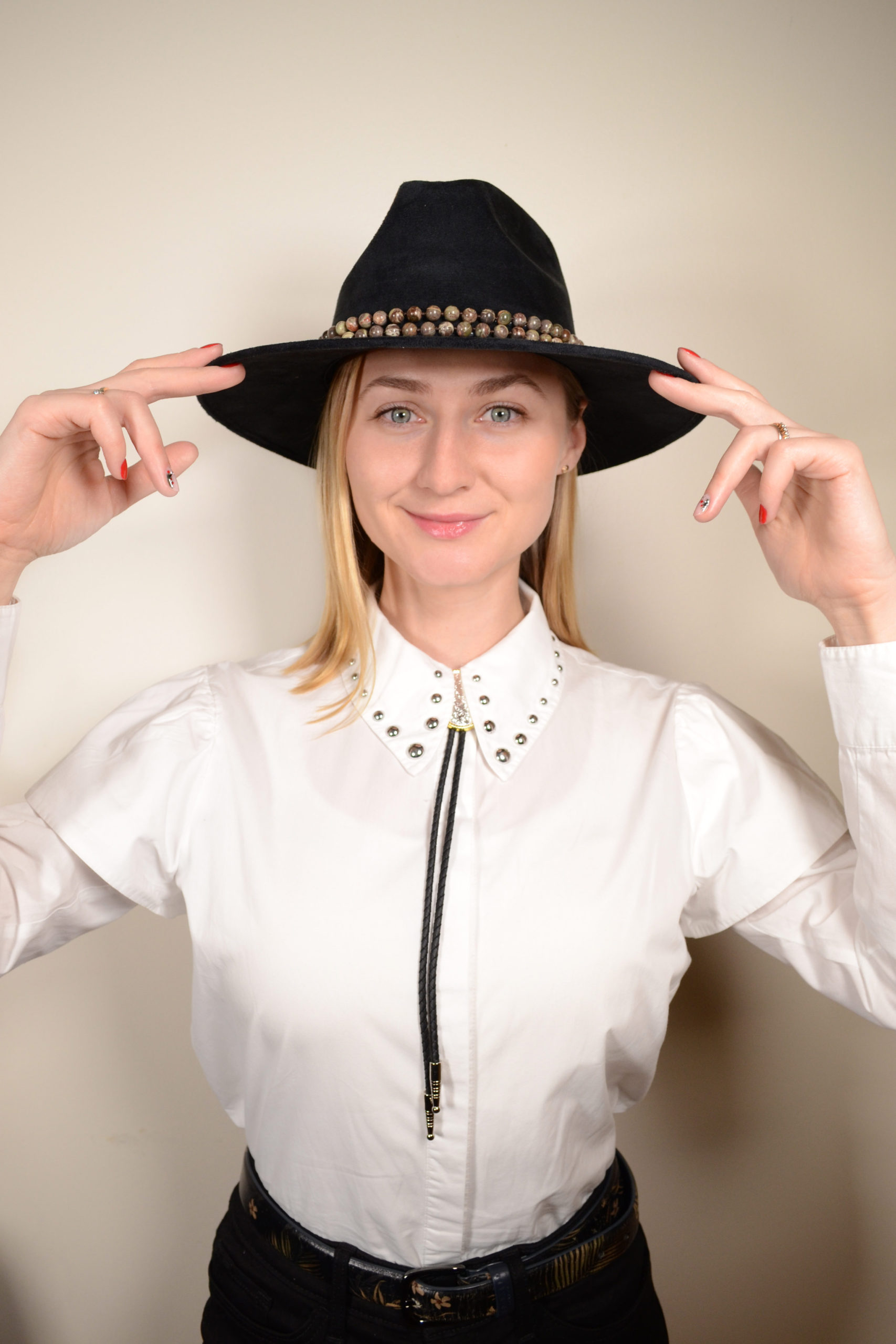 I personally think that this hat is an amazing accessory for any creative, bohemian type! It's also something you need in your arsenal if you are planning a trip to Texas, New Mexico, Nevada, Arizona, Colorado, or even going on a so-called spiritual retreat to Burning Man.
Even if you are in NYC and just want to stand out from the crowd, you might want to "crown" your outfit with a creative hat.