Back-to-Office Tote Bags: A Review of Luis Steven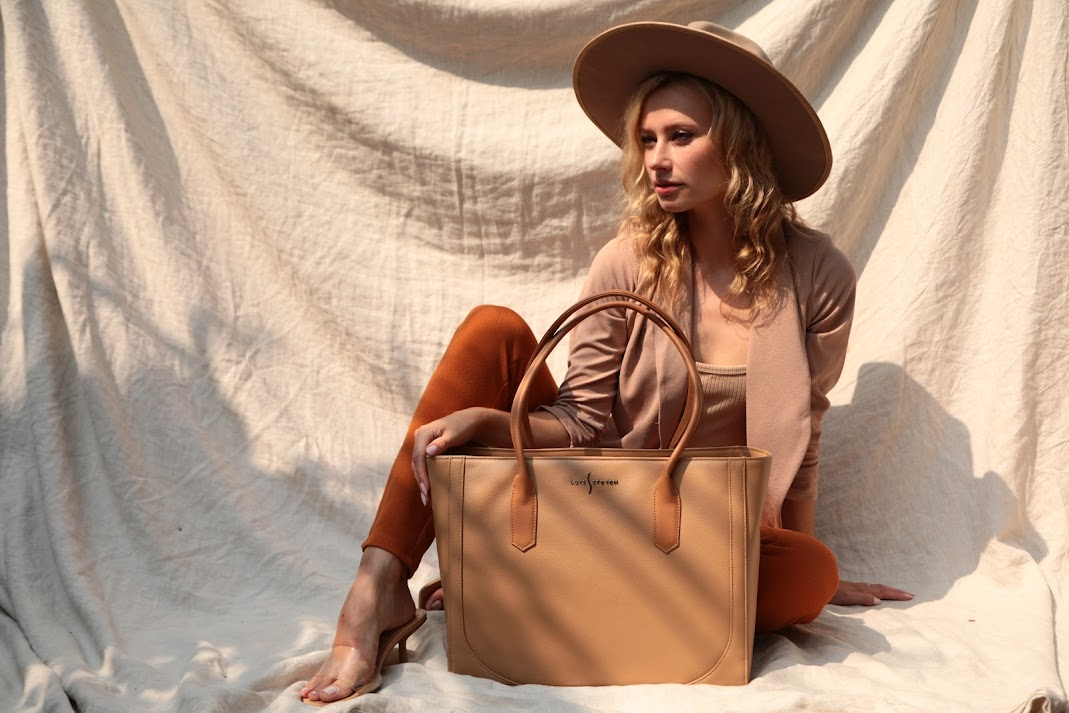 Millions of Americans swapped professional-looking clothes for snuggly loungewear in the last two years. But as more and more companies are signaling to their workers that it's time to return to the office, it's also time to think about a work-appropriate wardrobe, unless you want to be a part of "The Great Resignation" movement.
Maybe you wish it was dress-down or casual Friday every day of the week, but unless you're okay with your colleagues thinking you just emerged from hibernation, you should probably figure out a professional weekday look that works for you. And that starts with choosing the right bag.
Why invest in a good business tote bag?
Back in 1984, French sociologist Pierre Bourdieu supported the idea that fashion plays a role in upward mobility, so hey, you have an intellectual justification if you needed one to go shopping.
Also, remember when LittlePinkTop told you how Barbara Corcoran first hired Esther Kaplan, who would later become her business partner? Barabara noticed Esther's purse, which she described as "a small miracle of organization, a miniature file cabinet disguised as a fashion accessory." And before the interview was even over, Barbara knew that Esther could be trusted: "I'd feel safe with my wallet in Esther Kaplan's purse."
You should also consider the type of bag because it matters! In 2011, Kamala Harris revealed that her favorite bag was the Chanel Executive bag. Does the law of attraction actually work via fashion accessories? Hmm.
Having a boss-looking bag can only help you. It's a one-step upgrade to your return-to-office wardrobe. But which one to choose? You'll want something functional yet beautiful.
Why pick a bag from Luis Steven?
LittlePinkTop received a complimentary Large Tote Pro from Luis Steven in a beautiful sand color. This large leather business bag was designed with professionals in mind, people who prefer to be organized without compromising their sophisticated style.
Like many other fashion enthusiasts, I like my accessories to go well with the rest of the outfit. So I constantly swap bags and sometimes forget something important like my wallet in the bag from the day before. So now I just grab the Luis Steven bag daily and avoid the annoyance of transferring everything over.
The bag is so universal and looks fantastic with every outfit. It's made of Italian pebbled leather that looks and feels very fancy. Pebble leather, by the way, has an indented surface made by a press that creates rounded bumps or raised areas that resemble tiny pebbles for stylish texture.
The bag has a backside open pocket for items that need quick access. I carry my office access card there. Did I just share too much information? That pocket looks like a smiley face to me. So even when I stressfully frown, my bag is smiling back at me! My new BFF! (Is that sad?)
The inside of the bag is made of genuine suede that feels soft and luxurious. There is a special compartment for a laptop, up to 15 inches. There are also three tall inside pockets. I keep my personal phone in one, my work phone in the other, and keys in the third pocket. Hmm, maybe I did share too much personal info here. At least I didn't include my SSN here yet; maybe I should just stop typing? No, I can't, we're not done here yet…
Tote bags often don't have a zipper on top, which makes security-obsessed people like me a little on edge. This tote bag is protected with a zipper at the top and metal feet at the bottom to safeguard the leather from getting dirty.
Local artisans handmade all Luis Steven products in Los Angeles, where the designer-owned brand is based and was started by Luis Castaner and Steven Brian. In their designs, they were thinking about the needs of professionals and commuters, something that is about to become more relevant again.
Final Thoughts
With new types of designs and emerging designers creating trends or gaining attention online, we have more options than ever before when it comes to meeting a fashion goal, like a stylish return to the office. As LittlePinkTop pointed out before, lululemon now carries apparel that's fit for boardrooms, too. They have dresses and jumpsuits, another all-time favorite item of LittlePinkTop.
So just ask yourself what style works for you, and do your fashion homework with LittlePinkTop!