Best Cleansers for Oily Skin

https://www.instagram.com/p/BqiZHyGBO1K/
https://www.instagram.com/p/BltArT2gMbg/
https://www.instagram.com/p/B6O1QO8j3wP/
https://www.instagram.com/p/B7T52j2BGb5/
When it comes to cleansers, it can be hard to decide what's right for you. There's an overwhelming amount of choices and the ads will have you believing that everything works like magic, when in fact some products may actually make you break out even more. The typical drug store has about half an aisle just dedicated to cleansers. The search is also complicated by the different categories of face cleansers, like gel, foam or cream-based. On top of it all, different skin types require different kinds and levels of care.
So first, let's clear up the mystery of your skin type! Your entire skin care routine will be influenced by that.
According to Healthline, a rapidly-growing health information site, you can determine your skin type with a simple, 30-minute test. Just wash your face, removing any oil, dirt, and previously applied products. After that, wait half an hour. During this time, do not apply any products back onto your skin.
Gently press oil blotting paper or tissue on your face. Compress the paper on different areas of your face: your cheeks, chin, forehead, and nose.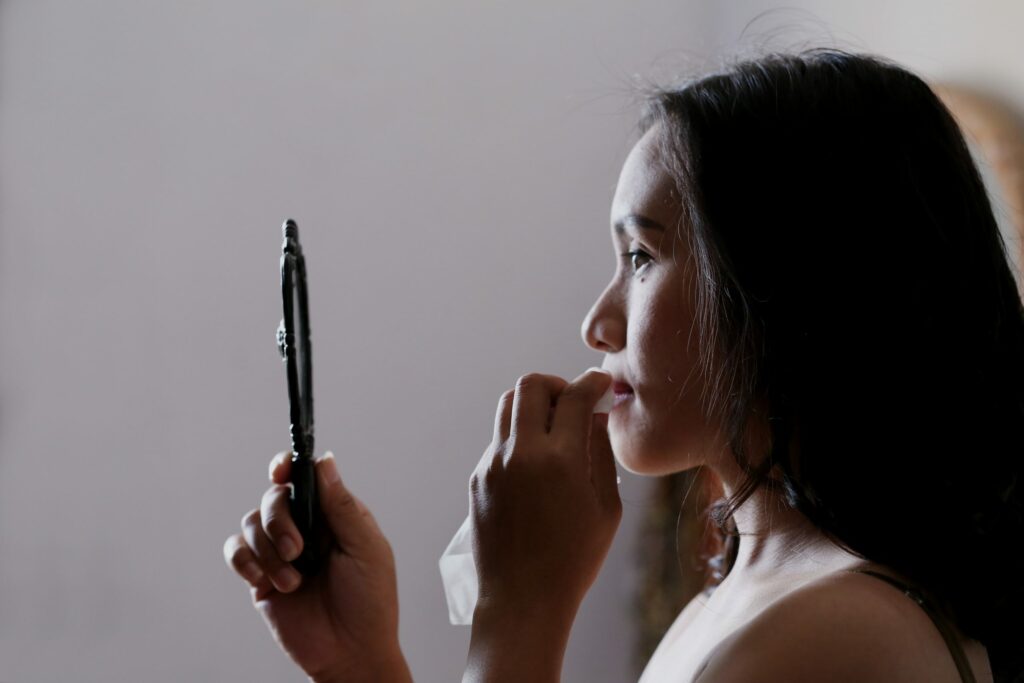 Next, hold the sheet to the light to see how transparent the paper is and figure out which of the following applies:
Dry skin: the blotting paper is not transparent, your skin is dry and may feel tight or flaky.
Oily skin: the blotting paper is soaked through, your skin looks shiny or glossy and might feel greasy.
Combination skin: the blotting paper has different levels of absorption on different areas of the face. Your skin has a combination of both dry areas and oily areas (normally a sign of an oily T-zone AKA forehead, chin, and nose).
Normal skin: your skin is not too oily and there's no sign of flaky skin.
If you have oily skin, like I do, you might know how frustrating it is to find an appropriate cleanser that doesn't dry out your skin too much. I know it sounds like an oxymoron but it's true!
One of my personal favorites is Cleansing Foam from Avène. It cleanses gently but at the same time it thoroughly removes makeup from the face and eyes. It helps to eliminate excess sebum. (Sebum is the oil produced by the sebaceous glands to keep your skin moist, but that can sometimes backfire, leading to a blockage and bacterial infection).
Clinique knows that skin types vary and so they've released different versions of their Liquid Facial Soap: extra-mild for very dry to dry skin, mild for dry combination skin, and oily skin formula for combination oily or oily skin. Again, this product cleanses gently but efficiently.
Dr Roebuck's Kibosh Weightless Foaming Cleanser is very gentle, light, and designed with the knowledge that the effects on skin should be well-balanced. According to the family-owned brand, the oil-reducing formula can "remove pore-clogging debris without stripping the skin."
The Deep Cleanse Exfoliating Cleanser by Tatcha, a company built upon classical Japanese beauty secrets, might also help you with your skincare goals. It's a gel cleanser that unclogs pores and purifies your skin, giving it a soft, smooth, and hydrated look and feel. Many users attest that it has done wonders for their acne-prone skin.
Your search for the perfect cleanser might cost you a pretty penny… but you'll look prettier afterwards! Remember, you're more than just your looks and no product works perfectly. I struggle with skin problems on a regular basis. But we all do our best.