Gift Ideas for Your Kiddo This Fall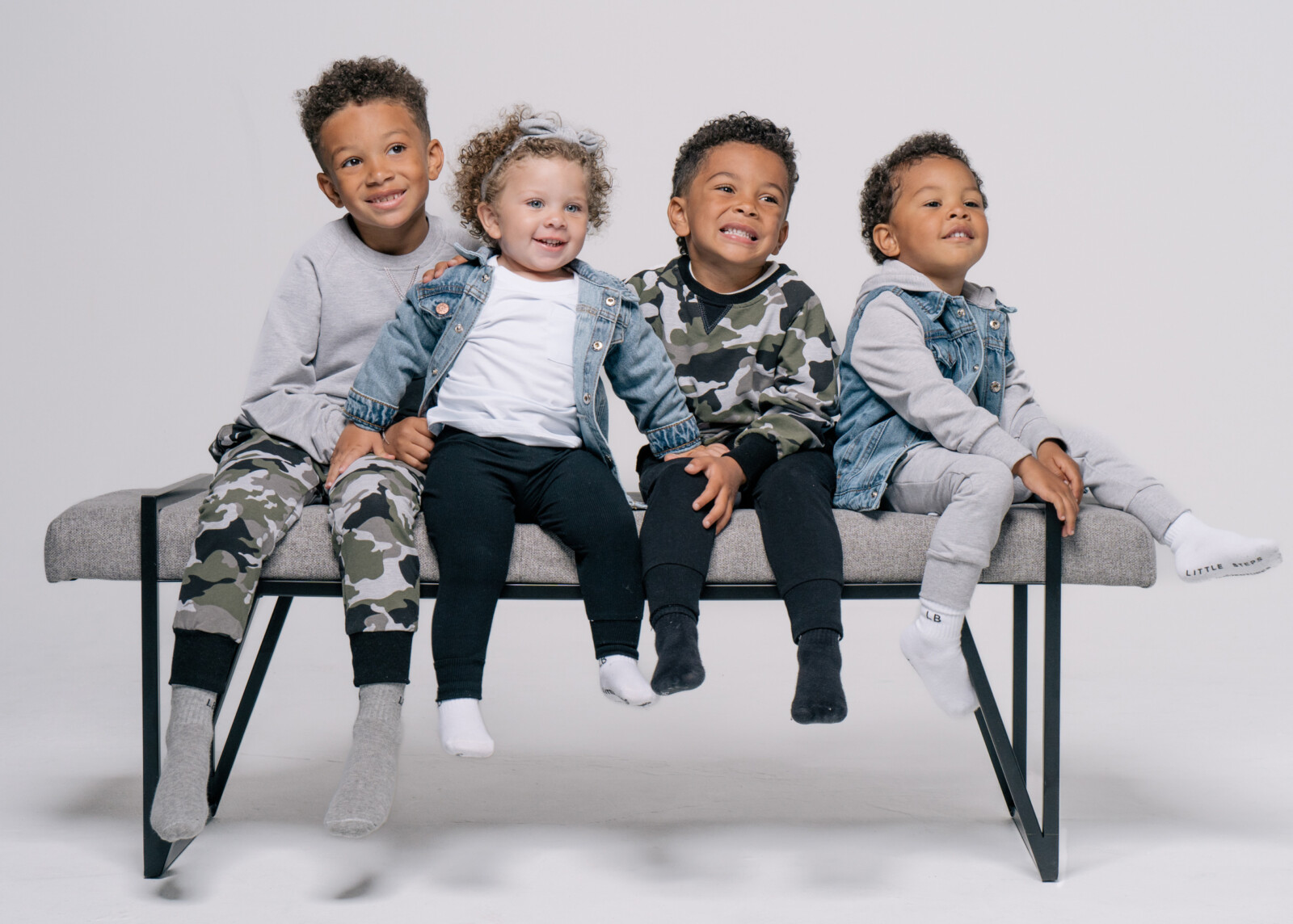 If you're a family-oriented fashionista who's getting ready for the fall (did you like the alliteration?), then you might want some trendy options for your little ones, too. You'll want your kid to look cool while feeling warm and snuggly. LittlePinkTop is here for that, and so is Little Bipsy.
That's right, we have an adorable, complete head-to-toe outfit for your youngster, which includes Little Bipsy, an apparel brand focusing on clothes for babies, toddlers, and children up to 10 years old. If you have anywhere from 2 to a Brady Bunch household's worth of kids, you're in luck: Little Bipsy also offers unisex pullovers and joggers for delightful pairings of sibling affection!
Little Bipsy sent LittlePinkTop (we promise you, we'll start dialing back the adjective "little") an "Ocean Marble" pullover with matching joggers, courtesy of the brand, tested by my nephew. His baby sister got a matching set, but in sandy beige and white, called "Sand Marble."
My nephew shared his honest review: he said his new clothes were good and he felt good wearing them. He also added, "I really like the ocean marble. It makes me think of a real ocean."
The pullover and joggers are breathable as they are 90% cotton. They're also convenient for parents because they are machine washable. Moreover, Little Bipsy's clothes are lightweight, soft to the touch, and have really nice stitching, which reflects their overall good quality.
Matching sets can be really adorable and are rather trendy these days. And, if we are being honest, they are almost a preventative measure against sibling fighting. Everyone is getting a great piece of clothing, and it looks the same, so no drama over who got a better thing. I'm saying that because I remember my own childhood and occasionally squabbling sisters… So, if you hear me on that and have already decided to get your kids the "Ocean Marble" set, you could finish the look with these items from our affiliate partners:
There is nothing more universal than a pair of classic white sneakers as they can be styled with basically anything. Besides, the ones above will complement the set from Little Bipsy. A pair of basic white socks is a good choice, too, and the Vans logo makes today's outfit idea even trendier.
And what could be cooler than a dinosaur in sunglasses on a skateboard? Maybe a backpack depicting it! The checkered blue one above will stand out and give the overall look a little roar. (Oh no, was that another "little"?)
The dark blue beanie will top off the outfit well. The "Tiny Whales" hat above seems to be a perfect match for something called "Ocean Marble!"
Perfect Gift Add-Ons
And now that your kid is wearing quality clothing, how about some quality family time? So, maybe read your precious kiddo a book of fairy tales or, better yet, the first-ever children's book about real-life women photographers!
LittlePinkTop received a complimentary copy of "Extraordinary Women with Cameras: 35 Photographers Who Changed How We See the World," written by Darcy Reed and illustrated by Vanessa Perez, for review. And it is a keeper, since it will introduce your kid to 35 talented historical and contemporary camera women, including Annie Leibovitz, a celebrated American portrait photographer. This book sparks your curiosity with short bios of the photographers, which will make you and your kid want to hop online to discover their most famous photos.
Your kid will also learn about Margaret Bourke-White and her courageous work as the first female war correspondent in WWII, or an iconic female photographer from New Orleans: Florestine Perrault Collins, best known for her influential images depicting Black life of the 1920s that "reflected pride, sophistication, and dignity," instead of racial stereotypes.
The book also includes explanations of key photography terms and some photo project ideas! So maybe it's going to inspire your little one to pick up a camera and take photos of the beautiful ocean.
Reading is quality time, but so are other forms of intellectual stimulation – like puzzles! You can bring Disney characters together by getting a puzzle like this one:
There's no doubt that puzzles are a great way to pass the time, but did you know that they can also be beneficial for your child's development? Puzzles can teach young children about shapes, colors, and sizes while also developing their problem-solving skills and spatial awareness. Puzzles also help to improve hand-eye coordination and are a way of boosting memory and concentration. Furthermore, puzzles are available in a wide range of difficulty levels, so you can find the right one for your kiddo today and select more challenging or age-appropriate ones over time. As an added bonus, puzzles are also a great way for parents and children to bond. With the bundle of gift ideas above, you'll both feel buoyant! But of course, remember that if now isn't the right time go shopping, you don't really need anything – all you need is love.
To learn about the best baby boutiques or other kids' outfit ideas, explore the LittlePinkTop fashion section further!