How To Dress Incognito but Still Look Great

LittlePinkTop has covered all kinds of personal styles: from Wall Street-inspired "work hard, play hard" looks to contemporary royal fashion. Today, we're going to dive into incognito mode — in your wardrobe, not your browser! (Unless you're a bro type who secretly reads LittlePinkTop.)
Why do people dress to blend in?
At least every once in a while, most of us just want to blend in, or even disguise ourselves, through a careful choice of clothing. Maybe you just need to run a quick errand but don't want to change out of your sweatpants, so you go hoodoe + sunglasses so that no one can recognize you (or at least, so that you can later deny it was you).
Maybe you have limited parental visitation rights, so you dress up as an old British woman and convince your ex-wife to hire you as a nanny. Oh wait, that's the plot of "Mrs. Doubtfire," silly me! Personally, I do it — no, not the nanny part, the dressing "incognito" whenever it's a "bad hair day," or my skin is not looking its best, or I need to do a five-minute coffee run while working from home.
And yes, I am tempted to keep my snuggly Comfy on. But, at the same time, I don't want to bump into my colleagues who live in the neighborhood as me, while looking like I've seen better times. So that's why I have "my" Yankees cap (thanks, husband) and sunglasses on standby.
Of course, celebrities are very familiar with the "incognito" concept. They rely on it whenever they're trying to evade pesky paparazzi or intrusive fans. This type of style meets all kinds of needs!
How do celebrities dress when they don't want to be recognized?
Next time you are snooping around like Kristen Bell, trying to figure out what the Woman in the House Across the Street from the Girl in the Window is up to… first of all, go easy on that wine and remember that a robe was never intended to be an all-day look. Hugh Hefner was the anomaly.
And in case you're contemplating some extreme wardrobe choices, remember that getting fully covered from head to toe in black like Kim Kardashian did at the 2021 Met Gala red carpet won't help you to fly under the radar either.
So, what should you be wearing?
Learn the "incognito" tricks from Leonardo DiCaprio! His off-screen outfits are pretty much the same: a cap, sunglasses, and a hoodie:
If you want to blend in but still feel somewhat fancy, get inspired by Brad Pitt. Here he is rocking a Tom Ford-tailored black coat, black jeans, sunglasses, and a navy ivy cap, which is a flat cap that has a stiff, very short brim, normally made of cotton, wool, or wool blends:
What's an example of a complete incognito look?
Let's explore what the total incognito attire might look like for you, if you're into the LittlePinkTop sense of style. Here are some items for your fashion inspiration, carefully selected from LittlePinkTop's affiliate partners…
Sunglasses: An Incognito Must-Have!
One of the most essential accessories in any "incognito" outfit would be… no, not the pop-topping… the sunglasses!
LittlePinkTop received complimentary sunglasses from Eyeleos, an eyewear brand that offers men's and women's frames organized into collections. Every curator has their unique story to tell, and so do their frames.
My pair of Sylvia frames is "designed for the strong woman ready for any challenge — be it the office, home, or urban commute." And I do feel empowered every time I wear this pair of sunglasses. I like the way the straight and edgy top softened by the round lower rims visually elongates my face.
One of the comments on their website suggests that Eyeleos is a "secret gem in the eyewear space." The happy customer revealed that she fell for the quality, craftsmanship, and style. In terms of the craftsmanship: the frames are indeed sturdy and made of hand cut acetate. Acetate, by the way, is a plastic derived from wood pulp. It's considered environmentally friendly since it's plant-based, unlike conventional plastics made from petroleum.
If you're intrigued and wanted to consider Eyeleos for your incognito look, you can find various frames on the Eyeleos website to disguise yourself or feel like a different character. For example, you could pick a pair of frames called Alfred, Alan, or Simon and begin to feel like a different person.
The Sweater
The need for disguise shouldn't compromise the quality of your fashion choices, though, or the quality of fabric the clothes are made of. Check out this 100% cashmere V-neck sweater.
This classic sweater with close-fitting sleeves is far from flashy, and that's what makes it a versatile piece that you will be able to dress up or down. This ivory top is perfect for building your capsule wardrobe as it will go well with almost anything! The luxurious quality material will make you feel at ease.
The Pants
Remember that the pants shouldn't be extravagant either; you are trying to blend in! Black jeans would be a good choice.
This pair is slightly flared at the bottom, which adds some character without drawing too much attention.
See Also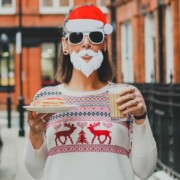 The Shoes
Suppose you find yourself in a situation where your "incognito" look got compromised. You need to immediately flee the scene; in that case, you need to wear appropriate shoes!
These leather flats will do a great job of keeping you comfortable without putting your style in jeopardy. They have a very classy design and will be a safe pick for any outfit.
The Scarf
You should have a scarf on you as well. It can be a great way to accessorize. It both attracts attention to itself and possibly away from your face, which is what we are going for if your incognito motivation is some zits that won't go away (aka me the last couple of weeks):
This brown bandana scarf has a silky, luxurious feel. The symbols depicted all over it will add an even more mysterious flare to your look.
The Bag
Don't forget the bag: you may need it to carry more "cover-up" things! This cute tote bag would be perfect for the occasion:
If you are worried that the mischievous fox depicted on the canvas of the bag will attract too much attention, keep that side of the bag close to your body. Or embrace your inner fox since after all you're going incognito! No one can see you! You can get away with things! (That's probably not true.) What is true is that the off-white canvas would complement the ivory sweater selected above as well as the top beige part of the flat shoes.
The Belt
If we're going full-on shopping now, you may as well select a nice belt. It will rein in your waistline but not your shopping self-control, apparently. Accessories add character to any look, and just because you go "incognito" doesn't mean it has to be dull.
For example, this brown belt from Timberland is made of genuine leather, so it will last for a while:
The braided design is very creative and will look particularly good against those black jeans.
And there you go! We've put together a classy look that is not too over-the-top and would allow you to head out in comfort. Easy to change into or change out of. Just don't change the website in your browser, because LittlePinkTop has much more fashion advice for you in the archives, such as: what to wear on a hike, what to wear to a dive bar, and 7 different ways to style a leather skirt!